Long lines and extended voting hours could point to the outcome of Iran's presidential election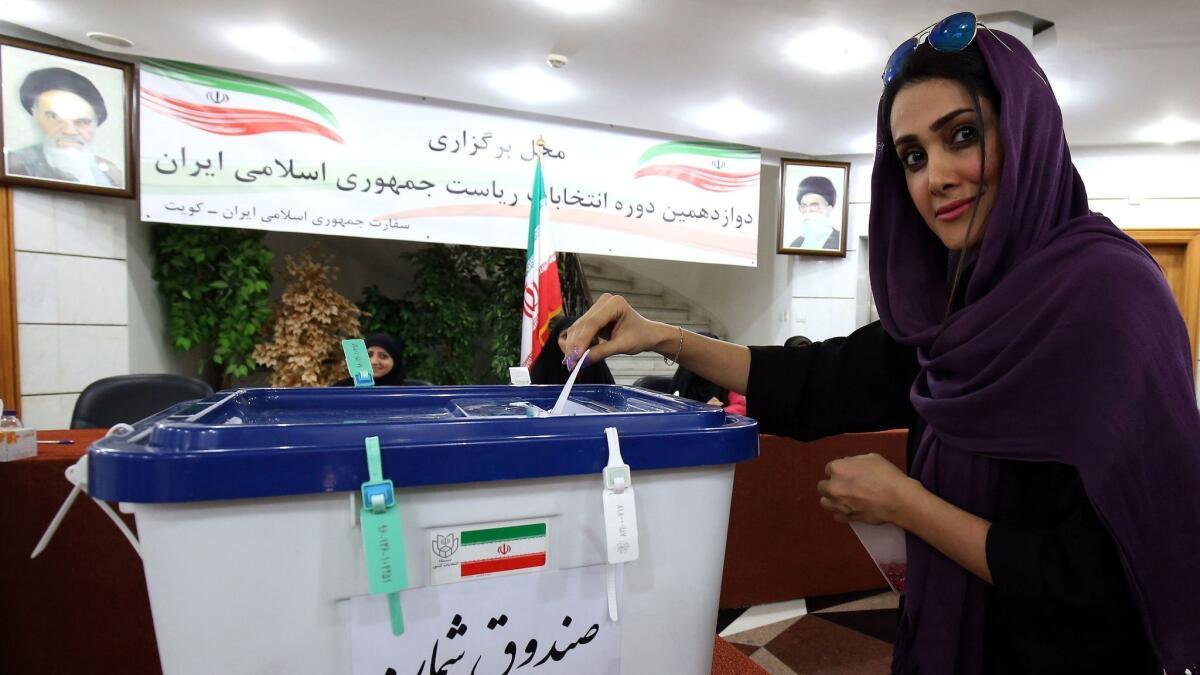 Reporting from Tehran —
Iranians went to the polls Friday in their first presidential election since the landmark 2015 nuclear agreement, with early signs suggesting enthusiastic support for incumbent President Hassan Rouhani.
Long lines formed outside polling places in northern and western Tehran, middle-class districts that are strongholds for Rouhani, a relative moderate who was locked in a two-man race with arch-conservative former prosecutor Ebrahim Raisi.
In working-class southern Tehran, a bastion of conservatives, lines were shorter but many voters said they had cast their ballots for Rouhani.
"I think Rouhani has done great in foreign policy, and economically he has checked inflation," said Husain Bajdan, a spiky-haired 18-year-old who was lined up outside a mosque in southern Tehran to vote in his first election.
"He can do more in the years to come."
Voting hours were extended past the usual 6 p.m. deadline to accommodate the turnout. By evening, 20 million voters had cast ballots out of 56 million who were eligible, the semi-official Fars news agency reported, with many voters still reportedly waiting in line.
The election is a referendum on Rouhani's four-year administration and his signature accomplishment: the agreement with the United States and five other world powers to shelve Iran's nuclear program in exchange for an easing of economic sanctions.
The deal ended the harshest sanctions ever imposed and brought Iran out of the diplomatic isolation it entered under Rouhani's mercurial predecessor, Mahmoud Ahmadinejad.
But Iran's economy has not recovered as fast as Rouhani promised, sparking criticism of his government from conservatives close to Iran's supreme leader, Ayatollah Ali Khamenei. Rouhani also drew criticism from reform-minded Iranians who said he did not fulfill pledges to increase social freedoms.
Raisi, a former attorney who is close to Khamenei, emerged as Rouhani's primary election challenger, although he was not well known to the public. He campaigned as a populist, vowing to increase cash handouts to the poor that were a hallmark of Ahmadinejad's tenure but also contributed to runaway inflation.
But Raisi's lackluster performance in televised debates — and his role in approving the executions of thousands of political prisoners in the 1980s — turned off many voters.
"I didn't vote four years ago but I just voted so that Ebrahim Raisi would not win," said Azar Araste, sitting under the shade of a tree outside a polling place in northwest Tehran. "I feel a chill in my spine imagining he will be president. At least Rouhani has stabilized the economy and he can open up our country to the international community."
Some analysts speculated that voter turnout — which was 60% or higher in the last three presidential elections — could fall in this election due to economic frustration, or that many voters would cast "white ballots," choosing no candidate in a show of protest. It was widely believed that a low turnout would favor Raisi because he is favored by Iran's security forces, who could mobilize support for him.
"I am disappointed with all the candidates, but I came to cast my vote because I don't want to make our enemies — Saudi Arabia, Israel and America — happy," said Morteza Baghernejad, a 50-year-old. "I am standing in line and I may cast a blank vote."
Special correspondent Mostaghim reported from Tehran and Times staff writer Bengali from Mumbai, India.
Follow @SBengali on Twitter for more news from South Asia
ALSO
Pedestrian walkways, bike lanes, green spaces: An unusual election platform for a politician in Iran
Five things Americans should know about Iran's upcoming presidential election
Some Saudis see Trump's visit as the chance for 'a crucial turning point' in its relationship with the U.S.
Sign up for Essential California for news, features and recommendations from the L.A. Times and beyond in your inbox six days a week.
You may occasionally receive promotional content from the Los Angeles Times.