Five things Americans should know about Iran's upcoming presidential election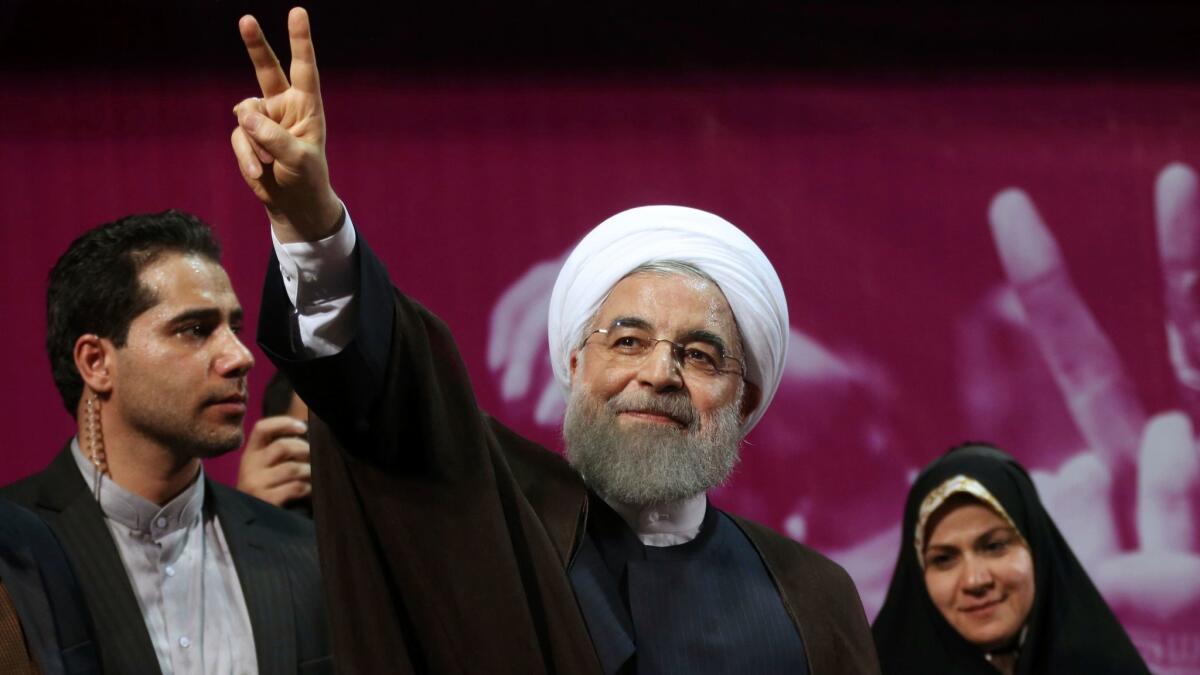 As Iranians prepare to head to the polls Friday to cast their vote for president, the political climate in the nation is heating up.
Centrist-leaning President Hassan Rouhani faces an uphill battle for a second term. A poll by the Iranian Students Polling Agency last week showed that while Rouhani remains in the lead with 41.6%, two conservative opponents are catching up.
Consequently, Rouhani has changed his campaign rhetoric this week by criticizing his rivals, including the powerful Islamic Revolutionary Guard Corps. The change in tone, some experts say, is reminiscent of his 2013 presidential campaign strategy.
As the candidates enter the final stretch of the surprisingly tight race, we break down how Iran's presidential elections work and what it might mean for the United States.
Do presidential elections in Iran even matter?
Yes.
Although Iran's electoral process is far from being what Western nations would describe as free and fair — religious leaders vet the candidates — presidents do play a role in shaping Iran's foreign and domestic policy, which often reflects the ebbs and flows of society. They also have the power to appoint key Cabinet members and provincial governors.
"Iran's elections are often viewed in the West as black and white, with the supreme leader sitting on top and nothing else matters," said Reza H. Akbari, a program manager at the Washington-based Institute for War and Peace Reporting. "But the political system is far from monolithic, and elections are competitive."
Although the presidency remains subordinate to Ayatollah Ali Khamenei, who as supreme leader has the final say over Iran's foreign and domestic matters, presidents still wield significant influence. Consider the 2015 nuclear deal, in which Iran agreed to curb its nuclear program in exchange for the lifting of some international sanctions.
Such a deal would have been unimaginable during the presidency of Mahmoud Ahmadinejad, who routinely railed against the West and the U.S. in particular, once suggesting the American government was behind the Sept. 11 terrorist attacks. Rouhani, however, championed the nuclear deal and began the process of thawing relations with the West. He also criticized leaders of the Revolutionary Guard for trying to disrupt the deal.
Rouhani's emphasis on diplomacy and his pledge to open Iran to the international community, compared with Ahmadinejad's isolationist approach, illustrates the nuances that different actors bring to the role of president and how those differing agendas has far-reaching effects.
Presidents also have tremendous influence over the economy. Under Ahmadinejad, inflation skyrocketed to 40%. According to Iranian media, the rate last year was 7.5%. Unemployment, however, remains high — and a frequent complaint about the Rouhani administration.
How do elections in Iran work?
This is the Islamic Republic's 12th presidential election. The minimum voting age is 18 and there are about 50 million eligible voters.
Presidents can serve up to two consecutive four-year terms. Incumbents generally win second terms, experts say, but slow economic growth has fueled criticism against Rouhani and led to a much tighter race than anticipated.
"There are people that argue that change is not happening fast enough," Akbari said. "They do not see the impact on sanctions relief that came as a result of the nuclear deal as much as they want to."
The Guardian Council — a 12-member nonelected clerical body — is responsible for vetting candidates. Out of 1,600 people who registered to run in this year's presidential election, the council approved six people.
Ahmadinejad, a divisive figure who served two terms from 2005 to 2013, registered to compete this year but was disqualified. To win, a candidate must get more than 50% of the vote. If no candidate wins a majority, a runoff between the two lead contenders will take place a week later.
Who are the leading candidates for president?
Hassan Rouhani, 68: When campaigning for his first term in 2013, he ran on the platform of enacting social and domestic reforms, such as providing universal health insurance, supporting an open political atmosphere in universities and engaging with the West.
Although he did keep his promise of sealing the 2015 nuclear deal, many of Rouhani's campaign promises on social freedoms have been stalled after he ran up against fierce opposition from hard-liners who worry that Rouhani's policies will undermine their power.
Ebrahim Raisi, 56: Although experts say that Raisi doesn't have much political experience — he's a cleric and runs Iran's largest charitable foundation — he appears to be the preferred conservative choice among hard-liners and has close relations with Khamenei. In 1988, Raisi was part of a tribunal that oversaw the execution of thousands of political prisoners.
Mohammad Bagher Qalibaf, 55: As the conservative mayor of Tehran, Qalibaf has strong political experience and is considered by experts to be Rouhani's biggest challenge. He is also a former commander of the Revolutionary Guard Corps.
What issues matter to Iranians?
Iran's economy has played a huge role in the presidential election. Unemployment and poverty remain huge problems in Iran's big cities and rural towns. Experts on Iranian politics and the economy say many Iranians feel disheartened — disappointed that they have yet to reap the benefits of the nuclear deal.
During the televised presidential debates, conservative candidates leveraged those sentiments using populist rhetoric and lashed out at Rouhani for Iran's slow economic growth. Qalibaf and Raisi promised to improve the economy by providing government housing and offering monthly cash payments to the poor.
Will the election affect U.S.-Iran relations?
All six presidential candidates said during the debates that they would uphold the nuclear deal. But experts are concerned about how a conservative candidate will interact with President Trump.
Trump has repeatedly expressed irritation with the Islamic Republic and in February tweeted — using capital letters — that he was putting the country "ON NOTICE" after it carried out a medium-range ballistic missile test.
The Trump administration imposed sanctions on Iran as punishment, and then-national security advisor Michael Flynn said in a statement, "The Trump administration will no longer tolerate Iran's provocations that threaten our interests."
Akbari said that channels of communication between the U.S. and Iran improved somewhat during the Obama administration. He hasn't seen progress during Trump's young presidency and fears what might happen if Iranians elect a conservative.
"Trump's rhetoric towards Iran is so harsh that to have someone else on the other side who is equally harsh, it might provoke an unintentional confrontation," Akbari said.
Follow me on Twitter @melissaetehad
ALSO
Crippling cyberattack continues to spread around the world
Here's why the latest Syrian cease-fire plan may be fatally flawed from the start
Israel takes steps to define itself as a Jewish state and demote the status of the Arabic language
Sign up for Essential California for the L.A. Times biggest news, features and recommendations in your inbox six days a week.
You may occasionally receive promotional content from the Los Angeles Times.