Mexico launching search for migrants pulled off bus by gunmen near the U.S. border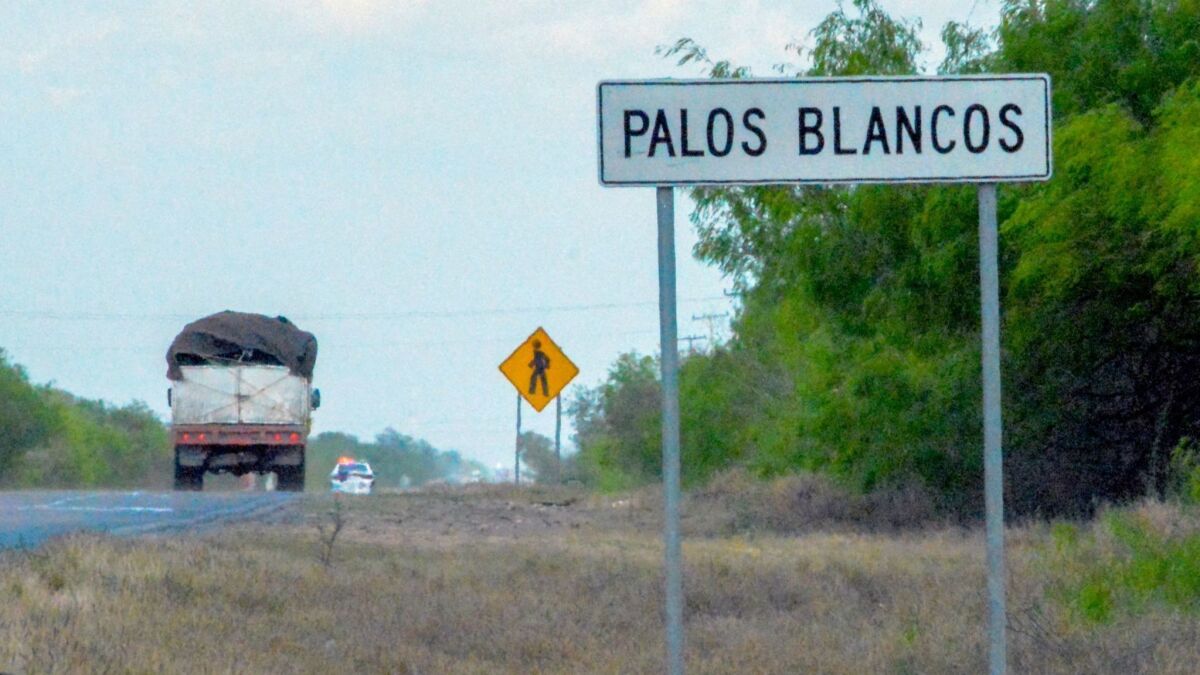 Reporting from Mexico City —
The migrants were kidnapped in broad daylight.
At least 19 men believed to be from Central America were traveling on a bus in northern Mexico last week when masked gunmen stormed aboard, forced the migrants onto pickup trucks, then sped away, Mexican officials said.
The violent incident Thursday, which took place just miles from the U.S. border, was not unique. A group of 25 migrants was pulled off another bus under similar circumstances in February, a top Mexican human rights officials said this week. The migrants' whereabouts are unknown.
The two cases highlight the risks faced by Central American migrants in Mexico, where criminal groups have diversified well beyond drug trafficking and now help smuggle migrants north and sometimes extort or kidnap them for ransom.
Conditions for migrants in Mexico have been under added scrutiny in recent months since U.S. officials began sending some Central Americans who have applied for political asylum in the United States to Mexico to await rulings in their cases.
Since January, more than 200 migrants have been returned to the border city of Tijuana under the so-called Remain in Mexico program, which U.S. officials say they plan to expand to other parts of the border soon.
Northern Mexico, and Tamaulipas in particular, is known for being dangerous territory for migrants.
In 2010, 72 men and women seeking to reach the U.S. were kidnapped in Tamaulipas and then shot to death at a ranch near the city of San Fernando. Mexican officials blamed the massacre on the Zetas, a powerful criminal group, saying the kidnappers killed the migrants after they refused to join the gang.
The migrants kidnapped last week were traveling on a bus route that traversed the roughly 90 miles from San Fernando to the border city of Reynosa, officials said. Mexican officials have offered different estimates of the number of victims — ranging from 19 to 22 — as well as various theories of possible motives.
Mexican President Andres Manuel Lopez Obrador speculated that the migrants may have staged their own kidnapping as a way to deceive immigration officials.
"We are investigating to get to the bottom of this, because there's a theory that this could be a way to get into the United States, that they didn't actually disappear but rather crossed the border," he said at a news conference Tuesday.
But human rights officials said other, more predatory scenarios were more likely. A statement from the National Human Rights Commission said the migrants are in "a situation of vulnerability on various fronts that places them at extraordinary risk."
On Wednesday, the country's newly formed National Search Commission, working with state and federal police as well as the armed forces, officially launched an effort to locate the migrants.
Lopez Obrador has repeatedly promised to protect migrants seeking to reach the United States. But he has been criticized by some migrant activists for allowing the U.S. to send asylum seekers back to Mexican territory, and his administration has been accused of denying entry into Mexico of several attorneys and journalists who worked with or covered a recent migrant caravan in Tijuana.
Migrant kidnappings occur across Mexico, but a majority are concentrated in just three states: Tamaulipas, Coahuila and Veracruz, according to a report published last year by the Robert S. Strauss Center for International Security and Law at the University of Texas at Austin.
The report, which analyzed cases involving nearly 8,000 victims over a 12-year period, found that kidnappings in the three states were likely to be carried out by organized criminal groups — namely the Gulf cartel or the Zetas — as opposed to individual actors.
In Tamaulipas, in particular, kidnappings were likely to be carried out on buses, and ransom demands ranged from $500 to $10,000, according to the report.
Must-read stories from the L.A. Times
Get the day's top news with our Today's Headlines newsletter, sent every weekday morning.
You may occasionally receive promotional content from the Los Angeles Times.