Suspect in St. Petersburg subway attack is identified; stations reopened after bomb threat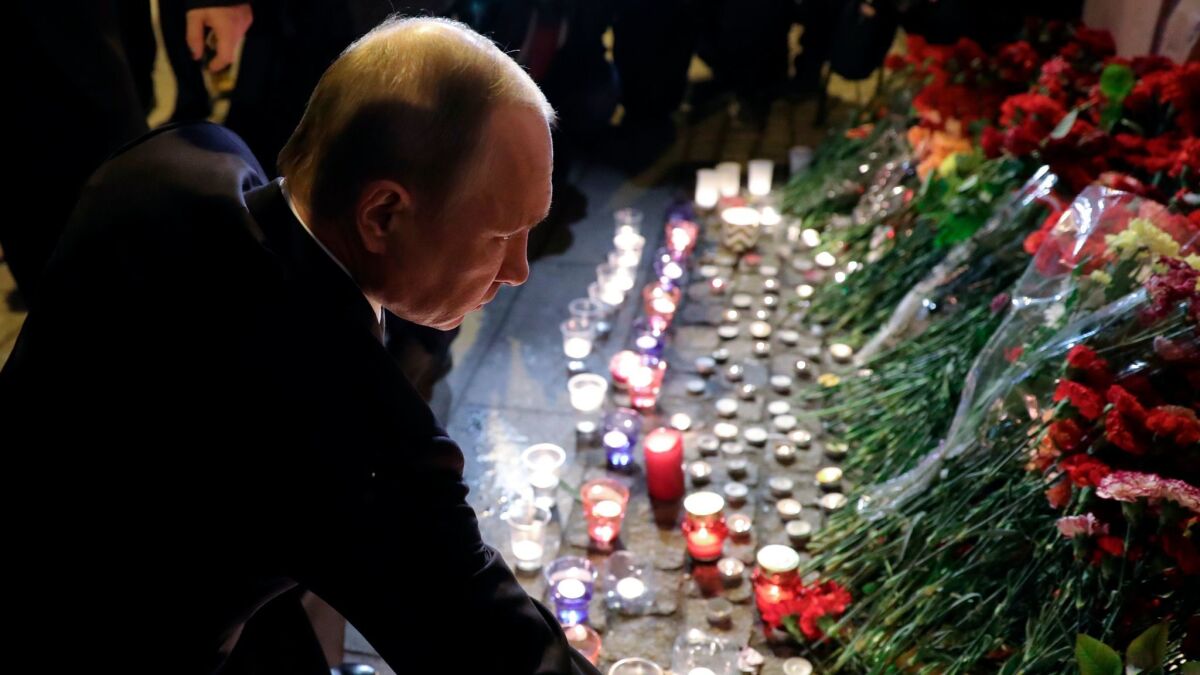 Reporting from Moscow —
A suicide bomber originally from the former Soviet republic of Kyrgyzstan was responsible for an explosion that ripped through the subway of Russia's second largest city, Russian authorities said Tuesday.
Investigators said Akbarzhon Dzhalilov, 22, detonated a bomb in the St. Petersburg metro Monday, killing himself and 13 other people. More than 60 people were injured, officials said.
Several foreign nationals were reported to be among those killed or injured, according to the Associated Press, which cited officials from St. Petersburg City Hall. No further details about the victims were provided.
No group has claimed responsibility for the attack that occurred on a train between Sennaya Square station and Technological Institute station. The blast occurred while Russian President Vladimir Putin was on an official visit to the city, which is his hometown.
The Russian Interfax news agency cited authorities as saying the attacker carried the explosive device onto the train in a backpack. His DNA was found on a different bag left at another St. Petersburg subway, authorities said. It contained a makeshift explosive device, which was deactivated. His remains were found amid the debris, according to Russian media reports.
The train conductor was praised for continuing to drive the train to the next station after the bomb went off, ensuring that passengers could be quickly evacuated.
The news agency also quoted sources saying that Dzhalilov's St. Petersburg residence was searched, but authorities found "no suspicious objects," including elements of explosive devices, suggesting that the bomber might have had accomplices who supplied him with the explosives, the news agency said.
Officials said Dzhalilov was born in the predominantly Muslim southern Kyrgyz city of Osh, an area known to be a stronghold of Islamism in Central Asia. According to Kyrgyz security services, who confirmed Dzhalilov to be a "possible" perpetrator of the attack, he became a Russian national in 2001.
St. Petersburg is home to a large community of people from Central Asian states, including Kyrgyzstan, which was once part of the Soviet Union. Many work as contract laborers in construction or as janitors and cleaners.
Following the collapse of the Soviet Union in 1991 there was an emergence of radical Islamist groups, according to authorities. Hundreds of Kyrgyz nationals have joined the militant group Islamic State in recent years, Kyrgyz officials said.
The state-run Russia 24 television channel described Dzhalilov as a lanky boxing enthusiast who worked at a St. Petersburg sushi bar. He had unpaid speeding tickets and subscribed to IslamHouse, a radical online group that promotes jihadism in multiple languages, the TV station reported.
Kyrgyz officials were questioning Dzhalilov's relatives in Osh, according to Russian media reports.
On Tuesday, St. Petersburg began three official days of mourning, and people continued to lay flowers at makeshift memorials. The Russian government promised to provide the families of those killed, and the injured, with financial assistance, Russian media outlets reported.
Special correspondent Mirovalev reported from from Moscow and Times staff writer Simmons from Los Angeles.
ALSO
So many journalists are being killed in Mexico that one newspaper decides to shut down
Egypt's authoritarian-minded president gets a warm White House welcome
In China, a jailed killer became an online folk hero — and that could lead to his release
---
UPDATES:
2:25 p.m.: This article was updated with details about the remains of the suspect being found amid the debris.
12:45 p.m.: This article was updated with Times reporting from Moscow.
4:30 a.m.: This article was updated with subway stations that were shut down after Tuesday's explosion reopening.
2:20 a.m.: This article was updated with information about a bomb threat.
1:25 a.m.: This article was updated with a revised death toll.
12:25 a.m., April 4: This articie was updated with background information on the attack.
This article was originally published at 11:35 p.m. April 3.
Must-read stories from the L.A. Times
Get the day's top news with our Today's Headlines newsletter, sent every weekday morning.
You may occasionally receive promotional content from the Los Angeles Times.