In China, a jailed killer became an online folk hero — and that could lead to his release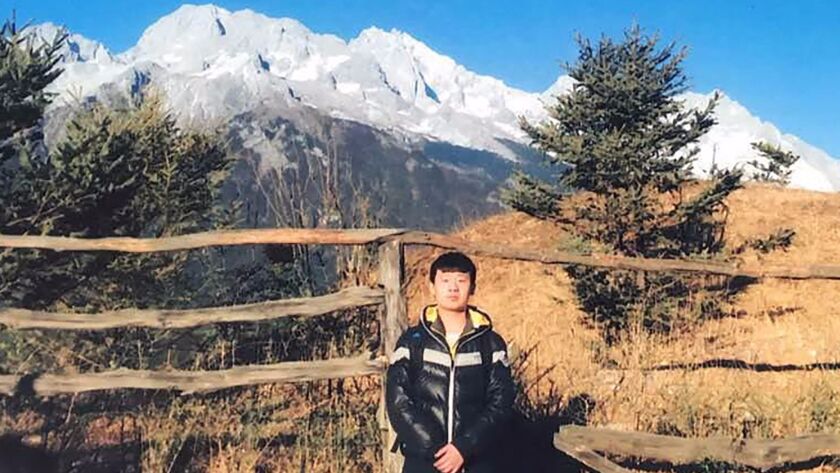 Reporting from BEIJING —
The loan shark's thugs entered Su Yinxia's brake-lining factory last April. They restrained her and her son, demanding she repay her debts, according to multiple accounts. They beat her and shoved a shoe in her mouth. One exposed his genitals.
What happened next has been the talk of China.
Police came, surveyed the situation and left. Su's son, Yu Huan, snapped, according to accounts in Chinese media. He brandished a kitchen knife and attacked four of his mother's tormentors, killing one.
A court sentenced Yu, 23, to life in prison for causing grave bodily harm. Then he became a folk hero.
The case struck a nerve in China, where loan sharking is widespread, hired toughs often operate with impunity, and courts, which are controlled by the ruling Communist Party, convict almost everyone they try. China's conviction rate was 99.92% in 2015.
Last month, the Chinese newspaper Southern Weekly published an account of the incident, which quickly went viral on Sina Weibo, China's equivalent of Twitter (the topic "Yu Huan intentional homicide case" has since racked up more than up 27.8 million views).
A day later, China's top prosecutor's office said it would revisit the case and send investigators to Yu's hometown of Liaocheng, a midsize city in coastal Shandong province. China has been attempting to address high-profile miscarriages of justice since March 2015, when President Xi Jinping said they should be properly resolved.
Any normal person would want to fight for his mother when she was insulted like that.
Tian Mu, Yu Huan's lawyer
"China has a criminal justice system that puts an emphasis on retributive justice," said William Nee, a Hong Kong-based China researcher at Amnesty International. "For example, if someone rapes or kills somebody, society generally would want retribution for that. When officials abscond with billions in assets, people call for the death penalty online.
"It looks like the details here are unclear, whether he was acting in self-defense, but people are claiming he was," Nee said. "So [the conviction] doesn't fit that template of retributive justice."
Yu's case carries echoes of another incident, in May, in which Lei Yang, 29, a middle-class husband and father, mysteriously died in police custody. Police brutality — and impunity — is also widespread in China, and that case also went viral. Authorities detained five police officers involved, then released them in December, despite finding that they had used excessive force and attempted to cover up the circumstances of Lei's death.
Yu is also not the first person in China to take on hired thugs as police look the other way.
In 2013, Fan Mugen, a resident of eastern China's Suzhou city, killed two members of a demolition gang after they raided his family home and beat his wife and son. Fan's home was slated to be demolished to make way for a major development project, and Fan refused to leave. He had called police, who turned up but did not stop the assault. He was charged with "intentional injury" and jailed for eight years.
In another forced eviction case, in 2012, a kung fu master and his son in Hebei province, near Beijing, beat up several hired hands who had forcibly entered their home. An eight-minute video of the incident went viral online, and many Internet users cast the kung fu master, Shen Jianzhong, as a folk hero. Shen later fled to Beijing, and his son was arrested.
Su Yinxia's troubles began in July 2014, when she borrowed the equivalent of about $217,000 from a local real estate mogul, Wu Xuezhan, at 10% monthly interest, according to the state-run Global Times. Her debt quickly ballooned, and she was unable to pay it back.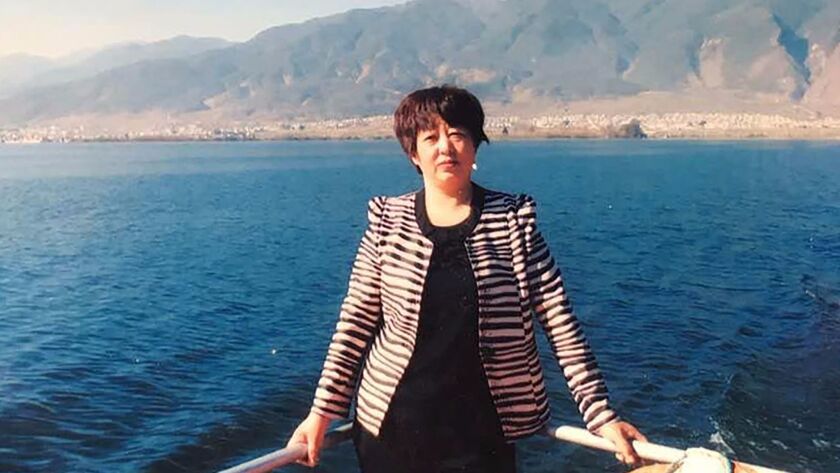 So Wu dispatched thugs. They hounded her mercilessly — at one time, they defecated in her house and pushed her face into the toilet, according to the Southern Weekly report. She put her house up for collateral, and although she had repaid nearly $300,000 by the following summer, she still fell about $30,000 short.
So the harassment continued. On April 14, 2016, they forcibly entered her factory. One man, Du Zhihao, took off his pants, exposing himself. "If you don't have the money, you can become a prostitute," Du said, according to a witness quoted in Southern Weekly. "I'll give you 80 yuan [$12] for each go."
Su's brother called the police, according to the Chinese newsmagazine Caixin. They arrived at 10:13 p.m., but they left the room four minutes later. Yu attempted to follow them out, but the thugs restrained him, and Yu brandished the knife. He wounded four of the assailants, before police returned to the scene. Du drove himself to the hospital, where he died the following morning.
Yu was charged with "intentional injury," and on Feb. 17, 2017, Liaocheng Intermediate People's Court sentenced him to life in prison. Yu then appealed to a higher court, citing police negligence.
"Any normal person would want to fight for his mother when she was insulted like that," Tian Mu, Yu's lawyer, told the Paper, a Shanghai-based online magazine. "[After] the police were gone, Du Zhihao thought Yu shouldn't report to the police, so Du and his people scolded and beat his mother more severely. Du even said 'I'll beat you to death.' Under no protection, Yu had every reason to believe Du would take his life."
Chinese authorities tightly censor the Internet to block dissenting views, and the online conversation about Yu Huan has stopped short of implicating systemic issues in China's courts and police force.
"This case is an all-encompassing reflection of China's economy, legal institution, democracy and civilization," said one censored post, according to the censorship tracking website FreeWeibo.com. "China's real economy is raped by the real estate industry; China's legal system is a total mess; the police and gangsters are getting closer to one another."
Yet the outpouring of support for Yu online was too great to entirely suppress. Some users equated him with an outlaw in the classical Chinese novel "Water Margin" — a heroic champion of vigilante justice.
"Yu is innocent," wrote Yi Zhongtian, a writer with 3.6 million followers on Weibo. "Stabbing the people who insulted his mother was a legitimate act of self-defense."
Yingzhi Yang in The Times' Beijing bureau contributed to this report.
For more news from Asia, follow @JRKaiman on Twitter
ALSO
For mainland Chinese students, Taiwan's universities are 'like paradise.' But there's a catch
How unusual would it be for South Korea to arrest its deposed president? Not as unusual as you might think
A human rights activist is slain in Cambodia, and the mystery leads all the way to California
---
Must-read stories from the L.A. Times
Get all the day's most vital news with our Today's Headlines newsletter, sent every weekday morning.
You may occasionally receive promotional content from the Los Angeles Times.