With 67 women killed here last year, paranoia and anxiety have taken root in Ecatepec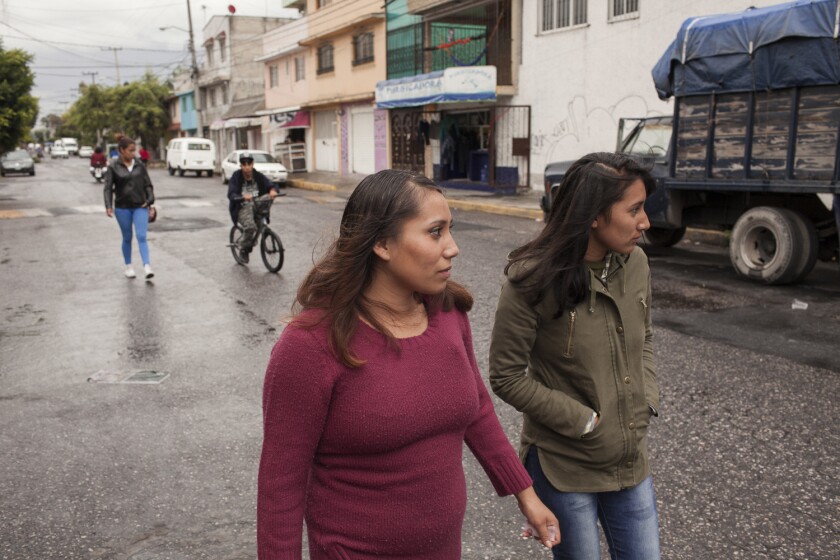 Angelica Guadalupe scans the ground for rocks big enough to hurt someone, but small enough to hide in the palm of her hand. She prefers company when making the three-block hike to work, but when she's alone, she carries a heavy wooden pole with a tapered end, or a tiny sewing needle she can hide in her clothes.
Patricia Lopez carries a hollow chrome pipe or a baseball bat. Sofia Hernandez Espinosa brings an umbrella, rain or shine. Carmen Geovana Nuñez Colin walks down the middle of the street, giving her a head start if she needs to run from someone on the sidewalk.
And Veronica Rosas Valenzuela has surveillance cameras mounted above her front door and garage, and keeps a can of pepper spray in her purse. But mostly, she tries to keep out of sight, moving in and out of her apartment like a ghost.
Veronica Rosas Valenzuela, above, keeps a can of pepper spray in her purse and tries to keep out of sight. Right, the house where confessed serial killer Juan Carlos "N" used to live in Ecatepec, Mexico. (Jordi Ruiz Cirera / For The Times)
All live in Ecatepec in the state of Mexico, where 180 women were killed in the first eight months of the year, making it one of the deadliest regions for women in the country. Sixty-four of the homicides were classified as femicides, typically involving sexual assault or domestic abuse.
Rape and kidnappings are common here too, though many residents have so little confidence in the police that some cases simply go unreported.
But it was the arrest last month of a suspected serial killer who allegedly boasted that he killed as many as 20 women in Ecatepec over the years — sometimes eating the bodies — that ratcheted up the anxiety that wears on this city.
Why such violence has fallen upon Ecatepec is unclear. But tor the women here, there's a feeling that the line between paranoia and credible fear has been erased.
"Here in Ecatepec, everything is real," Nuñez said.
The accused serial killer — Juan Carlos "N" as he's been identified by authorities — and wife Patricia "N" were arrested in October, reportedly pushing a stroller containing body parts. Police said Juan Carlos "N" confessed to killing 20 women over more than a decade — though he provided specific details about 10 victims only. His wife confessed that they sometimes cooked and ate the remains, or fed them to their dogs, police said. The couple is in custody and awaiting trial.
Residents said they found it unnerving that the accused killer seemed to operate with impunity in Ecatepec, apparently storing victims' remains in rented rooms or dumping them in an empty lot in the heart of Jardines de Morelos, an urban neighborhood in the municipality. He and his wife lured the women to their home with promises of employment, or by selling cheese, corn or cellphones, authorities said.
"It could have been me," said Nuñez, who lives in the neighborhood. "You're afraid to go out, and when you do, you look at the people around you and wonder who you're dealing with. We leave home afraid and we return afraid."
Dilcya Garcia, who prosecutes gender-related crimes in the state of Mexico, acknowledged errors were made in investigating some of the cases but said it also took good police work to catch the suspected serial killer. Still, Garcia said she understands the fears and frustrations of residents here.
"It's distressing to hear, but really the only way we can work for these victims is if they see that the authorities are empathetic, and know that we are going to continue our work and not stop until we find the person," she said.
With about 2 million people, Ecatepec is one of Mexico's most populated municipalities, but residents here say they sometimes feel forgotten living in the shadow of the much larger Mexico City. Many came here from other corners of Mexico and found jobs staffing restaurants, caring for babies or building houses in Mexico City, some returning to their homes only on weekends.
In 2015, Ecatepec became one of the first municipalities in Mexico to go under an "alerta de genero," or gender alert. The alert requires authorities to investigate the cause of an increase in violence against women and take steps to combat it, such as increased police training and better technology. A search unit created in 2016 in response to the gender alert has now located more than 500 people who had disappeared in Ecatepec.
Last year, 67 women were killed in Ecatepec, but only three of the crimes were classified as femicides. The nonprofit Mujeres en Cadena, which tracks news reports for its tally, concluded that 21 of last year's killings should be classified as femicides — which would put Ecatepec right behind Culiacan, in Sinaloa state, as the femicide capital of Mexico. In 2015, 59 women were killed, with 10 of the cases listed as femicides. The nonprofit said its research shows 44 of the killings should have been listed as femicides.
Ana Yeli Perez Garrido, the legal advisor for Mexico's National Citizen Observatory on Femicide, is among those who believes the official number is a deliberate undercount meant to obscure the extent of the problem that women face here.
"They're making the rest of those murders invisible," said Perez Garrido. "It's part of the larger theme of impunity in Mexico, in which the authorities keep the real data hidden from view."
Guadalupe Roman Avila, a federal representative of her district in Ecatepec, said residents here feel as though they are living in a failed state.
"There are no patrols from police, who are you going to ask for help?" she said.
Jorge Miranda came home from work one day in 2012 to find the door to his one-room apartment wide open and the television on. He figured his 13-year-old daughter, Luz del Carmen Miranda, had gone to the store, but as the hours passed he grew anxious.
Miranda and his wife, Araceli, had lost one child at birth and their surviving daughter was everything to them. The three slept in the same bed, and when they went out, people often thought his wife and daughter looked like children, dancing and giggling as they walked down the sidewalk. The couple would spend the next five years searching for their daughter, traveling as far as Chiapas and Veracruz with families of others who had vanished.
The year after she went missing, they learned that a body matching Luz del Carmen's description had been found in the neighborhood, but when they made inquiries they were told the body had already been buried in a communal grave by authorities and no DNA testing had been conducted.
It took four years and three exhumations to finally confirm that it was their daughter
"I was able to rest a little, because I knew where she was," her father said. "When we couldn't find her, I always worried about what was happening to her. What are they doing to her? Is she eating or not? Are they hitting her or not? How is my poor daughter?"
Since then, Miranda and his wife visit her grave whenever they have an excuse — Mother's Day, Day of the Dead, Children's Day. On her last birthday, they brought her tostadas de tinga, her favorite dish, shared a birthday cake and sang "Las Mañanitas."
"Imagine for a moment how much we loved her," he said.
His wife continues attending meetings with the mothers of other children who disappeared in Ecatepec.
"Truthfully, I don't see any improvement in the new situations compared with what happened with my daughter's case. The authorities don't have any interest in looking for our daughters."
Perez Garrido, the legal advisor for the National Citizen Observatory on Femicide, said authorities should have caught the serial killer who preyed on the women of Ecatepec years ago, given the abundance of evidence.
"This case shows the indifference of authorities to do their job — when it comes to searching for disappeared people, you actually have to go look for them."
Garcia said that while some may have the impression that the accused serial killer was sloppy, he was actually calculating and careful, and that he was caught not by accident but as part of a well-conducted investigation that involved tracking one of the missing women's cellphones.
Angelica Guadalupe, who still carries a wooden pole to her job at a bakery, said there was little response from authorities when she was grabbed by two men and raped in an alley en route to a job interview five years ago. Though she reported the crime and went to the hospital for an examination, nothing came of it, she said. With little faith in the police, street justice has taken root in Ecatepec.
On Angelica Guadalupe's street, they've installed an alarm and each house has its own remote control. When a suspected criminal, or "ratero," is seen and the alarm is sounded, neighbors flood the street.
"Sometimes they lynch them," she said. "The neighbors kill the criminal. If not, you look for the authorities and they don't respond."
Unlike the other women in her neighborhood, Araceli has lost the illusion that a baseball bat or a can of pepper spray will help her survive. Sometimes she lights a candle and prays next to several picture frames, all with the same photo of her daughter. When she leaves home, a prayer is on her lips but her hands are empty.
"To be honest, I just take God's blessing. You don't know when you'll meet one of these people in the street, or if you'll come home again."
Tillman is a special correspondent.
---
Must-read stories from the L.A. Times
Get all the day's most vital news with our Today's Headlines newsletter, sent every weekday morning.
You may occasionally receive promotional content from the Los Angeles Times.