Mexican authorities capture alleged boss of notorious Zetas cartel in Mexico City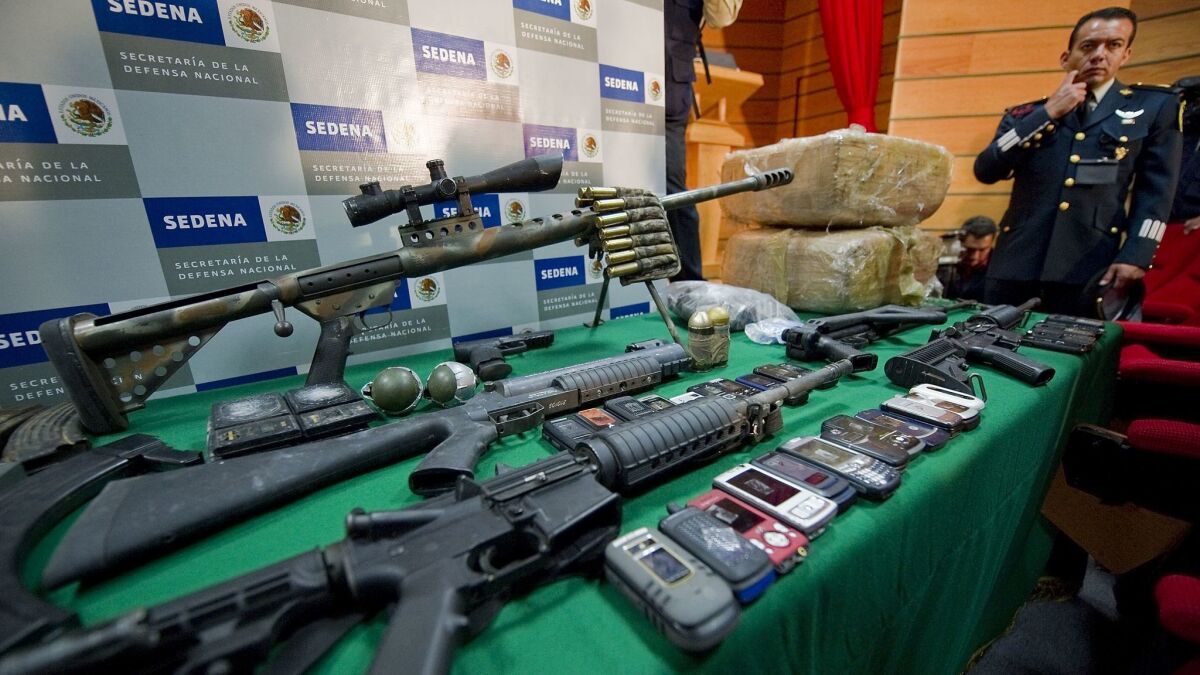 Reporting from Mexico City —
Mexican authorities have arrested the alleged leader of the Zetas drug cartel — long one of the country's most powerful and notoriously brutal criminal groups.
Jose Maria Guizar Valencia, who is accused of overseeing an organization that traffics thousands of pounds of cocaine and methamphetamine to the United States each year, was nabbed Thursday while entering a hotel in a fashionable neighborhood in Mexico City, authorities said Friday.
Mexican National Security Commissioner Renato Sales said in a statement that Guizar, 38, was captured without force.
In a nation gripped by escalating violence driven by warring criminal groups, Guizar was one of Mexico's most-wanted men. The United States had offered a $5-million reward for his arrest and had formally requested his extradition. Sales said there are arrest warrants for Guizar in several U.S. states for crimes including arms smuggling, kidnapping and murder.
His capture was celebrated by public officials from both sides of the border, with U.S. Ambassador to Mexico Roberta Jacobson tweeting that Guizar's arrest and other law enforcement efforts "make Mexico and the United States safer."
But others reacted with caution, noting that in the past, Mexico's "kingpin strategy" of targeting cartel leaders has not reduced violence, and in fact may have increased it.
In the decade since Mexico sent tens of thousands of soldiers into the streets to battle drug trafficking organizations so powerful they were often compared to multinational corporations, dozens of drug lords, including Joaquin "El Chapo" Guzman, have been taken into custody or killed.
While the kingpin strategy may have stopped Mexico from being completely overtaken by drug cartels, it unleashed a wave of bloodshed as criminals fought for control of lucrative drug trafficking routes and extortion and fuel theft schemes. Mexico's homicide rate is soaring. Last year it hit a 20-year high.
"It must be said that as soon as a leader is arrested, another leader often appears," security expert Ricardo Ravelo said in a radio interview Friday.
In the year since Guzman was extradited to face charges of murder and drug trafficking in the U.S., his Sinaloa cartel has weakened significantly, and is now battling an ascendant group called the Jalisco New Generation cartel in several states.
In other parts of the country, such as the seaside resort of Acapulco, the cartel system has collapsed completely, with historic levels of violence being driven by dozens of warring street gangs.
Authorities say Guizar, known by his Zetas code name "Z 43," was born in Tulare, Calif. He first appeared on the radar of Mexican law enforcement officials in 1998, when he allegedly began trafficking drugs in the state of Michoacan.
The Zetas cartel he went on to lead evolved from a group of deserters from the Mexican Special Forces. The ex-soldiers were hired to serve as a security force for the Gulf cartel, but in 2010 broke with their former employer to start their own drug trafficking network.
Via street battles and gruesome tactics that included beheadings, videotaped assassinations and the hanging of mutilated bodies from bridges, the Zetas became the most powerful force in several states, including Tamaulipas, on the Texas border. Officials say the group's reach extends down to Guatemala.
Perhaps the group's most shocking exploit was the 2010 killing of 72 migrants in the Tamaulipas town of San Fernando. Investigators said the migrants were shot to death after they refused to work for the cartel.
Experts say the group has weakened in recent years, and has begun to splinter into different factions.
"They are very diminished compared to what they were at their height," said security expert Alejandro Hope. Still, he said, "it's an important arrest."
Guizar's capture in the country's capital shocked many who have long viewed Mexico City as a haven from the drug war violence engulfing other parts of nation. But there have been signs that violence may be encroaching, including a large banner hung from one of the city's main highways this week announcing the arrival of the Jalisco New Generation cartel. Law enforcement officials said they were investigating the banner to see if it is authentic.
Roma, the neighborhood where Guizar was arrested, is known as one of the nation's trendiest, home to world-famous restaurants, expensive clothing stores and luxurious hotels.
Juan Carlos Silva, chief of the anti-drug division of the federal police, said in a radio interview that Guizar was about to walk into one such hotel Thursday. He was traveling without armed guards, likely in an effort to blend in, Silva said. Because of that, authorities were able to capture Guizar, he said.
Twitter: @katelinthicum
Times researcher Scott Wilson and Cecilia Sanchez in The Times' Mexico City bureau contributed to this report.
---
Must-read stories from the L.A. Times
Get the day's top news with our Today's Headlines newsletter, sent every weekday morning.
You may occasionally receive promotional content from the Los Angeles Times.