Skilled foreigners flood Panama, leaving many residents without jobs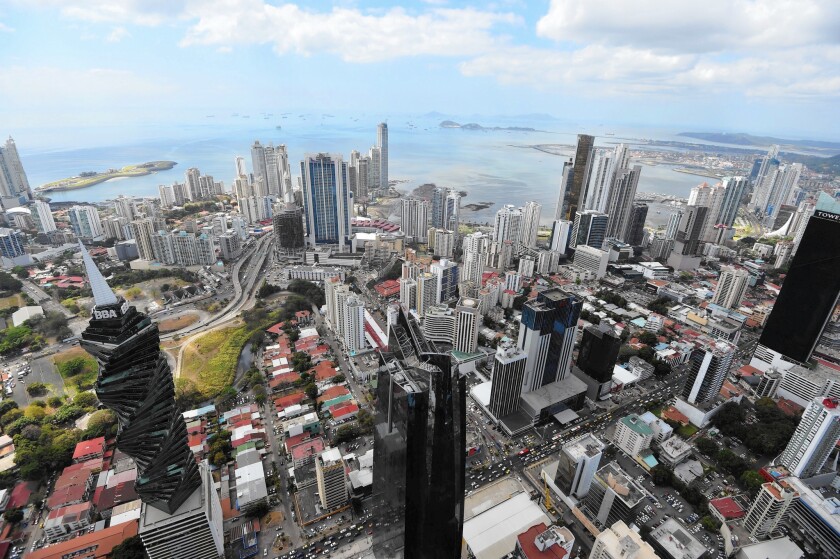 Reporting from Panama City —
The housemaids are from Nicaragua. Many hotel employees hail from Colombia, while Filipinos work the copper and gold mines.
An entire neighborhood is called Little Caracas, because of the number of Venezuelans.
As a crossroads linking two continents, Panama has long been a home, or at least a stopover, for legions of foreigners. In the last decade, however, record-shattering economic growth has increased demand for skilled workers, inviting an invasion of foreign applicants while leaving less-qualified Panamanians behind. In addition, lax banking laws have made Panama a convenient haven for the rich fleeing socialist governments.
"You can earn a lot more here because they pay in dollars," the de facto currency of Panama, said Yulissa Monegro, a manicurist who came from the Dominican Republic. "I really miss my son back home, but the money I make here is [more than] I could make anywhere else."
After the decision was made in 2006 to embark on a $5.2-billion expansion of the Panama Canal, due to be finished next year, the country realized that it would need to up its game in job training.
Covering what they call the deficit in Panamanian workers, government officials said the problem had become urgent.
"There is a growing gap between the large number of companies looking for workers and not finding them, and the large number of workers who can't find jobs in an economic system that is increasingly demanding," Ricardo Sotelo, president of the Panama Industrialists Union, said in an interview. "We need about five years to obtain the educational results that will fill out the Panamanian workforce."
The government has launched numerous retraining programs, and private companies also do some training. One supermarket chain has classrooms to prepare checkout clerks, baggers and stockroom employees. But the programs still fall short, analysts say, because there are too few to meet the demand.
Sotelo said that for many Panamanians, a certain stigma is attached to attending technical school and the consequence has been a shortage of workers such as electricians, plumbers and hydraulic engineers. His organization is advocating a form of "dual education" that will allow a student to receive technical training but also attend university classes.
"We want someone who doesn't just know how to use a screwdriver," he said.
The service industry, which includes canal-related jobs that serve the multibillion-dollar global maritime transport industry, accounts for 90% of Panama's gross domestic product. For the first time in five years, the unemployment rate has begun to rise slightly, to 4.8%.
Training for jobs in tourism, restaurant service and similar tasks has lagged behind that of several nearby countries, said Adolfo Quintero, an official with the Panamanian Assn. of Business Executives. That opens the job market to imported laborers, who in some cases accept lower wages.
Many Central and South Americans come to Panama to work because the money is good and it's easier than trying to reach and illegally enter the United States. The language is the same and many nationalities, like Colombians and Costa Ricans, don't even need a visa, while others, like Nicaraguans, can obtain a visa renewable every three months.
"Panama is fertile field for foreigners," Sotelo said.
In restaurants, hotels and shops, foreign employees can be seen in large numbers.
"They say Panamanians are lazy. So the Colombians can come and get work easily and quickly," said Jose, a Panamanian bartender at a skyscraper hotel facing the sea in downtown Panama City. "But there is no resentment."
Gualberto, 47, a Colombian, concurred to a point. "It has not been easy," he said; he had to prove himself at first.
Having taken night classes in electricity and plumbing, Gualberto now heads the maintenance department at another hotel. He says many Panamanian employees are less willing to work long hours and weekends.
(People interviewed at the fancier hotels did not want their last names used nor their workplace identified.)
Under national law, 90% to 95% of canal expansion workers must be Panamanian, officials said, a marked contrast to the malaria-ridden construction project a century ago in which West Indians, Americans, French, Chinese and others built the waterway that bisects Panama and links the Pacific and Atlantic oceans.
Officially, foreigners may be employed in only about 20 professions; among those labeled "for Panamanians only" are fields such as chemical engineering that aren't taught in Panamanian schools.
Many companies exceed their quotas on foreign employees, said Nelva Reyes, a schoolteacher and teachers union leader.
Despite efforts at training, she said, thousands of Panamanian youths drop out of school every year and cannot find work.
"For the last five years we've been demanding programs from the Ministry of Education that offer alternatives so that [dropouts] don't turn to crime and gangs," but the pleas have been ignored, Reyes said.
"It leaves us short-handed in terms of the workforce but also in danger of more violence."
---
Must-read stories from the L.A. Times
Get the day's top news with our Today's Headlines newsletter, sent every weekday morning.
You may occasionally receive promotional content from the Los Angeles Times.