Peru's brutal season of floods leaves 94 dead, 700,000 homeless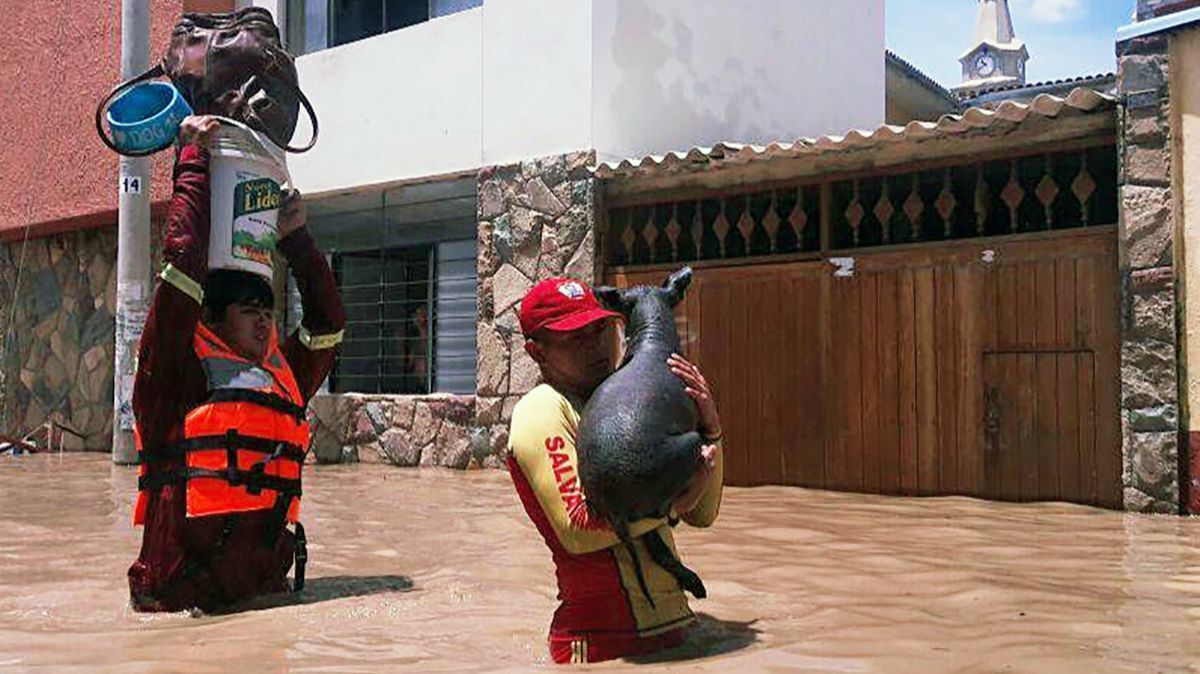 Reporting from LIMA, PERU —
Extreme weather has battered many parts of the world this year, but few countries have suffered more in lives, homes and crops lost than Peru, the Andean country that has been beset with torrential rains and massive flooding for much of this year.
On Tuesday, the Peruvian government raised the death toll from floods to 94 while relief agencies estimated that 700,000 persons have been left homeless in 12 of the country's 25 regions. The cost to Peru's economy in lost productivity has been estimated at $3.1 billion, or 1.6% of the country's annual output of goods and services.

For the record:
11:58 p.m. Aug. 23, 2019An earlier version of this article misspelled the name of Chongoyape, a town in the Lambayeque region, as Changoyape.
The price tag for fixing roads and bridges is at least $1 billion and the work will take two to three years to complete, Transportation Minister Martin Vizcarra said Tuesday.
Widespread damage to roads and highways has isolated many victims, hampering relief efforts. In Catacaos, floodwaters reaching 6 feet high have killed four people and left much of the riverside city inundated. Five hundred people there were evacuated Tuesday morning, with many others still awaiting rescue.
We have lost everything.
— Carmela Calle, flood victim
"We're trapped and we can't get out," said Carmela Calle, a 43-year-old homemaker in Catacaos who spoke to The Times by phone. "Please help us. We are on the roof with a newborn baby and two elderly relatives. We are desperate and without food. We have lost everything."
The government's meteorological service said there is little chance of a respite in the near future, as heavy rains are forecast to continue through this weekend. Rains have been unseasonably intense since January, with the most severe damage reported in the country's northwestern coastal areas as a result of what has been described as a coastal El Niño.
Eight people have been reported killed in Lima, the capital, with 8,400 homes destroyed by the flooding. Some southern and central parts of the capital have gone six days without drinking water.
Damage was worse in the northwestern city of Piura, a metropolis of 1.8 million, where rising floodwaters reached the central square known as Plaza de Armas, killing four and forcing hundreds of families to abandon their homes. Four bridges connecting the center of town with outlying districts were reported washed out.
More than 1,200 people in Piura have been rescued from flooded homes, according to Gen. Jorge Chavez of the National Center for Emergency Operations. Military and police personnel were using inflatable boats to reach areas left isolated by floods, he said.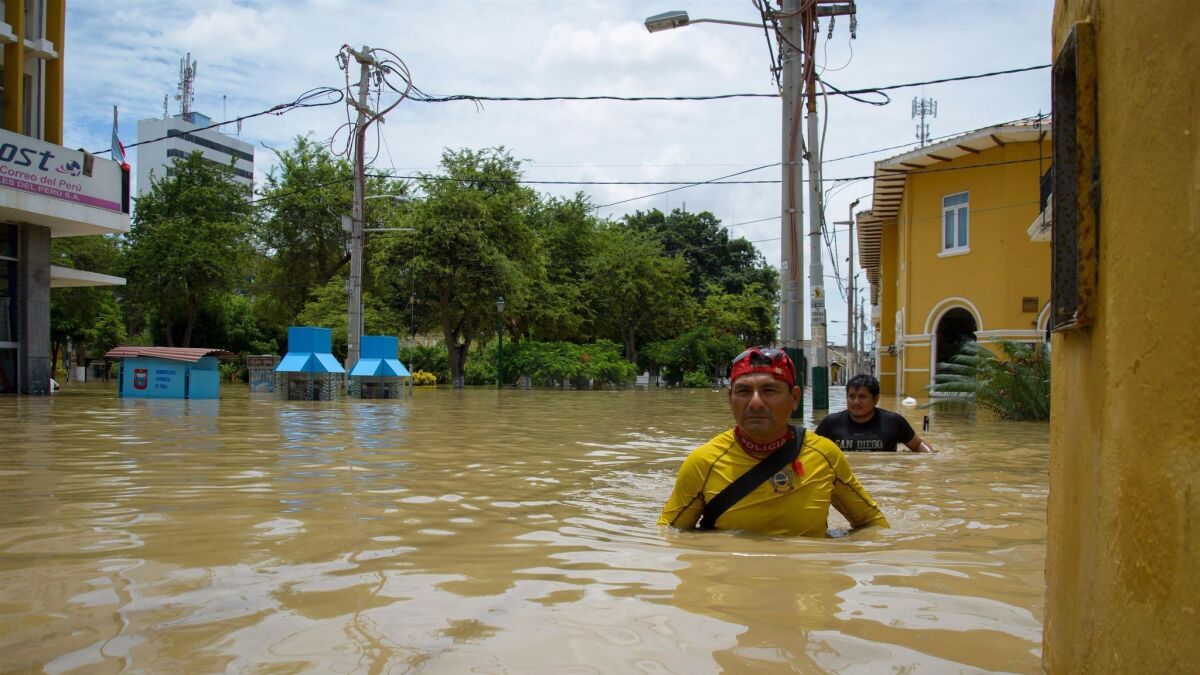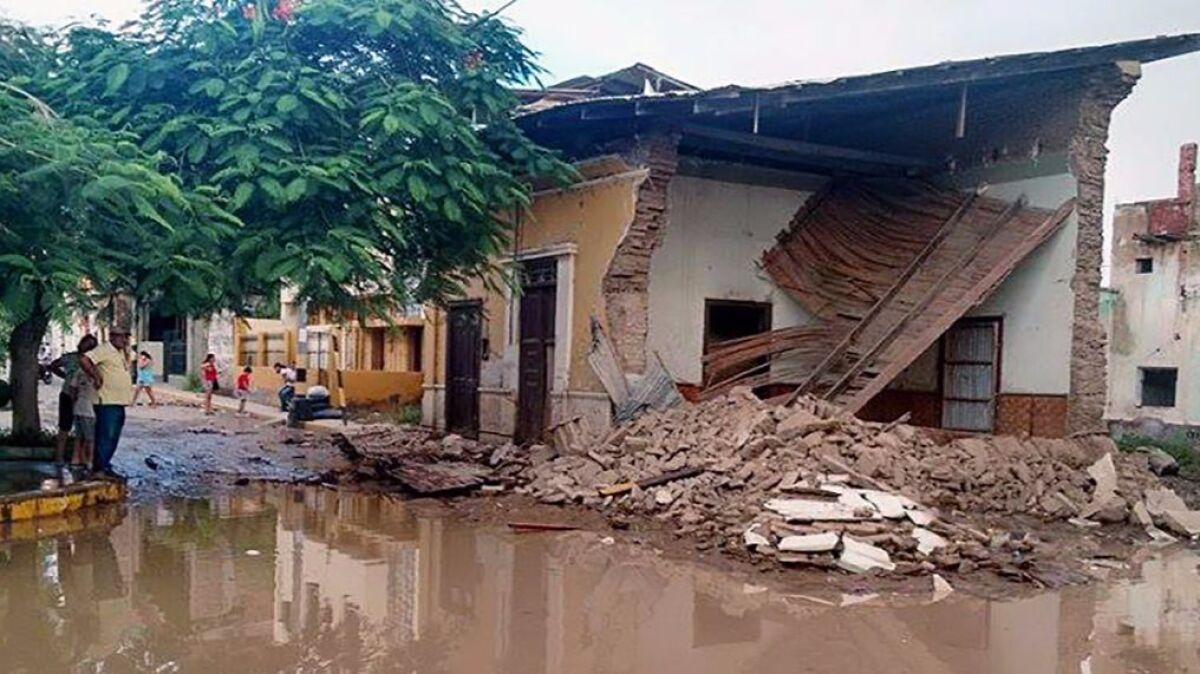 "We know this is an extreme situation, but we are pleading for calm. Please be confident that all will be taken care of," Chavez said. But there were widespread complaints that officials were responding too slowly.
"We don't know where to turn because no one is helping us. We hear on TV that the government is sending support but until now we have seen nothing," said Hector Santos, a Piura resident and owner of a flooded house. "We have no place to sleep," he said, telling a radio reporter he was speaking from his roof.
Reynaldo Hilbck Guzman, governor of the Piura region, said the volume of water coursing through the Piura River is unprecedented and overwhelming levees. Floods already have destroyed 15,000 acres of crops, he said.
A spokesman for President Pedro Pablo Kuczynski said the government has sent hundreds of military and police personnel to help in relief efforts. He also appointed special ministers in each province to manage relief efforts. The national emergency operations center reported that a total of 150,000 houses and businesses have been flooded out.
"I have lost my grocery store and my house, which no longer exists," said Mariano Carreras of Chongoyape, a town in the Lambayeque region.
"My children have no clothes to wear, and the flood took away all their school books," he told The Times by phone. "We are desperate and having nothing. Who will help us?"
International aid has begun to arrive, with the United States pledging $525,000 in relief. China's ambassador to Peru, Jia Guide, said his country will donate $1.5 million to relief efforts. Also pledging aid are France, South Korea, Colombia, Venezuela, Ecuador and the Vatican, among others.
Special correspondents Leon and Kraul reported from Lima, Peru, and Bogota, Colombia, respectively.
ALSO
Is Islamic State luring U.S. coalition forces into killing civilians in airstrikes?
How unusual would it be for South Korea to arrest its deposed president? Not as unusual as you might think
Must-read stories from the L.A. Times
Get the day's top news with our Today's Headlines newsletter, sent every weekday morning.
You may occasionally receive promotional content from the Los Angeles Times.