How unusual would it be for South Korea to arrest its deposed president? Not as unusual as you might think
Reporting from Seoul —
For decades, South Korean leaders such as ousted former President Park Geun-hye and those in their orbits have endured criminal inquiries, embarrassing scandals, even prison time.
It's almost a rite of passage in this relatively young democracy.
Since the mid-1990s, two former leaders received lengthy prison sentences. Another committed suicide by jumping into a ravine after questioning by prosecutors. Still others have left under clouds of suspicion about corruption among relatives or friends.
Few have escaped untarnished by scandal — both a testament to the country's struggles with corruption and also perhaps to its burgeoning commitment to the rule of law.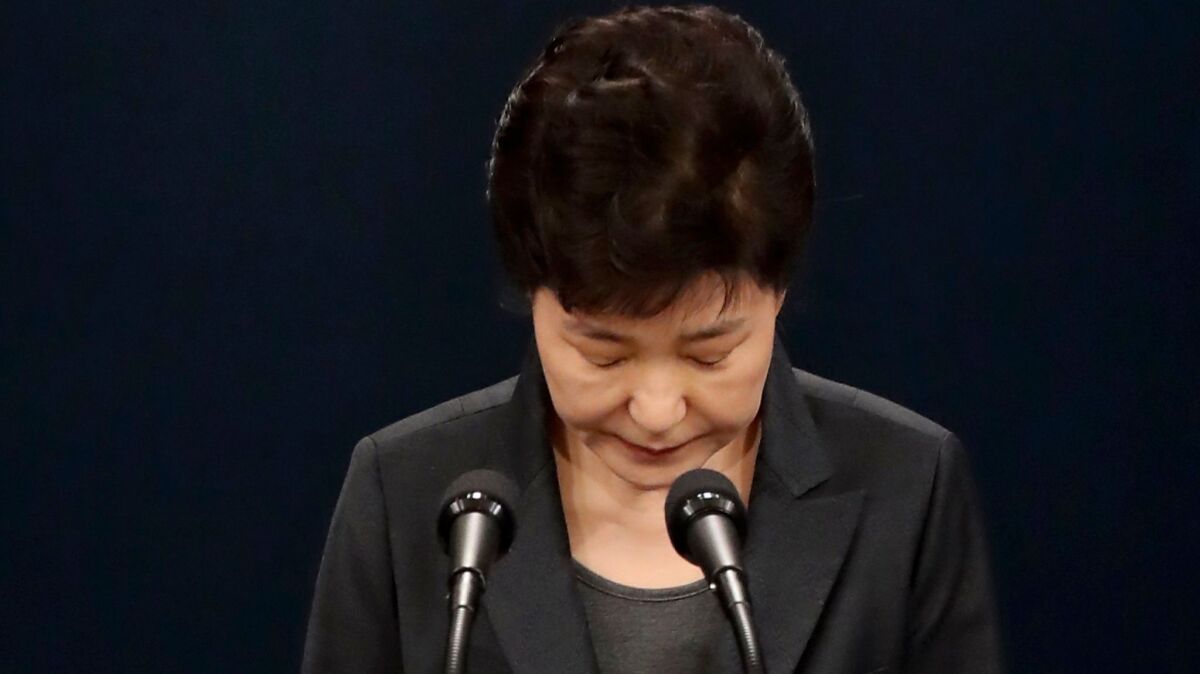 Now Park also faces the prospect of jail time after prosecutors on Monday sought her arrest on as part of a sprawling corruption investigation that forced the scandal-marred politician from office earlier this month. She remains free and had no comment about the decision.
Prosecutors have asked a court for permission to detain the former president — whose father ruled South Korea as a military strongman as the country emerged as an economic force in the 1960s and 1970s — pending an indictment related to 13 allegations. They include bribery, abuse of power, coercion and disclosures of confidential information.
The allegations against Park are long-simmering and have upended the nation's political order, prompting historic street protests for months.
The prosecution's effort sparked a variety of reactions among South Koreans on Monday inside and outside the country's institutions of power.
For some, like Younkyoo Kim, a professor at Hanyang University in Seoul, a nagging question lingers: "Why do Korean presidents keep on making these kinds of mistakes?"
Theories abound.
It's that strong presidency that's the problem because as soon as a president is elected, everybody immediately starts to check their Rolodex.
— Michael Breen, author of "The Koreans: Who They Are, What They Want, Where Their Future Lies"
Some say the presidency itself, crafted in the late 1980s to be democratic but maintain a strong leader during a continuing warlike posture with North Korea, requires constitutional reform. Proposed changes are stalled in the National Assembly.
Others point to decades of collusion — both real and perceived — between the country's powerful family-controlled conglomerates, known as chaebol, and political leaders, including the president. Despite years of progress in reforming their influence, solutions remain elusive amid concern about maintaining South Korea's export-driven economy, among Asia's largest.
Park was the nation's first female president and the first democratically elected leader to be removed by impeachment. However her saga ends, Park's name will be added to a list of troubled South Korean presidencies.
The nation emerged from the Korean War under Syngman Rhee, a strongman who fled the country in 1960 amid a popular uprising. He died in Hawaii in 1965. The following two decades were largely led by Park's father, Park Chung-hee, who ruled as a strongman until his assassination by the nation's spy chief in 1979.
The country began allowing direct election of presidents in the late 1980s, when mass protests threatened to cast a shadow over the Summer Olympics in Seoul.
Two other former leaders, Chun Doo-hwan and his successor, Roh Tae-woo, were charged in the mid-1990s — after they left office — with improperly collecting tens of millions of dollars from businesses during their tenures. The two men, former army colleagues, also faced sedition charges related to Chun's coup and an earlier violent crackdown against pro-democracy protesters in a southern province.
Chun and Roh received sentences of life and 17 years in prison, respectively, but were later pardoned.
Another former president, Roh Moo-hyun, committed suicide by jumping from a cliff in 2009. He had left office after prosecutors questioned him about alleged crimes by family members. He previously had survived a highly politicized impeachment vote amid allegations that his public support for a new political party in legislative elections violated constitutional provisions under South Korean law mandating presidential impartiality.
Other presidents have seen family members charged amid allegations of influence peddling, an endemic problem, some believe, in South Korea, where government ties to businesses generations ago propelled the economy to its current heights.
Some say reform, perhaps switching to a parliamentary system that might shift power to a prime minister and cabinet ministries, is needed.
"It's that strong presidency that's the problem because as soon as a president is elected, everybody immediately starts to check their Rolodex," said Michael Breen, author of "The Koreans: Who They Are, What They Want, Where Their Future Lies," which chronicles decades of the country's triumphs and scandals.
"'Oh, I went to university with his cousin. Bingo.' Those sorts of connections, or the perception of connections, allow for all sorts of advantage."
In Park's case, a combination of these government critiques seems to have been at play in her swift downfall, which began in earnest last fall after the disclosure that she allowed a confidant, a woman with no government title, access to sensitive government documents, including drafts of important speeches.
Prosecutors later alleged that the confidant, Choi Soon-sil, used her influence with the president — with Park's knowledge — to extort contributions from business titans to firms she controlled. The bribery allegations involve whether Park helped direct approval for a controversial Samsung Group merger in exchange for payments to firms controlled by Choi.
"The suspect has used her status as a president to receive money from companies and interfered with the freedom of business management," said a statement from the prosecutors in announcing their arrest warrant application.
The National Assembly had already impeached Park in December, and a court upheld that vote earlier this month. A May 9 snap election will select her successor, while the prime minister remains the acting head of state.
Long under suspicion, Park had enjoyed immunity from criminal charges while in office, and two sets of prosecutors and the impeachment court had been unable to compel her to answer their questions. Now living as a private citizen in Seoul's wealthy Gangnam district, however, Park finally submitted last week.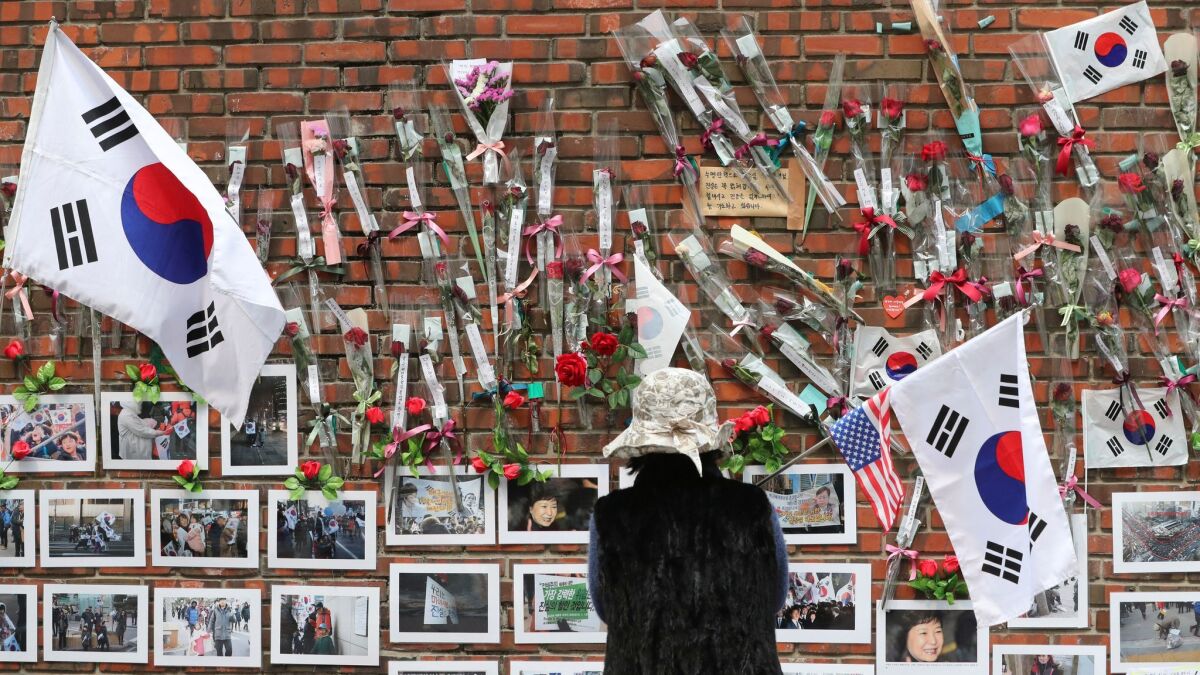 "I feel apologetic toward the nation's citizens," she told a sea of reporters after arriving to meet the prosecutors. "I'll cooperate in the questioning sincerely."
Park did, sitting for roughly 14 hours of questioning that day. Prosecutors said she denied most of the criminal allegations, but they sought her arrest to prevent the destruction of evidence. They also said it would be unfair for her to avoid detention while others who "followed her direction" remain jailed.
That list includes perhaps South Korea's most-powerful man, Samsung Electronics vice chair Lee Jae-yong, the tech giant's heir apparent whose net worth is estimated at $6 billion.
Park's arrest, if approved after a hearing planned for Thursday, would be the latest twist in the high-profile corruption investigation that has led to charges against more than two dozen other people, including several Park aides. Other chaebol chiefs have faced questions in recent weeks about payments they made to Choi.
The news that Park now faces jail is hardly surprising to many who have followed South Korean politics or its latest scandal, which played out in detail in the media for months. Some say they would have been angry otherwise, and they hope the move signals progress.
"I felt relieved," said Seoul resident Kim Ji Hong, 24. "I wanted to shout, 'I can still live here!'"
Public polls suggest that residents such as Kim might reject any candidate from Park's former conservative ruling party, which has since splintered, making the election of a more liberal candidate a possibility for the first time in nearly a decade.
A change in ideology for South Korea's powerful chief executive could shift the nation's policy on North Korea and its posture with the United States on regional security.
The reaction from political spokesman for the country's main political parties was relatively muted, with expressions of understanding for the prosecution's steps to regret that the scandal has upset the people.
A spokesman for the conservative Righteous Party, which split from Park's Liberty Korea over the impeachment vote, noted concern that yet another president faces criminal scrutiny and perhaps jail.
"We hope former President Park will offer a sincere apology and show a sincere reflection of her wrongdoing before the people," Rep. Oh Shin-hwan said.
Stiles is a special correspondent.
ALSO
South Korea's upcoming presidential election could reshape its relations with North Korea — and the U.S.
The strange journey of a Chinese Internet addict — from cybercafes to pole dancing
---
Must-read stories from the L.A. Times
Get the day's top news with our Today's Headlines newsletter, sent every weekday morning.
You may occasionally receive promotional content from the Los Angeles Times.