Turkey says U.S. 'stabbed us in the back' by aligning with Kurds on Syrian border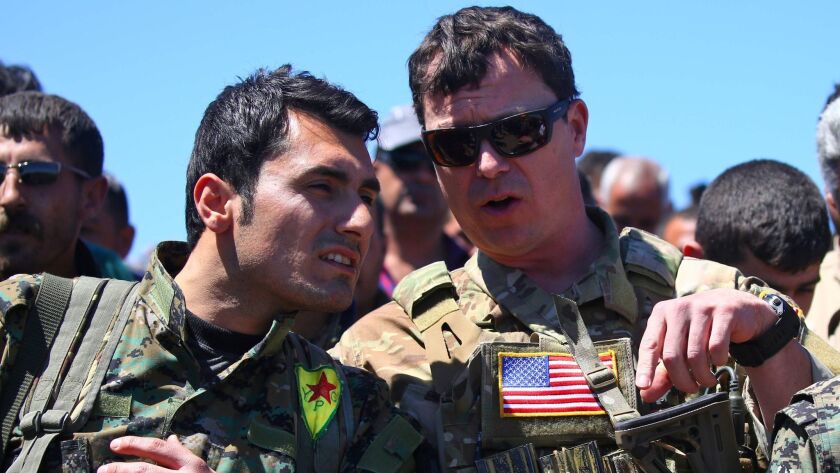 Reporting from Beirut —
In the ever-shifting landscape of the Syrian civil war, the line between allies and enemies is rarely clear.
It was further muddied this week when the U.S.-led coalition revealed plans for a 30,000-strong security force to police Syria's northeast borders with Turkey and Iraq. The plan instantly enraged Turkey, a NATO ally of the U.S., because it would rely heavily on Kurdish fighters who are viewed as terrorists by the Turks.
"Is the duty of protecting NATO borders left to terror groups? We can protect our own borders," said Turkish Prime Minister Binali Yildirim, according to Turkey's state-run Anadolu news agency. President Recep Tayyip Erdogan accused the United States of betraying an ally and threatened to attack Kurdish "terror nests" along the border.
"Those who stabbed us in the back and appear to be our allies ... cannot prevent it," said Erdogan, according to an Anadolu report.
The establishment of the force also stands to rankle Syria's government and its two main allies, Russia and Iran. It could derail a rapprochement between the Kurds and Damascus, who have worked together on occasion as reluctant allies against Islamic State, as well as against rebels trying to overthrow Syrian President Bashar Assad.
With the fight against Islamic State winding down, the coalition envisions that the Border Security Force would be stationed eastward, policing the militants' traditional smuggling route between Iraq and Syria, as well as passageways with Turkey to the north. Those were once used by the group's foreign fighters to travel to and from its "caliphate."
In his remarks, as reported by Anadolu, Erdogan said he did not "even think of calling U.S. President Donald Trump to discuss Syria," adding that "as he long as he does not turn to me, I do not turn to him."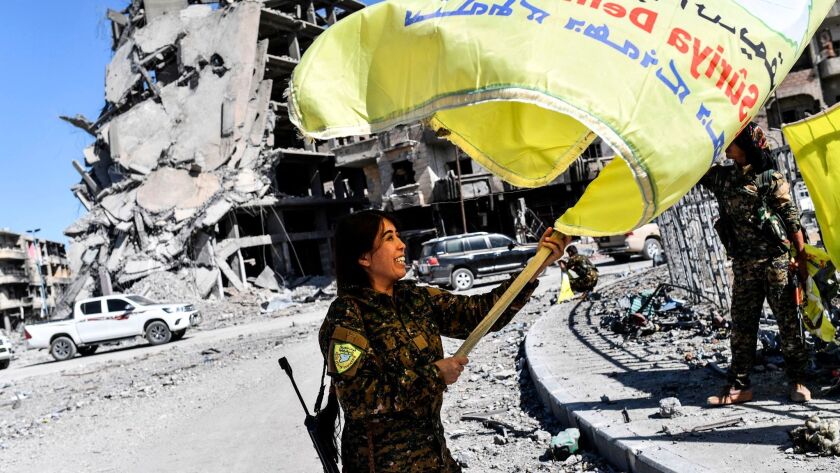 The Kurds are an ethnic group whose population ranges primarily through Syria, Iraq and Turkey, and has long sought an independent homeland. Syria's Kurds have leveraged their alliance with the U.S. and the chaos in the country to carve out the beginnings of a semi-autonomous federation of provinces in the northern part of Syria.
Erdogan has long threatened to overrun Afrin, a Syrian town about 15 miles from the Turkish border. On Tuesday, three rebel commanders confirmed their participation in a new Turkish-backed campaign to oust the Kurds from areas in Syria's north.
"We've completed preparations to wage this battle to liberate our invaded Arab lands from the terrorist separatist gangs," Lt. Col. Abdul Munem Turki, commander of the Northern Division rebel faction, said in a conversation using the WhatsApp messaging service.
The rebel force, which Turki said comprised three companies totaling some 25,000 fighters, were all supplied and equipped by the Turkish army.
Turkey's army chief, Gen. Hulusi Akar, told his counterparts at a NATO meeting in Brussels that his country would not allow the Kurds "to be supported and armed under the guise of being an 'operational partner' [of the U.S]."
"We expect [the U.S.] to reverse the mistake as soon as possible," said Akar, according to a report from Anadolu.
It was a rare moment of consensus between Ankara and Damascus, one-time friends turned enemies, forced together against what may now become a common enemy: the Kurds.
The Syrian government condemned the border force, describing it in a statement on Monday as a "blatant aggression upon the sovereignty, unity and integrity of Syrian lands, as well as a clear violation of international law."
Russia's foreign minister, Sergey Lavrov, echoed that sentiment, accusing Washington on Monday of not wanting "to preserve the territorial integrity of Syria."
However, a spokesman for the U.S.-led coalition played down the significance of the move.
"This is a natural progression from the blueprint we have already used in areas throughout northern Syria and the Euphrates River Valley," said Col. Ryan Dillon in a phone interview on Tuesday. He said the force was aimed at "monitoring unpopulated areas east toward the border where there has been freedom of maneuver by ISIS fighters attempting to flee."
Dillon insisted that, despite its name, the new formation was "strictly focused on security" and "to identify and stop the movement" of fighters of Islamic State. It would not perform tasks such as "passport control" or "levying tariffs."
Nouri Mahmoud, a Kurdish commander with the Syrian Democratic Forces, a U.S.-backed militia that includes both Kurds and Arab fighters, said in a phone interview that this security force "had already been present" when it worked with the U.S. to end Islamic State's presence in northeast Syria. The militia's new focus, he said, would be "stability in Syria."
The border force represents a significant change for Washington, which has declared in the past that, with Islamic State's "caliphate" all but destroyed, it would draw down its support for the Kurds.
"The U.S. has redefined its goals in Syria to include two important additional reasons for its continuing presence: not only to police against a comeback of ISIS, but to also gain leverage for a political process to gain traction, and roll back Russia and Iran," Joshua Landis, director of the Center for Middle East Studies at the University of Oklahoma, said in a phone interview. "They believe they can deny Iran and Russia the fruits of their victory in Syria by keeping Assad weak and Syria poor."
Russia and Iran are set to be the big winners in the proxy war in Syria. By pouring money, men and materials into the conflict, they turned the tide in favor of Assad.
But the area the Kurds hold is one of Syria's richest: They control Tabqa dam, a major electricity source, as well as some of Syria's largest oil fields and agricultural wealth.
Denying it to Damascus, Landis said, would "beggar Assad and make sure he won't have money to rebuild."
The Syrian war, almost in its seventh year, has turned wide swaths of the country into a wasteland of jagged masonry and rebar. In major cities like Aleppo and Homs, whole neighborhoods were pulverized by the fighting.
The reconstruction projects, thought to be a bonanza in the hundreds of billions of dollars, is the prize for Moscow and Tehran — provided Syria can pay.
Bulos is a special correspondent.
Twitter: @nabihbulos
ALSO
Tens of thousands flee, fearing fresh violence in Syria's Idlib province
Feminism, Syria-style: Conservative tribesmen freed from Islamic State emerge into a world where women have rights
---
The Latinx experience chronicled
Get the Latinx Files newsletter for stories that capture the multitudes within our communities.
You may occasionally receive promotional content from the Los Angeles Times.