Backed by Russian air power, Syria's army builds on gains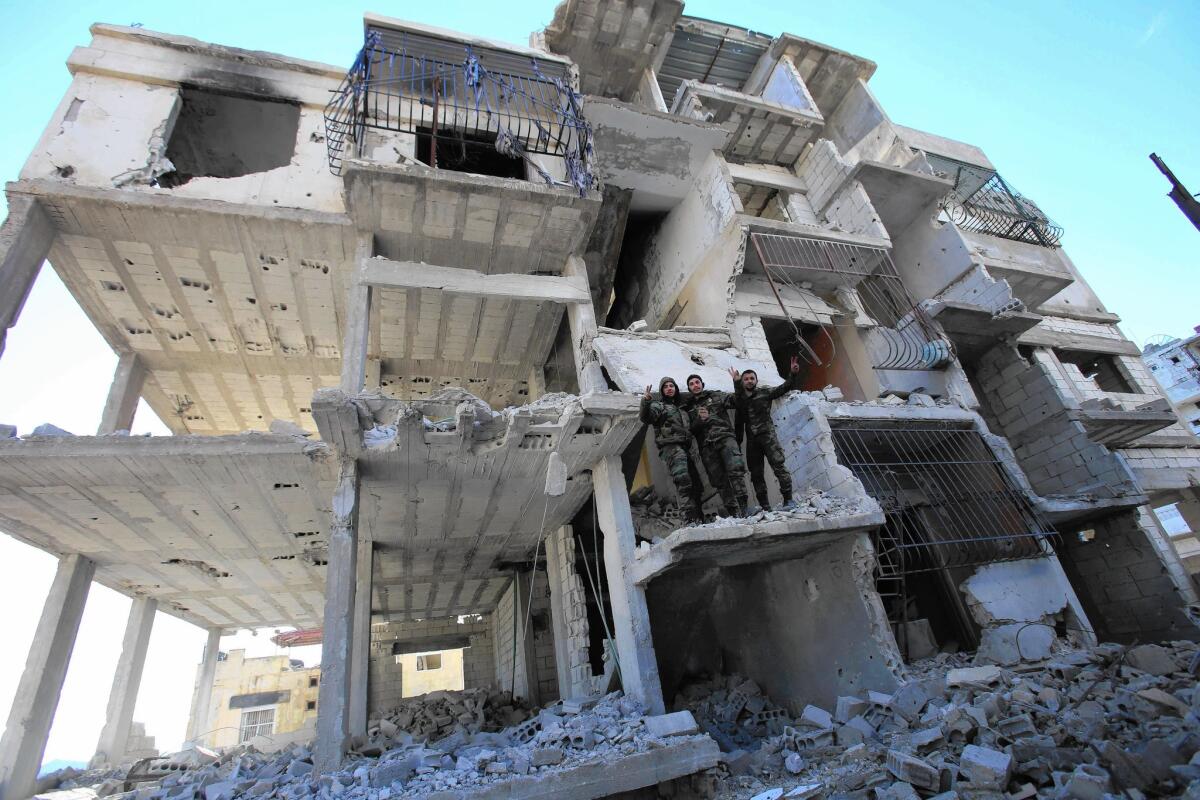 reporting from Amman, Jordan —
Earlier this month, as Syrian pro-government forces closed in on rebels in the mountains of Latakia province, a prominent Islamist leader issued a frank rebuke to fellow militants.
In a nine-minute speech released on social media, Murad Margoshvili complained of a dearth of fighters, saying that he and his men were "in a Roman wrestling ring where the gladiators fight and the rest of the Islamic world spectates."
"In this decisive moment you leave us without assistance?" asked Margoshvili, an ethnic Chechen commander who goes by the nom de guerre Abu Walid al Shishani and heads a hard-line Islamist faction called Soldiers of Syria.
His exhortations went unheeded. Syrian army units, backed by dozens of Russian airstrikes, soon swept through a onetime rebel bastion, Salma. Government forces have since consolidated their hold over strategic swaths of mountainous territory while driving the rebels back to their rear-guard bases across the Turkish border.
The Latakia attack mirrors similar government gains across the country, as forces loyal to President Bashar Assad, backed by Russian air power, have been on the offensive.
In the south, rebels have struggled to maintain their grip on Sheik Maskin, a town about 50 miles south of Damascus, the Syrian capital, and at the nexus of highways leading to the Jordanian border.
Outside Damascus, pro-government forces are pushing forward in the eastern Ghouta area, long an opposition stronghold. An airstrike last month killed the region's most powerful opposition commander, Zahran Alloush, who headed the hard-line Islam Army faction.
In the north, government advances in seven points around the city of Aleppo forced rebel groups to issue a general call to arms. Government forces are also attacking rebels in the northern province of Hama.
See more of our top stories on Facebook >>
And the Syrian army is likewise advancing north in Homs province as besieged rebel forces have agreed to evacuate Waer, the last opposition-held neighborhood in the city of Homs.
Even Islamic State, whose fighters are regarded as some of the fiercest in the conflict, appears to be on its back foot. In November, the Syrian army broke a crippling three-year siege by Islamic State at Kuweires military airport outside Aleppo and is now poised to move in on nearby Al Bab, a city held by the extremist group since late 2013.
It's a dramatic shift for the forces of Assad, who less than six months ago had warned supporters that the government would have to "give up areas" after a string of humiliating setbacks.
The gains have strengthened the government's position in the run-up to Syrian peace negotiations scheduled to begin next week in Geneva. Leading up to the talks, previous demands by the United States and others for Assad's immediate departure have softened into a United Nations Security Council plan for a transitional government and a vague timeline that promises "free and fair elections" in 18 months.
Much of the credit for the government gains in Syria, observers say, goes to the hundreds of airstrikes conducted by Russia, which deployed its forces to the country in September against what it said were Islamic State targets.
Most of its attacks, however, have focused on other Assad adversaries in strategic, opposition-held areas, which are mostly under the control of other Islamist groups, and factions linked to the Western-backed Free Syrian Army. Latakia province has been a particular focus because it is a bastion of government support and is home to the major air base being used by Russian forces.
"Assad is winning. Russian air power [has] changed the entire dynamic of what's going on, and it just gives the Syrian army an incredible boost," said Joshua Landis, director of the Center for Middle East Studies at the University of Oklahoma, in a phone interview.
Moscow's air onslaught appears to be gaining effectiveness as Russian commanders grow more familiar with the conflict and with the capabilities of allied Syrian ground forces, observers say.
"What I'm hearing from Damascus is that it has taken time to digest the new technology, for the Russians to get well situated, get the intelligence they require and know what they're doing," Landis said.
Russia's involvement has also led to a new calculation by Syria's neighbors, "restrict[ing] what they could do in Syria," Oraib Rantawi, director of the Quds Center for Political Studies in Amman, said in a phone interview Sunday.
The Military Operations Center, an Amman-based logistics hub supporting the rebels in southern Syria, has reduced its role, Rantawi said. The center is staffed by intelligence operatives from 11 countries, including the United States.
Turkey, meanwhile, has tightened up security along the more than 500-mile border it shares with Syria — a sharp contrast from the carte blanche previously given to antigovernment fighters, including Islamic State militants. Russian warplanes have been operating close to the border area.
Some observers, however, doubt the ability of the Assad government to regain control of all of Syria. The majority of Syria's land area remains out of government control, though much of rebel-held territory is thinly populated desert. Government-held areas — including the major cities of Damascus, Homs, Hama and part of Aleppo, along with the Mediterranean coast — are home to more than 60% of Syria's remaining population, according to various estimates.
"Can Assad shoot himself into a stronger position, with enough firepower? Yes … but of course he's up against formidable obstacles," Aron Lund, editor of the Syria in Crisis website, wrote in an email exchange Saturday. The site is published by the Carnegie Endowment for International Peace.
Syria's economy Is reeling, much of the nation's infrastructure has been destroyed, and its army is desperately overstretched and reliant on allied forces such as the Lebanese militant group Hezbollah.
"Assad isn't trying to conquer every little village in Syria, and he can't do that anyway," Lund noted. "Ultimately, I don't think Assad's endgame is about him being strong as much as it is about making every other option impossible."
Bulos is a special correspondent. Times staff writer Patrick J. McDonnell in Beirut contributed to this report.
ALSO
As improved U.S.-Iran relations are celebrated, questions loom about the road ahead
In Canada, followers of pastor held by North Korea keep their faith
Sign up for Essential California for news, features and recommendations from the L.A. Times and beyond in your inbox six days a week.
You may occasionally receive promotional content from the Los Angeles Times.