Turkey accuses Trump of 'turning a blind eye' to Khashoggi's killing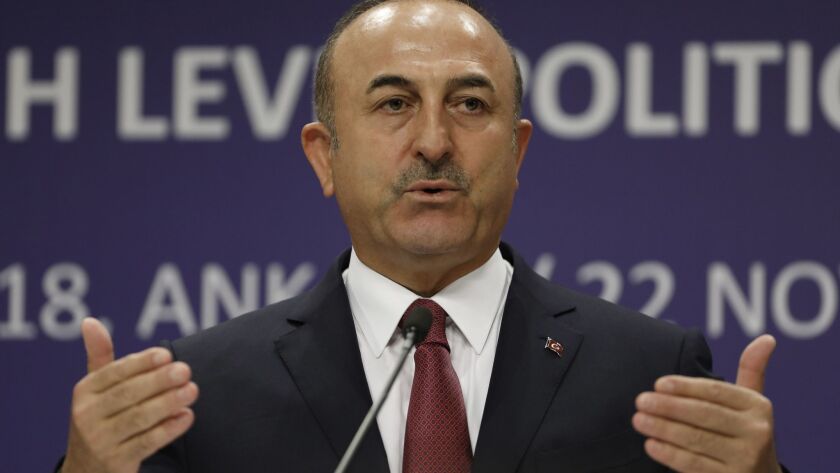 Reporting from amman —
For months, Turkish officials have been leaking gruesome details surrounding Jamal Khashoggi's death as a counter to President Trump's moves to absolve Saudi Crown Prince Mohammed Bin Salman, the Trump ally thought to be behind the Saudi journalist's slaying.
But Ankara took a more direct approach on Friday, with Turkish Foreign Minister Mevlut Cavusoglu slamming Trump for "turning a blind eye" in Khashoggi's death, and accusing him of putting money above human values.
Trump's statements in support of the prince mean that the president is saying, in essence, "'Whatever happens, I will turn a blind eye,'" Cavusoglo said in an interview Friday with CNN's Turkish affiliate, CNN Turk. "This is not the right approach. Money is not everything. ... We shouldn't abandon our humanitarian values."
Cavusoglu's rebuke echoes those from other Turkish officials, who have described as comical an exclamation-point-filled message from the president concerning reports that the prince ordered Khashoggi's slaying. .
"Maybe he did, maybe he didn't," Trump wrote on Tuesday in a rambling 633-word message, later adding "in any case, our relationship is with Saudi Arabia." He also thanked the kingdom for its support against Iran and "keeping oil prices at reasonable levels."
"Very simply it is called America First!" concluded Trump's message.
Khashoggi, a onetime Saudi government insider who left the kingdom last year and became a U.S. resident and Washington Post columnist, disappeared after entering the Saudi Consulate in Istanbul, Turkey, on Oct. 2.
It soon emerged that the journalist had been ambushed by a 15-man hit team dispatched from Riyadh, who killed and then dismembered Khashoggi before covering up his death.
Meanwhile, Saudi officials' version of the events has changed from shrill denial to insistence that the slaying was a "rogue operation," a rendition gone wrong that happened without the prince's authorization.
But skeptics, including some of Trump's top allies in the U.S., say attacking such a high-profile figure could not have happened without the crown prince's permission.
Cavusoglu's comments come a day after Trump again came to the prince's defense, dismissing a CIA assessment that the de facto Saudi leader had been involved in Khashoggi's death as "feelings."
"No, they didn't conclude. They did not come to a conclusion. They have feelings certain ways," Trump said in a meeting with reporters at his Mar-a-Lago resort in Florida on Thursday.
He also doubled down on the idea that it didn't matter to the U.S.-Saudi relationship, repeating his now routine assertion that defense contracts worth hundreds of billions of dollars are at stake.
"As I said, maybe he did, maybe he didn't. But I will say very strongly that it's a very important ally, and if we go by a certain standard, we won't be able to have allies with almost any country," Trump said.
"Do people really want me to give up hundreds of thousands of jobs?"
Trump's dismissal is likely to embolden other leaders attending the G-20 summit in Argentina next week and where the prince is scheduled to make an appearance.
Cavusoglu said Turkish President Recep Tayyep Erdogan would accept a meeting with the prince if the latter requested it.
"Of course, there's no reason not to meet Bin Salman. Of course, it is up to our president," Cavusoglu said.
Twitter: @nabihbulos
---
Must-read stories from the L.A. Times
Get the day's top news with our Today's Headlines newsletter, sent every weekday morning.
You may occasionally receive promotional content from the Los Angeles Times.