How to use L.A. Library apps to read for free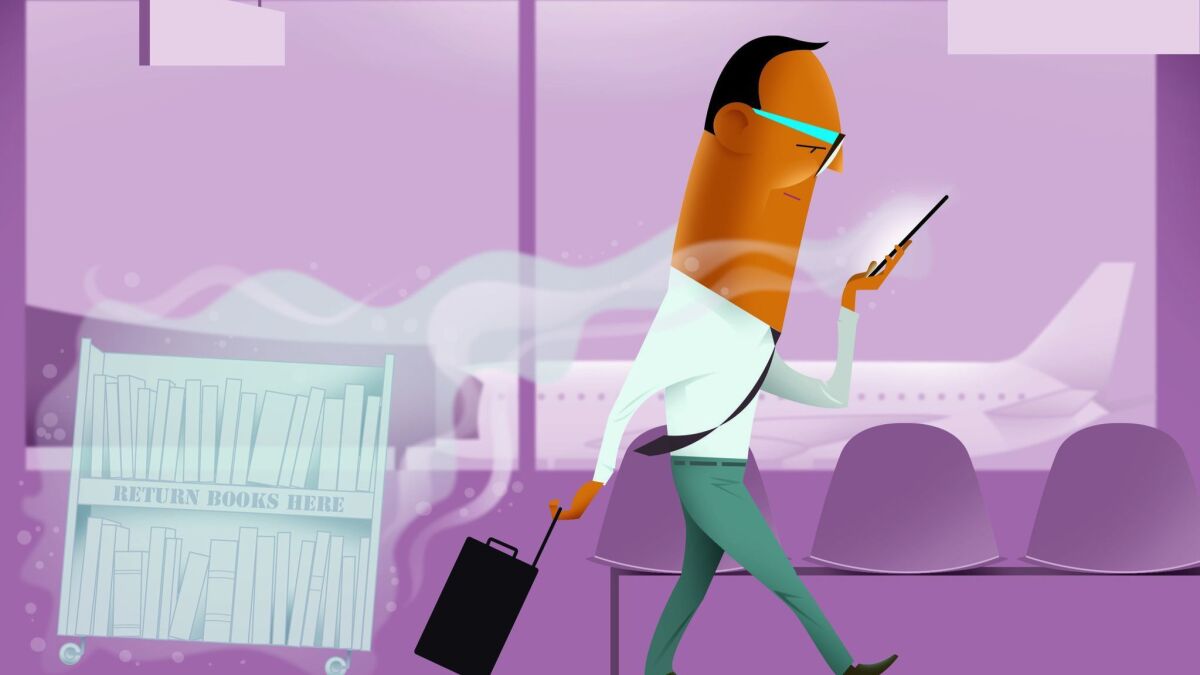 Angelica Gonzalez used to read about a book a year. Then she discovered the Libby app, which allows anyone with a Los Angeles Public Library card to borrow e-books, audiobooks and other electronic media — for free.
Now Gonzalez regularly checks out titles and transfers them to her Kindle. She just finished "An Ember in the Ashes," a young-adult fantasy trilogy by Sabaa Tahir, and currently is juggling Toni Morrison's essay collection "The Source of Self-Regard" and Michelle Obama's memoir, "Becoming."

For the record:
3:25 p.m. June 17, 2019This article says the library's electronic books cannot be renewed. The e-books have the same 21-day checkout period as physical books and can be renewed if there isn't a waiting list for the title.
"I love the ability of returning books that I didn't like and not having a stack of books around taking up space," says Gonzalez, a 30-year-old web developer who lives in Wilmington. "Libby reminded me how awesome the library is."
Gonzalez is among a rapidly growing number of readers who are checking out books on smartphones, laptops and other devices without setting foot in the library.
Los Angeles Public Library patrons borrowed about 4 million e-books and other electronic media last year, moving past the New York Public Library to claim the No. 2 spot of any U.S. public library system. Seattle's King County Library is the library tech leader, with approximately 4.9 million digital checkouts last year.
Surpassing New York's library means bragging rights for L.A. librarians.
"We're second and growing and very proud of it," says Peggy Murphy, the library's e-media manager.
If checkouts continue at the current pace, the library's e-media circulation is expected to climb to 5 million for the budget year that ends June 30, Murphy says.
Easy access 24/7
Readers with an LAPL card and an Android, iOS or Windows mobile device can use the Libby app to access books, audiobooks, magazines and other digital materials. Both Libby and the older OverDrive app were developed by Rakuten OverDrive and are used by libraries around the world. Desktop versions of both apps are available for Windows and Mac computers.
In addition to checking out books, L.A. Library patrons can use Libby to put e-books on hold. You also can use the app to browse themed book collections that library staff creates every week tied to observances such as June's LGBTQIA Heritage Month or cultural phenomena, such as "Game of Thrones." The library's e-media collection extends to magazines, graphic novels and comic books.
Readers can borrow up to 30 e-books or other e-media at a time, and put up to 15 titles on hold. Once a waiting list item is available, it downloads automatically to the cardholder's app.
It may sound odd for libraries to limit checkouts of materials comprised solely of bits and bytes. But libraries pay publishers for digital licenses, and as e-media have become more popular, licenses for digital media have become more expensive. In some cases, they cost more than what libraries pay for physical books, Murphy says. The library's policy is to order one new e-book license for every five hold requests.
LAPL e-books have the same 21-day checkout period as physical books but can't be renewed. When the due date arrives, the book is automatically deleted from the app.
Borrowing instead of buying appeals to Tricia Nelson, a 49-year-old digital producer at TiVo, who divides her time between Burbank and New York. She prefers electronic books because it's easy to pull out her Nook e-book reader on the plane or subway.
For Nelson, checking out digital library books also fits with "the whole Marie Kondo way of thinking and living in a small space," she says. "As we become more into our personal devices, the thought of checking out a book that other people have checked out isn't palatable to me anymore. And I love the library."
E-Media's Steady Rise
E-media circulation has been on the rise ever since the library began stocking audio books in the early 2000s. The birth of the Kindle, Nook and similar e-book readers and the OverDrive app's debut in 2009 launched e-book checkouts.
Library patrons' interest in e-media escalated with the popularity of smartphones and the June 2017 launch of Libby, an updated version of the original OverDrive app.
Libby has a streamlined interface that, among other things, lets readers check out a book and view it on multiple devices.
"A book could be on your tablet at home and when you open it up in your phone you're in the same place," Murphy says.
The most borrowed e-media titles are often the same as the most popular physical books, says library spokesman Justin Pearson.
The top five most borrowed e-books, from May 2018 to April 2019, were: "Little Fires Everywhere" by Celeste Ng; "Crazy Rich Asians" by Kevin Kwan; "Becoming" by Michelle Obama; "Educated" by Tara Westover; and "The Library Book" by Susan Orlean. The new Los Angeles Times Book Club has selected Orlean's bestseller, about the 1986 fire at L.A.'s Central Library, as its first community read and will host a June 25 event with the author.
The library is taking steps to get its e-media collection into the hands of even more readers, including offering access to people without LAPL library cards. When non-library patrons living anywhere in Los Angeles County download or look at the Libby app, they see a pop-up offering them the opportunity to sign up for an electronic library card.
The library's digital horizons continue to expand. In May, Rakuten OverDrive, the company that makes the Libby and OverDrive apps and provides the LAPL with its e-media catalog, released an updated version of Libby that works with Google Assistant voice commands. App users can say, "Hey Google, talk to Libby" to look up a book, hear a description, get a recommendation or put something on hold.
Michelle V. Rafter is a freelance writer covering business and technology, and a lifelong bookworm.
Sign up for the Los Angeles Times Book Club at latimes.com/bookclub.
Get the latest news, events and more from the Los Angeles Times Book Club, and help us get L.A. reading and talking.
You may occasionally receive promotional content from the Los Angeles Times.