When musicians want their songs in TV shows, movies and streaming sites, they go here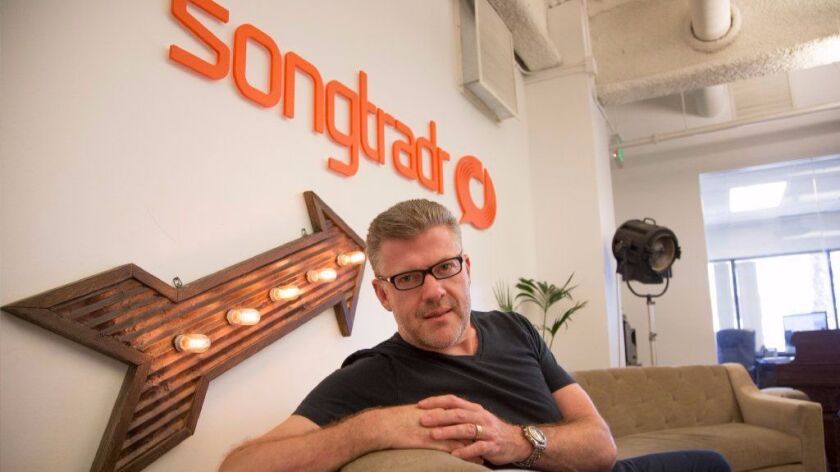 Like so many independent musicians, singer-songwriter Ashley Dudukovich is used to crashing on a stranger's couch.
Over the past few years, the Florida-based indie/pop musician has toured relentlessly on a shoestring budget, building a small but loyal fan base that helped her raise money to release a handful of singles and music videos.

For the record:
3:41 a.m. Oct. 18, 2021An earlier version of this article incorrectly described the cost of Artlist.io's service as $199 per month. It is $199 per year.
But her big break came in January when Dudukovich's song "War Paint" was featured in Fox's network TV series "Lucifer." In addition to the $3,000 paycheck, the high-profile song placement gave her legitimacy in the industry, making it easier to book gigs and find producers to work with.
"When I got that first placement it was so amazing and encouraging, and it made me feel like I was on the right track," said Dudukovich, who performs under the name Chasing Jonah.
Dudukovich's licensing deal was arranged by Santa Monica-based Songtradr, one of a handful of boutique companies in the L.A. area that have sprouted in response to the growing demand for licensing of music to films, TV shows, ads and other media.
While rapid gains in streaming revenue have helped the major record labels recover from a decade of shrinking profits, little of that new money has trickled down to the middle class of musicians. Royalties paid out by Spotify or Apple Music still yield significant returns only for the Taylor Swifts of the world. And labels are less likely to spend time and money developing an up-and-coming act.
So licensing agreements — known as "sync deals" — have become a bigger priority for independent artists like Dudukovich. And as digital platforms such as YouTube, Amazon and Netflix host an expanded range of content, the demand for new sync deals is growing.
Global music licensing revenue totaled $1.23 billion in 2016. That's up 3.4% from $1.19 billion in 2015 and 9.8% from $1.12 billion in 2014, according to digital media analysis firm Midia Research.
"The sync market is undergoing an existential moment in the same way recorded music did in the wake of file-sharing," Midia analyst Zach Fuller said.
Among the local companies looking to capitalize on the growth in music licensing is Songtradr.
The Santa Monica-based company was founded by CEO Paul Wiltshire in 2014 after he moved to Southern California from Australia, where he had a successful career as a songwriter and producer for pop acts including the Backstreet Boys.
As a musician, Wiltshire, 47, became frustrated when he wasn't able to license much of his catalog after signing exclusive deals with music publishing companies, which limited how and where he could place his music. To license the music Wiltshire did have the rights to, he found it difficult to build the necessary relationships with Hollywood music supervisors while he was living in Australia.
He said he launched Songtradr to address these problems, giving musicians and rights holders a simple way to license music on their own terms, no matter where they lived or whom they knew. Licensing deals can range from $30 to $4,000 for a $10-million movie.
We're here to bat for the music creators and make sure that they get the most value for their music.
Paul Wiltshire
"We're here to bat for the music creators and make sure that they get the most value for their music," Wiltshire said.
The company enables any artist to upload tracks to its online platform for free. Potential licensers can then search through the site's entire catalog and listen to individual songs before cutting a deal directly with rights holders through Songtradr's scalable pricing model.
Dudukovich said she chose the platform because it allows independent musicians like her to retain full control of their publishing rights and doesn't take a cut of their royalty payouts. And unlike most traditional publishing deals, her contract with Songtradr is non-exclusive — meaning she's free to use other publishers.
Songtradr makes money by taking 15% to 30% of the total amount of each licensing agreement — far lower than the standard 50/50 split for co-publishing deals.
Wiltshire said the platform, which went live online in March of 2016, hosts music from more than 100,000 artists worldwide and has licensed songs to companies including Disney, Columbia Pictures, Netflix, NBC Universal and Microsoft. Songtradr has raised over $5 million from international investors and is making significant investments in its technology and infrastructure, he said.
The company, which employs 20, has an expanding global business with offices in Britain and the Philippines. Revenue has increased monthly, Wiltshire said, but he declined to disclose specifics.
When a studio wants to license a well-known song, it usually has to go to one of the large publishers, such as Sony or Universal, that own the rights to most major label music. But the explosion of streaming video has supervisors working with smaller budgets and seeking out alternatives to pop hits — good news for independent musicians and companies that cater to them, said Joel C. High, an independent music supervisor and former head of music at Lionsgate. He has worked closely with Songtradr to license songs for films including Tyler Perry's popular "Madea" franchise.
"There is so much content being created with Netflix and Amazon," High said. "That means there's so much more demand for music, and everybody is trying to find something new and unique."
In addition to new shows on Hulu or Amazon Prime, individual or noncommercial users who make videos to share on sites such as YouTube are emerging as a new class of licensers.
These individual deals, known as "micro-syncs," are negotiated with YouTube stars, high schools or amateur filmmakers for around $20 to $100 per use. Wiltshire said they make up the fastest-growing segment of Songtradr's business in terms of volume.
"There is so much value being created in automated transactions and the major labels don't have a solution for micro-licensing their catalog," Wiltshire said.
Still, music licensing can be a difficult business. Chicago-based Music Dealers built an online licensing database for independent musicians and quickly amassed a catalog of more than 57 million songs before running out of cash and selling its assets to digital music distributor BrandSpins for an undisclosed amount in 2016.
Songtradr also faces competition. Among the rivals is Israel-based publishing platform Artlist.io, which targets independent filmmakers looking to license music quickly and on a short budget.
Jeremiah BenZion, artist support manager at Artlist.io, said the site has licensed songs more than 820,000 times since it launched in February 2016.
"We provide the tools so you don't have to put your lawyer hat on while cutting a film," he said.
An individual video creator can sign up for the service for $199 per year and gain access to its searchable online database of songs from more than 200 creators. Artists are paid each time a song is downloaded from the site. BenZion said some artists have earned tens of thousands of dollars licensing songs through Artlist.io's catalog.
He declined to discuss the company's finances but said the business is growing.
If the market for sync deals continues to expand — especially as Facebook follows through on its plans to host more original video content — more automated licensing platforms like Songtradr and Artlist.io could pop up, potentially driving down sync prices over time. But independent musicians would likely welcome an increase in the number publishers working on their behalf.
While artists from a previous era may look down on other musicians for "selling out" their songs to shows or commercials, Dudukovich doesn't feel any sort of stigma.
"What's great about licensing is that it can still be personal and still apply to film and art and you can be in control of that," she said. "I don't feel like I'm selling out at all."
Twitter: @ethanvarian
ALSO
Hollywood musicians are backing a new bill that seeks to stop runaway film scoring
Horror video start-up Crypt TV is building a scary universe for the smallest screens
---
Inside the business of entertainment
The Wide Shot brings you news, analysis and insights on everything from streaming wars to production — and what it all means for the future.
You may occasionally receive promotional content from the Los Angeles Times.