Horror video start-up Crypt TV is building a scary universe for the smallest screens
Budding filmmaker Landon Stahmer's creepy three-minute film "The Look-See," about a woman terrorized by a monster in a bathroom stall, has amassed 5.5 million views since it premiered on Facebook last month. Not bad for a $4,000 production filmed in one day at a Burbank church.
"That's really where horror lends itself," said Stahmer, 26. "It's been so fun to see how the audience reacts."
It could have been a one-off success for Stahmer. But to Crypt TV, the digital video start-up behind the film, "The Look-See" represents something bigger — a possible horror franchise that people can watch on their phones and tablets.
The 2-year-old Los Angeles company, founded by 25-year-old entrepreneur Jack Davis and "Hostel" director Eli Roth, aims to create a universe of monsters for a generation that grew up watching Facebook and Snapchat videos on the smallest screens. Social media sites were already filled with animal videos and comedy sketches, but no one had figured out the horror genre, leaving an opening for Davis and Roth.
"From Orson Welles reading 'War of the Worlds' on the radio, to Bela Lugosi, to Freddy and Jason, there has always been 'scary' as a cultural and economic part of the industry," Davis said. "So we felt it stood to reason that somebody should start it on mobile."
With backers including horror film maker Jason Blum, the company has more than 2.5 million fans on Facebook and averages about 30 million views a month for its bite-sized scares. The idea is to draw a big, loyal audience with serialized, short-form shows based on its characters.
Crypt aims to license its most popular characters to retailers and feature them at Halloween-themed events. It also makes money by creating short videos on its site to promote horror movies and TV shows for studios, and by producing more traditional series for other networks, such as "Ghosted," an upcoming travel show about haunted locations for the new digital video network Rated Red.
Some of their marquee characters — including the creepy clown Giggles — could eventually score their own movie and TV deals, though none have yet made the jump to the big screen.
"If Jack developed great characters, why wouldn't Jason or someone else want to do a movie off it?" said Kenneth Lerer, managing partner of Lerer Hippeau Ventures, a New York investment firm that invested in Crypt.
The start-up is courting the online audience at a time when social media companies are increasingly using video to target young viewers. Facebook recently unveiled a lineup of shows for its streaming video platform Watch that splits advertising revenue with programmers. Facebook also funds some shows. Although Crypt uses Facebook as a platform, it does not have such a partnership with the site.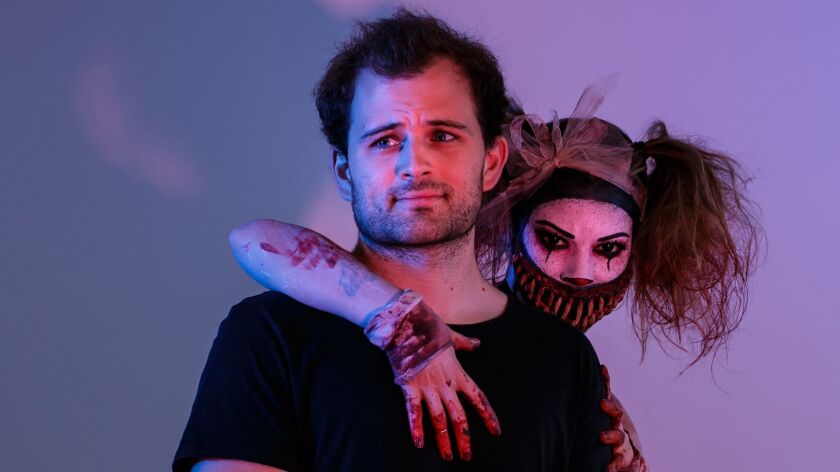 There's heavy competition among popular digital video makers such as the Dodo, for animal lovers, and Tasty, for foodies and home cooks. The Dodo and Tasty have 14 million and 88 million Facebook fans, respectively, making Crypt a much smaller player. However, Crypt's niche focus and high-profile backers could work to its advantage if it can keep its core audience interested, said digital video expert Peter Csathy.
"The biggest challenge is to get attention against this sea of content, but this is where a power player can make a very significant difference," said Csathy, founder of the advisory firm Creatv Media.
The origins of Crypt trace back to 2013 when Davis was still in college at Duke University. Davis, son of TV and film producer John Davis, met Roth at a dinner party at his parents' Malibu house before his senior year. Later, over lunch at Hugo's in West Hollywood, they talked about how to make scary entertainment effective on phone screens.
In October 2014, they created a contest called "6 Second Scare," in which people tried to create the most frightening Vine video. The idea drew 10,000 entries and got the attention of "Good Morning America." Meanwhile, Roth showed the contest to Blum, the "Purge" and "Insidious" producer, who was looking for a digital strategy for his Blumhouse Productions.
"You have to tell a story with the idea that everyone's going to watch it on a 3-inch screen," Blum said. "I didn't have any idea how to do that, and Jack did."
Blum invested an undisclosed amount in Crypt, which officially launched in April 2015 in his Los Angeles offices. Davis' company now has its own office space in Miracle Mile, with 14 employees, including Chief Operating Officer Darren Brandl and Chief Content Officer Kate Krantz. Crypt TV would not disclose financial details but did say its revenue more than doubled in its second year.
In March, Crypt TV raised $3.5 million in funding led by Lerer, who has backed digital video companies including the Dodo, BuzzFeed and Fatherly. Comcast Corp.'s NBCUniversal and Shari Redstone's Advancit Capital are also Crypt TV investors.
Crypt releases about 100 videos every three months and uses the instantaneous reaction of social media to test characters and concepts, including "Mordeo," in which people are turned into beasts as punishment for eating human flesh. Most are not safe for work, very short (three minutes is typical) and made for a few thousand dollars. Some are downright goofy. One called "The Launder Man" takes place in a coin-operated laundromat.
Characters that prove popular enough are inducted into Crypt's so-called monster universe, loosely modeled after the Marvel Cinematic Universe of superheroes (yes, even digital start-ups want to be Marvel). Crypt makes as many as 15 videos a quarter based on its major characters, including "The Birch," an English woodland monster that protects a schoolkid from bullies.
Another promising character is Giggles the Clown, inspired by last fall's media craze over a spate of clown sightings. Crypt sent Giggles to interact with real people on the street. The company then had Giggles upload video diaries to Facebook. In one popular live post, Giggles talked about getting harassed for her creepy look. Chief Content Officer Krantz says it's meant to send a positive message about self-esteem to young girls.
"She's been a really positive figure despite how she looks, and that's why she's resonating with these Gen-Z females," Krantz said.
Crypt recently scored a merchandising deal with novelty retailer Spencer's to sell Giggles the Clown T-shirts, and has reached agreements to promote Knott's Scary Farm and Live Nation's Halloween electronic music show Escape: Psycho Circus. Knott's will pay Crypt to have Giggles promote its event on her page, and then come to scare parkgoers at the physical event in Buena Park.
Blum said he doesn't view Crypt as a farm system for his own company. Nonetheless, a Crypt TV filmmaker is making a movie for Blumhouse, though he wouldn't give specifics. In fact, Blum said, Crypt could eventually get big enough to distribute full-length movies digitally.
"I hope one day I premiere a Blumhouse movie on Crypt TV," Blum said.
---
Inside the business of entertainment
The Wide Shot brings you news, analysis and insights on everything from streaming wars to production — and what it all means for the future.
You may occasionally receive promotional content from the Los Angeles Times.