Want to invest in a social network? How about a condom company? Now's your chance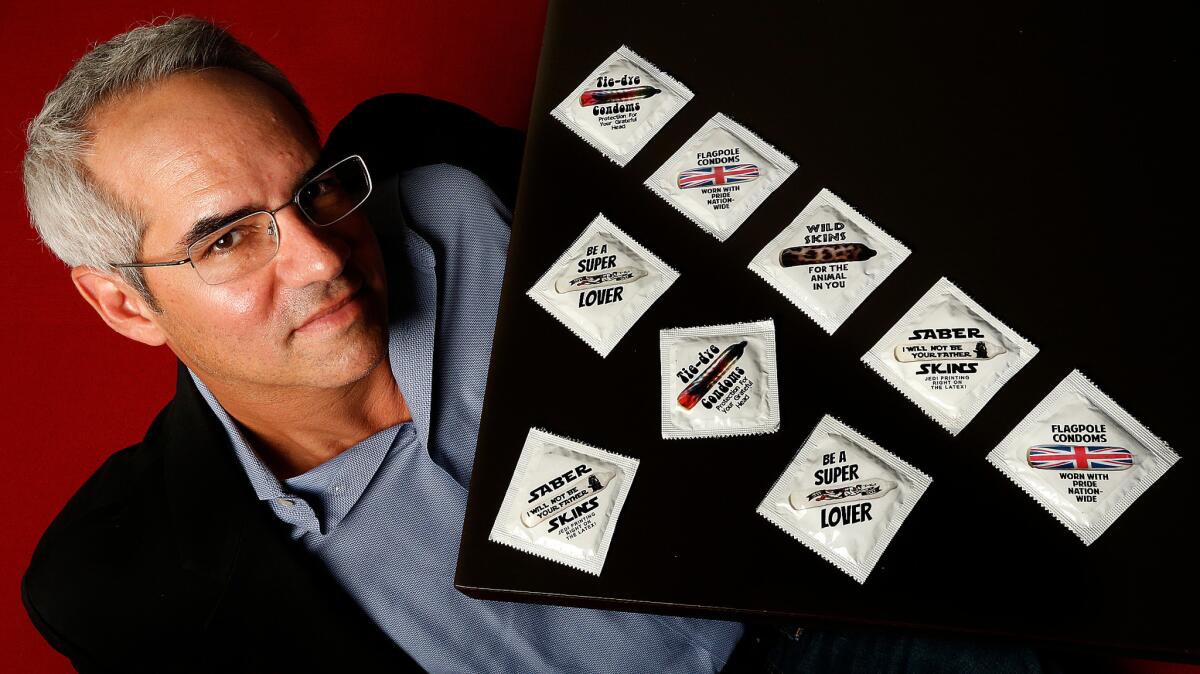 Like so many entrepreneurs these days, Adam Glickman believes his company is making the world a better place. In his case, it's doing so one funny condom at a time.
His Los Angeles company, Graphic Armor, sells condoms with custom and stock graphics printed right on the latex. Tie-dyed? He's got 'em. Leopard skin and camouflage ones, too. Even "Star Wars" condoms with an image of Darth Vader and the message "I will not be your father."
"Graphic Armor built a platform that lets anyone customize their own condom like they would a coffee mug or a T-shirt," Glickman said. "It's a powerful tool to break down stigmas that have surrounded condom use for decades."
At least that's part of the pitch that he'll use to convince investors to give him the cash Graphic Armor needs to pay for advertising, buy equipment and get its printing process approved for overseas sales by foreign regulators.
But the pitch isn't aimed at private equity firms, venture capitalists or money managers. It's aimed at, well, everyone.
Graphic Armor will be among the first companies to attempt to raise money by selling stock through a Kickstarter-esque crowdfunding campaign open to anyone who has just a few hundred bucks to invest.
New rules that allow for those campaigns take effect Monday, a development that could give small companies access to billions of dollars in capital — and expose small-time investors to serious losses.
Over the next few weeks, dozens, perhaps even hundreds of start-ups like Glickman's are expected to begin pitching investors. Most will have little, if any revenue, few will be profitable and none will be required to provide a prospectus with audited financial results.
Instead, many of these small firms hope to copy what filmmakers, artists and product designers have been doing for years through Kickstarter, Indiegogo and other crowdfunding sites: connecting with fans willing to back their enthusiasm with cash.
The difference is that instead of soliciting a donation or selling a product, as companies do through those sites, Graphic Armor and other firms are selling stock.
The promise of equity crowdfunding is your fans become owners.

— Adam Glickman
"The promise of equity crowdfunding is your fans become owners," said Glickman, who's hoping to raise $1 million, the maximum allowed under the new rules. "There's the potential to deepen the relationship between the brand and its fans."
Other companies that plan to start raising money include a social networking site to help musicians find bandmates and paying gigs, an on-demand services company that serves only the southwestern corner of New Hampshire and a tech start-up focused on the medical marijuana business.
The new equity crowdfunding rules, approved by the Securities and Exchange Commission last year, are the final piece of the Jobs Act, a 2012 law aimed at making it easier for small companies to raise capital.
Other new investment rules that stem from the Jobs Act already have loosened restrictions to allow larger companies to publicly seek investments from wealthy or so-called accredited investors — ones who make at least $200,000 a year or have assets, other than their home, worth at least $1 million.
Another Jobs Act provision has allowed mid-sized firms to stage small initial public offerings without all of the reporting requirements of big companies.
But the new rules represent the centerpiece and most anticipated part of the act, which President Obama said would help businesses take off and ramp up both hiring and innovation.
"Start-ups and small business will now have access to a big, new pool of potential investors — namely, the American people," Obama said at the Jobs Act signing ceremony. "For the first time, ordinary Americans will be able to go online and invest in entrepreneurs that they believe in."
And they'll have plenty to choose from.
The companies will have to work with firms called funding portals — the equity crowdfunding equivalents of Kickstarter. Ron Miller, chief executive of Santa Monica portal StartEngine Crowdfunding, said at least four and as many as seven companies will start pitching investors through his portal beginning Monday.
Within the next few weeks, he expects to have as many as 15 start-ups raising money. And StartEngine is just one of a handful of portals already approved by the Financial Industry Regulatory Authority, or Finra. Dozens more have applied to do the same.
"We could see somewhere between 100 and 200 offerings made available to everyone" over the next month, Miller said.
Though the firms are all tiny, that's a large number of offerings. Last year, 170 companies went public through a traditional initial public offering. So far this year, just 22 companies have similarly gone public, according to investment firm Renaissance Capital, which tracks IPOs.
The cost of preparing for a traditional initial public offering can easily run into the millions, typically more than what these start-ups are seeking to raise. Selling shares in an equity crowdfunding offering is much cheaper and comes with fewer requirements.
Crowdfunded firms have to provide financial statements that are reviewed, but not audited, by an accountant. Several of the firms estimate their legal and accounting costs have run from about $10,000 to $20,000. The firms also have to report to investors annually rather than quarterly.
However, the equity crowdfunding platforms come with significant limitations.
Firms can raise no more than $1 million a year, and individual investors are supposed to invest no more than a small percentage of their annual income in these new offerings.
For those making less than $100,000 a year, the cap is 5% of income. For those making between $100,000 and $200,000, the cap is 10%, though experts say those caps are based on self-reported information and it won't be hard for individuals to invest more than they should.
Any cash investors do park in these firms will be tied up for a while. Unlike traditional shares of stock, which can be bought and sold at any time, crowdfunding shares can't be sold for at least a year.
Even if investors could sell, it's not clear how that would work. Though Miller's StartEngine is working on building a secondary market — essentially a stock exchange — no such exchange exists yet.
Mark Hiraide, an attorney who has written a book on the new crowdfunding rules, said crowdfunding investors can expect to be able to cash out only if the company is acquired by a larger firm or goes public in a traditional IPO.
Beyond those two options, "Investors need to understand there is not a viable exit," he said.
I don't see why anyone would do this unless they had a lot of money, which is why investing in start-ups has been limited to accredited investors.

— Ross Gerber
Ross Gerber, chief executive of Santa Monica's Gerber Kawasaki Investment Management, said that's just one of the reasons investors should proceed with caution or avoid these kinds of investments altogether.
"You're making high-risk investments with no liquidity," he said. "I don't see why anyone would do this unless they had a lot of money, which is why investing in start-ups has been limited to accredited investors."
He points out that most small businesses fail within a few years, and it's likely that many of the companies that raise money through crowdfunding won't make it.
Of course, that's why the rules aim to limit investors' exposure — you can't lose your whole nest egg, the thinking goes, if you invest at most a few thousand dollars. And it's possible that some of these companies could turn into big hits.
One example proponents of equity crowdfunding like to bring up is Oculus, the Irvine virtual-reality start-up that raised $2.4 million in a Kickstarter crowdfunding campaign in 2012. Instead of stock, some backers got nothing more than a T-shirt. Not quite two years later, Facebook bought Oculus for $2 billion.
Still, with that upside, there are red flags. Among the potential reasons these companies are looking at crowdfunding is that they've been rejected by traditional investors.
Take Santa Monica's Gigmor, the creator of a social network where musicians can meet bandmates and find gigs. Founder David Baird said he first reached out to a few venture capital firms but found little interest.
"Like any Santa Monica start-up, we talked to a few VCs," he said. "But not many VCs saw the opportunity we saw in music. A lot of them were afraid of music."
TurtleWise, a social networking company that wants to match people looking for advice ("seekers") with qualified mentors ("gurus"), tried still other ways to raise capital.
Chief Executive Kevin Walker said he met with about a dozen angel investors — wealthy individuals who back early-stage companies — and even went to the South by Southwest conference in Austin, Texas, to drum up interest in his company.
He also pitched investors through sites such as Crowdfunder and Gust, which present investment opportunities to accredited investors. But there were no takers.
All of the investors he met with wanted to see the company attract more users and bring in revenue before investing. TurtleWise, which launched in March, has attracted only 700 users and hasn't brought in a cent.
"There was a lot of skepticism," Walker said. "They said, 'We're not sure how you're going to get people to pay for this.' Hopefully, we'll find some regular people who believe in what we're doing."
Then there's Graphic Armor. Unlike TurtleWise and Gigmor, the company hasn't sought outside investment — despite selling about $50,000 worth of condoms over the past 18 months, enough to break even, Glickman said.
He sees crowdfunding not as a last resort, but as a way to raise capital without involving professional investors, including angels and venture capital firms.
"There can be great benefits of having smart money, but it comes with costs," he said. "You often have to give up preferential rights. You might have to give up a board seat. All those things can be quite daunting for founders."
The new crowdfunding rules allow the companies to offer two varieties of common stock: "voting," which gives investors a say in how a company is run, and "non-voting," which doesn't and is the choice of Graphic Armor's campaign and many others that are set to debut.
Of course, having hundreds or thousands of small investors also means an equal number of fans spreading the word about, in this case, condoms with custom graphics.
"You get to build a small army of brand evangelists," Glickman said. "You have a community of people who believe in your product, believe in your brand and will hopefully speak well of you and your products. I see that as a huge asset."
---
Here is a sampling of companies that plan to raise money through new equity crowdfunding platforms:
NextRX
Headquarters: Las Vegas
Business: Developing electronic patient record system, payment platform and loyalty program for medical marijuana dispensaries
Equity stake for sale: 2%
Funding goal: $100,000
Use of proceeds: Build out system, register more dispensaries and patients
Why crowdfunding?: "Raising money in this industry is bloody difficult," said founder Ralf-Rainer von Albedyhll.
---
TurtleWise
Headquarters: Still looking; founders live in different states
Business: Creating a social network where people looking for advice can meet mentors
Equity stake for sale: 10%
Funding goal: $1 million
Use of proceeds: Start marketing campaign, add mobile to TurtleWise platform
Why crowdfunding?: CEO Kevin Walker said angel investors and venture capitalists expressed "a lot of skepticism."
---
Graphic Armor
Headquarters: Los Angeles
Business: Sells condoms with custom graphics printed on the latex
Equity stake for sale: up to 25%
Funding goal: $100,000 to $1 million
Use of proceeds: Buy equipment, start marketing campaign, get sales approval from overseas regulators
Why crowdfunding?: "Your fans become owners," founder Adam Glickman said.
---
Gigmor
Headquarters: Santa Monica
Business: Developing social network where musicians connect with bandmates and gigs
Equity stake for sale: Would not disclose
Funding goal: Would not disclose
Use of proceeds: Develop network, build mobile app, hire marketing and customer support
Why crowdfunding?: "Not many [venture capitalists] saw the opportunity we saw," founder David Baird said.
---
Webusal
Headquarters: Santa Monica
Business: Developing app that maps users' web browsing and recommends additional sites
Equity stake for sale: 20%
Funding goal: $550,000
Use of proceeds: Application development to show more polished product to professional investors
Why crowdfunding?: "It's not to the point of refinement we want yet," founder Elizabeth Nielsen said.
Twitter: @jrkoren