California is the U.S. leader in clean energy and sits high atop world market too, report says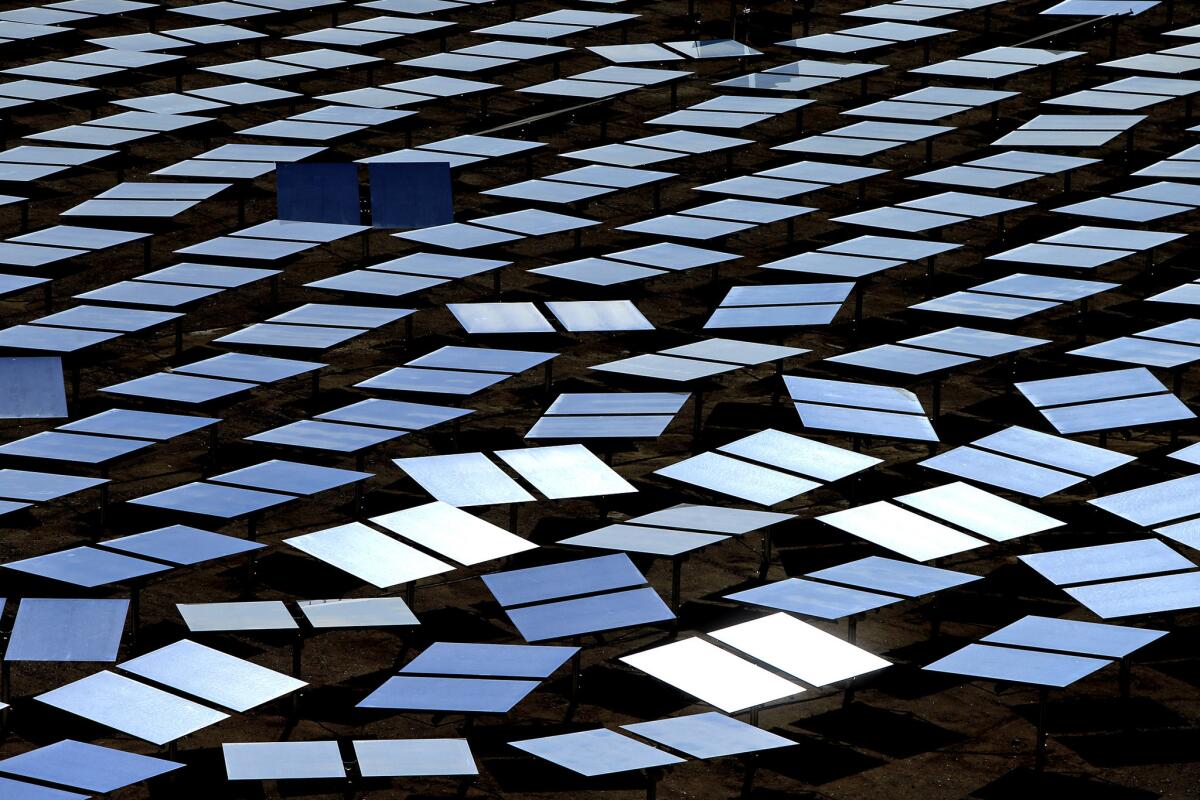 A just-released report hails California as the dominant state in the country when it comes to developing a clean-energy economy and promoting green technology.
And if California's figures were counted as a nation, the Golden State ranks among the top five in the world in measures such as energy productivity, electricity from renewable sources and reductions in carbon intensity.
"One of the important increases in improvement we've seen over the years is the amount of renewable energy California is creating," said F. Noel Perry, founder of the nonprofit group Next 10, which commissioned the California Green Innovation Index.
The eighth annual edition of the index gives the state high marks for solar generation, energy and electricity efficiencies and growth in clean tech investments and patents.
I think it shows you can grow the economy and reduce emissions at the same time.
— F. Noel Perry, founder of Next 10
The study, made up of data compiled by the Los Angeles-based Beacon Economics research firm, also highlighted figures that Perry said indicates a "de-coupling" between economic growth and carbon emissions.
Part of the Next 10 report broke down the gross domestic product as well as greenhouse gas emissions on a per capita basis between 1990 and 2014.
During that period, California saw its population and economy grow. At the same time, the state saw a 36% drop in emissions per GDP.
"I think it shows you can grow the economy and reduce emissions at the same time," Perry said. "In other words, it's not like if you do one, you reduce the other."
Solar energy generation in California, according to the report, has grown 1,378% in the past five years and has not been limited to L.A. and San Francisco. The index's top region for commercial and residential solar power is Riverside-San Bernardino-Ontario, and the top city for industrial solar power is Fresno.
Last year, total residential megawatts of solar increased 65% across the state from the previous year.
For data compiled from 2014, California's total state greenhouse gas emissions fell 0.62% from the previous year.
Emissions have been on a downward trend for years, but Adam Fowler, a research fellow at Beacon Economics, pointed out that vehicle registrations, population numbers and statewide economic figures have been going up.
"When you have all those kinds of bits and pieces that are continuing to expand and you're still seeing a drop, to me, it's a good sign," Fowler said in a conference call.
See the most-read stories in Business this hour »
In the renewable energy sector, California installed 3,266 megawatts of photo-voltaic solar in 2015, more than any other state in the U.S.
Some 20.1% of California's total energy generation comes from renewables, nearly three times the national average of 6.8%.
The Next 10 index also found California had registered more clean technology patents in 2015 than any other state. California finished first for patents that included energy storage, efficiency, green materials, biofuels, wind, solar and transportation.
"That tells us that California is the center for innovation related to coming up with different products and services that can reduce greenhouse gas emissions through the creation of new companies," Perry said.
Rob Nikowleski writes for the San Diego Union-Tribune.
ALSO
U.S. auto sales expected to hit record in first 6 months
California attorney general subpoenas oil refiners in gas-price probe