U.S. auto sales expected to hit record in first 6 months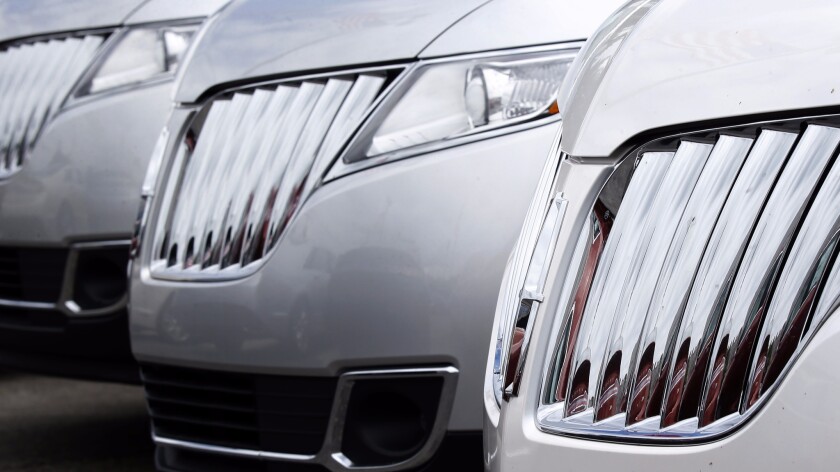 U.S. auto sales may be slowing, but they're still expected to set a record in the first six months of this year.
Sales through June were expected to be up 2% over last year, to 8.66 million vehicles, according to Kelley Blue Book.
That was partly due to a strong June, which saw sales rebound after a disappointing May. Sales were expected to rise 5.4% for the month to more than 1.5 million vehicles, according to the car-buying site TrueCar.com.
Ford, Honda, Fiat Chrysler and Nissan all reported gains in June while sales were down at General Motors, Toyota and Volkswagen.
After six consecutive years of growth — and record sales of 17.5 million last year — U.S. sales are beginning to plateau. In the first six months of last year, for example, sales were up 4%, or double the pace of this year. But low gas prices, low interest rates, enticing new vehicles and strong consumer confidence should keep them at a very high level.
"As long as economic conditions – like low unemployment and easy access to credit – continue, the industry will be in a strong position through the busy summer sales months," said Jessica Caldwell, director of industry analysis for the car shopping site Edmunds.com.
See the most-read stories this hour >>
General Motors Co. said its sales dropped 2% to 255,210, due in part to ongoing cuts in sales to low-profit rental car companies. GM said its rental sales are down 37% so far this year. Cadillac sales were up 6% and Chevrolet sales were flat compared with last June, while Buick and GMC sales were down.
Ford Motor Co.'s sales rose 6% to 240,109. Sales of its F-Series pickup — the nation's bestselling vehicle — jumped 29% to nearly 71,000 vehicles, or more than one every minute. But car sales fell 12% thanks to Americans' growing preference for SUVs. Sales at Ford's luxury Lincoln brand were up 6%.
Toyota Motor Corp.'s sales fell 6% to 198,257. The company said short supplies of Toyota SUVs were partly to blame, along with weak sales of cars like the hybrid Prius, whose sales slumped 27%. Sales of the company's luxury Lexus SUVs were up 11%.
Fiat Chrysler said its June sales rose 7% to 197,073. Jeep sales jumped 17% and Ram truck sales were up 14%. But car sales suffered. Chrysler brand sales fell 20%, while Fiat sales dropped 19%.
Honda Motor Co.'s sales rose 3% to 138,715 vehicles. The Honda brand saw increases in both car and truck sales, but sales at the company's luxury Acura brand dropped 27%.
Nissan Motor Co.'s sales jumped 13% to 140,553. Sales of its new Maxima sedan more than doubled over last year.
Volkswagen brand sales dropped 22% to 23,809, the victim of the company's diesel emissions cheating scandal.
ALSO
Fatal crash of Tesla Model S in autopilot mode leads to investigation by federal officials
Don't drive these Hondas and Acuras unless dangerous air bags are fixed, government warns
VW settles emissions-cheating cases for $14.7 billion and agrees to buy back cars
---
UPDATES:
12:14 p.m.: This article was updated with information about additional automakers' June sales.
This article was originally published at 6:56 a.m.
---