Chinese tourism and investment in Southern California surges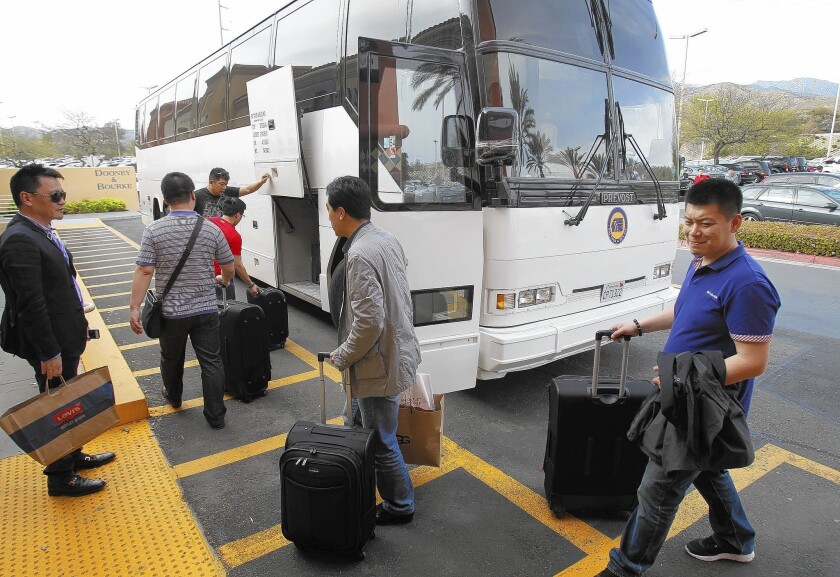 The number of Chinese travelers passing through the Sheraton Gateway Los Angeles Hotel has swelled 15% since the property was purchased in November by a Chinese real estate developer.
The new owner, a subsidiary of Shenzen Hazens Real Estate Group, has put up billboards in China touting the 802-room hotel near the main entrance of the Los Angeles International Airport. The $96-million deal was the company's first in the U.S.
"Every time I walk in the lobby, it's full of Chinese people," said Darryl Stewart, the hotel's director of sales and marketing. "That didn't use to be the case."
It's just one example of a surge in Chinese tourism and investment in Southern California. Tourism from China into Los Angeles nearly quadrupled last year to 570,000 visitors, up from 158,000 in 2009, according to a new report from the Los Angeles County Economic Development Corp. The LAEDC thinks the county could see as many as 2 million Chinese tourists annually by 2020.
A few years ago, China wasn't among the 10 largest sources of overseas travelers into the Southland; now it's the top generator. Nearly half of all Chinese journeying to the U.S. stop in California; nearly three-quarters of those come to Los Angeles.
The influx represents more than just vacation travel. Many of the visitors are here scoping out purchases of homes, businesses and other investments.
The LAEDC report sees more opportunities for Chinese investment in the Southland, especially in industries such as real estate, green technology and e-commerce. Wealthy Chinese investors increasingly are looking to diversify their holdings, said Graham O'Kelly, a family wealth director with Morgan Stanley.
"With Los Angeles being a hub city, it makes sense to put money there," he said. "Chinese have business there, kids who go to school there, plus it's a great place for them to vacation."
Areas such as the San Gabriel Valley are seeing a surge in real estate ventures catering to Chinese buyers, along with more tourist spending on hotels and authentic Chinese food.
In February, the Los Angeles Tourism & Convention Board launched its NiHao China program with a new Chinese website and visitor manual as well as 40,000 Chinese guidebooks featuring shopping destinations such as the Beverly Center and the Grove.
The effort also includes a training program for hotels, attractions and other businesses. Participants will complete a series of seminars about Chinese cultural preferences before being certified by the tourism board and the China National Tourism Administration to work with Chinese travel companies.
"The futures of Los Angeles and China are inextricably tied together," according to the LAEDC report.
The purchase of the Sheraton Gateway hotel was handled in part by California law firm Jeffer Mangels Butler & Mitchell, which in 2011 launched its Chinese Investment Group to orchestrate deals for Chinese clients, who recently acquired the Crowne Plaza Los Angeles Harbor Hotel in San Pedro.
The Sheraton Gateway is now offering special amenities for Chinese guests, including a welcome package with slippers and a package of noodles. The breakfast buffet features congee, steamed rice and dim sum dumplings. A Chinese tour company will soon set up its headquarters within the hotel, which recently added two managers and a front desk clerk, all of whom speak Mandarin.
Chinese tourists spent $655 million in Los Angeles in 2012, up from $450 million the year before, according to the tourism board. On average, each visitor shelled out $1,392 per trip, compared with the $1,095 budget of all foreign travelers.
Southland universities, meanwhile, have more Chinese students than any other group of American universities — 10,000 pupils last year, up from 3,000 in 2009.
The students funnel tuition fees, living expenses and their parents' real estate investments into the local economy, according to the LAEDC. Many ultimately choose to work in the region as alumni.
The number of Chinese-owned businesses in the county doubled to 254 in six years. More than half are wholesale or retail trade companies or transportation and warehousing outfits. But major operations such as Cathay Pacific Airlines, China Telecom, BYD and Bank of China also do business in Los Angeles.
And Southland trade with China is booming. The Los Angeles Customs District saw record trade volume last year valued at $414.5 billion. Of that, imports and exports from China made up $221.4 billion, up 4.5% from 2012.
The Los Angeles-Long Beach ports, which make up part of the district and constitutes the ninth busiest port system worldwide, now attribute 60% of their activity to China.
Exports to China are rising out of Los Angeles, catapulting 52% in four years to $25.3 billion last year. Instead of the waste and scrap common in the past, those shipments are increasingly made up of electronics, machinery and other valuable goods destined for a fast-growing Chinese middle class.
Still, imports outweigh exports 5 to 1, with some $186 billion in Chinese goods and services unloaded in Los Angeles last year.
Twitter: @tiffhsulatimes
---
Must-read stories from the L.A. Times
Get the day's top news with our Today's Headlines newsletter, sent every weekday morning.
You may occasionally receive promotional content from the Los Angeles Times.