New Age shops offering crystals are experiencing a resurgence in L.A.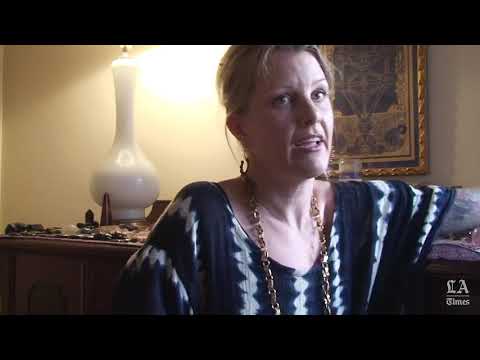 Tonya Garcia lost two of her kids in a car accident. At the suggestion of friends, she turned to crystal healing, which New Age adherents believe uses energy contained in crystals to alleviate depression, chronic pain and disease.
Jason, a production manager at a major Los Angeles television studio, had finished up another tough week at work, where even a five-minute exchange with his boss is enough to throw off his mood for the entire day.
So the 37-year-old West Hollywood resident decided to head over to visit the House of Intuition, a metaphysical shop in Echo Park, in search of "healing crystals."
He certainly had choices. The shelves were stocked full of lustrous rocks — such as sparkling tangerine aura sun quartz and jagged iridescent bismuth – promising everything from a better sex life to cures for loneliness and isolation.
Jason, who asked that his last name not be used, decided upon black tourmaline, said to repel negative energy, and a fluorite to remove cluttered thinking. He would fashion the crystals, which he snapped up for a few bucks each, into talisman necklaces to wear at work.
"My path that led me to spirituality brought me here," said Jason, who no longer identifies with his Catholic upbringing. "Having a physical reminder of — this is repelling negativity — will help me in doing it on my own, mentally."
The House of Intuition, founded in 2010, opened its third location on West Hollywood's trendy Melrose Avenue last October, and patrons like Jason have had a lot to do with its success.
So-called metaphysical shops took root in the 1970s when the New Age movement flourished, before going out of fashion. That was until a few years ago.
As more Americans flock to alternative sources of spirituality, crystals and other New Age products, such as candles and herbs, are in demand at mom and pop shops as well as at trendy chains such as Urban Outfitters serving millennial shoppers.
The Aura Shop in Santa Monica, Crystal Matrix in Atwater Village and Spellbound Sky in Silver Lake, as well as others, have branded themselves as crystal shops, while offering other products and services on the side.
The House of Intuition typifies a more modern approach to metaphysical stores, with its bright, chic and minimalistic interiors — in contrast to the shops that pioneered the movement.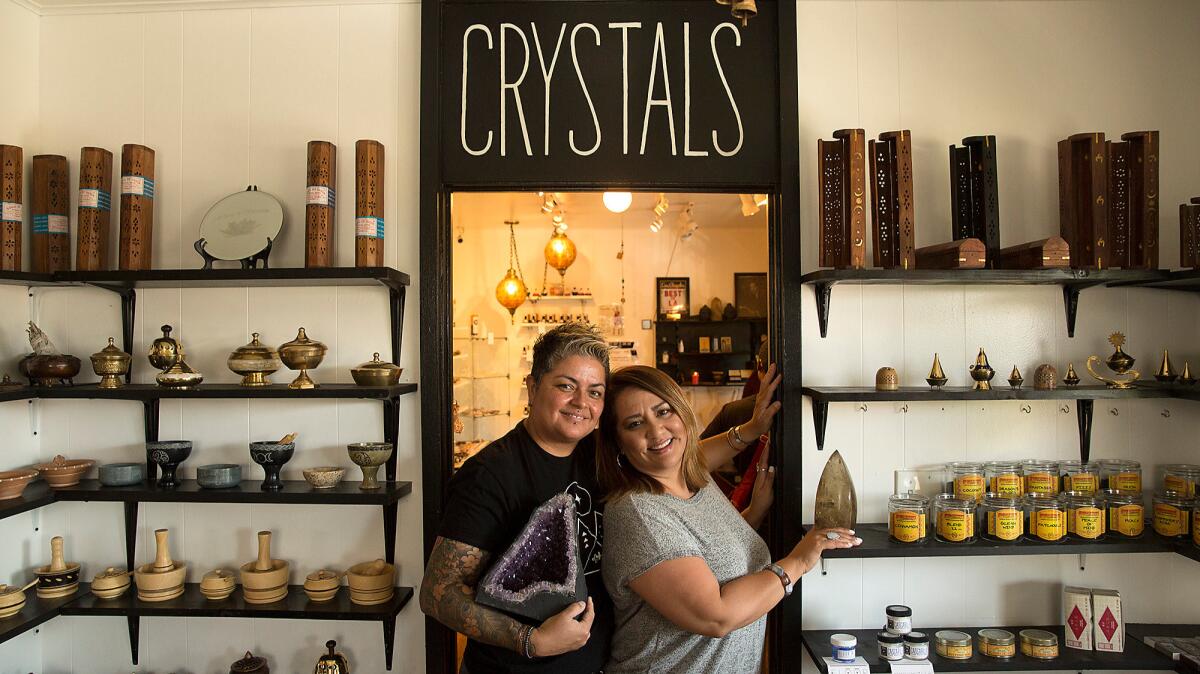 See the most-read stories in Business this hour »
"They were sort of small and dark and they had a reader in the back and a cat in the front. Smelled like incense," said New Age business consultant Kim Perkins. "That's not necessarily true anymore."
Crystal enthusiasts say the stones contain healing abilities based on the energy and vibrations they emit. They point to the capacity for quartz crystals, used in watches, to generate an electric charge.
Though such healing powers are usually dismissed by the medical community as a placebo effect, that hasn't stopped millennials from embracing them.
Teen queen Kylie Jenner recently shared an image of massive crystals larger than both of her feet, to the tune of 794,000 likes. Last September, Khloe Kardashian was photographed crystal shopping in Hollywood while filming her family's reality show. And British fashion models Cara Delevingne and Alexa Chung reportedly stock up on crystals at Spellbound Sky.
The appeal of all things New Age is not just a social media fad either. A study by market research firm IBIS World found the U.S. psychic services industry has grown at a steady clip in the last five years, to $2 billion by 2015.
House of Intuition owners Marlene Vargas and Alex Naranjo say they have built a "very profitable" venture that has doubled in revenue each year since opening six years ago.
The couple started out offering tarot card readings in the aftermath of the Great Recession, during which Vargas' medical billing company and paintball store went under and Naranjo lost her job as a mortgage loan officer.
They got back on their feet as people began to trickle in and request other items, such as crystals and magic candles, whose supposed powers include helping users prosper or find romance.
The shop also offers services such as Reiki, another form of energy healing; tarot card reading, during which guidance is offered by consulting a deck of cards; and mediumship, or communicating with spirits of the dead.
"People weren't opening up businesses," said Vargas, recalling the recession. "At the time, people were seeking out spirituality."
Crystals are among the most profitable items, yielding higher margins, especially if purchased in bulk. Retail prices range from a couple of dollars for a common piece of rose quartz about the size of a quarter to around $120 for a Moldavite stone of similar size.
Created from a meteorite impact 14 million years ago, Moldavite is a moss-green mineral that typically sells for $13 a gram. But it can wholesale for as little as $8 a gram at Jewel Tunnel Imports, a Baldwin Park supplier to many shops.
The crystals is like a centering of it all.
— Tonya Garcia, medical assistant
Moldavite and other stones also are key to "crystal-healing" sessions, which can take up to two hours and cost $160 at House of Intuition.
The store boasts a roster of healers, some of whom are crystal therapists. During the sessions, they lay crystals on a client's body in specific locations, purportedly infusing the person with healing energy. Adherents claim that the treatments can help with depression, anxiety, addiction, chronic pain and disease.
Medical assistant Tonya Garcia tried it out recently, after losing two of her children in a car accident a year and a half ago. The San Diego resident says it put her in a meditative state that allowed her to work through her pain.
"The crystals is like a centering of it all," she said. "You're still in the storm, but you're centered in the storm and you make better decisions versus emotional decisions, angry decisions."
In the past, someone like Garcia may have sought solace in a traditional church, but Americans have become increasingly fluid and accepting in their religious beliefs, according to the Pew Research Center.
A 2009 study by the think tank found that many mix Christian beliefs with Eastern and New Age tenets. Surprisingly, one-quarter of adults not only believe in astrology but also in spiritual energy located in crystals, mountains, trees or other physical objects, it found.
SIGN UP for the free California Inc. business newsletter »
What's more, while millennials are the least religious generation in the United States, another Pew survey found that more than half of millennials think about the meaning and purpose of life on a weekly basis – similar to previous generations.
Crystal Matrix owner Patricia Bankins says she's witnessed that search for meaning herself, with her shop being frequented by a younger and more diverse crowd.
When Bankins first got into the metaphysical business three decades ago, she attended classes for aspiring psychics with "middle-aged women and a few gay guys."
Seven or so years ago, her Glendale Boulevard metaphysical shop began drawing "a demographic of a lot of young people — young couples, young men that come in that have read about things."
Many are like Coco Hoyne, a 26-year-old Thousand Oaks resident who identifies as a witch and shops at Spellbound Sky and the Native Spirit Lodge in Woodland Hills.
"It comes back to the idea that you are magic and we are all magic and that something has imprinted a higher power onto you," said Hoyne, a yoga studio manager who was raised Baptist Christian.
"Really it's about you and what you want. It's not about what some other god wants – or anyone else's god for that matter," she said.
MORE BUSINESS NEWS
Uber ... for women? Start-ups hope to match female passengers with female drivers
A fuel fee can reduce airline emissions — but it likely will mean higher airfares, study says
Independent film producer charged with embezzling $1.5 million from Ron Burkle's investment fund