Cyber Monday still set to be the year's biggest online shopping day — but Black Friday isn't far behind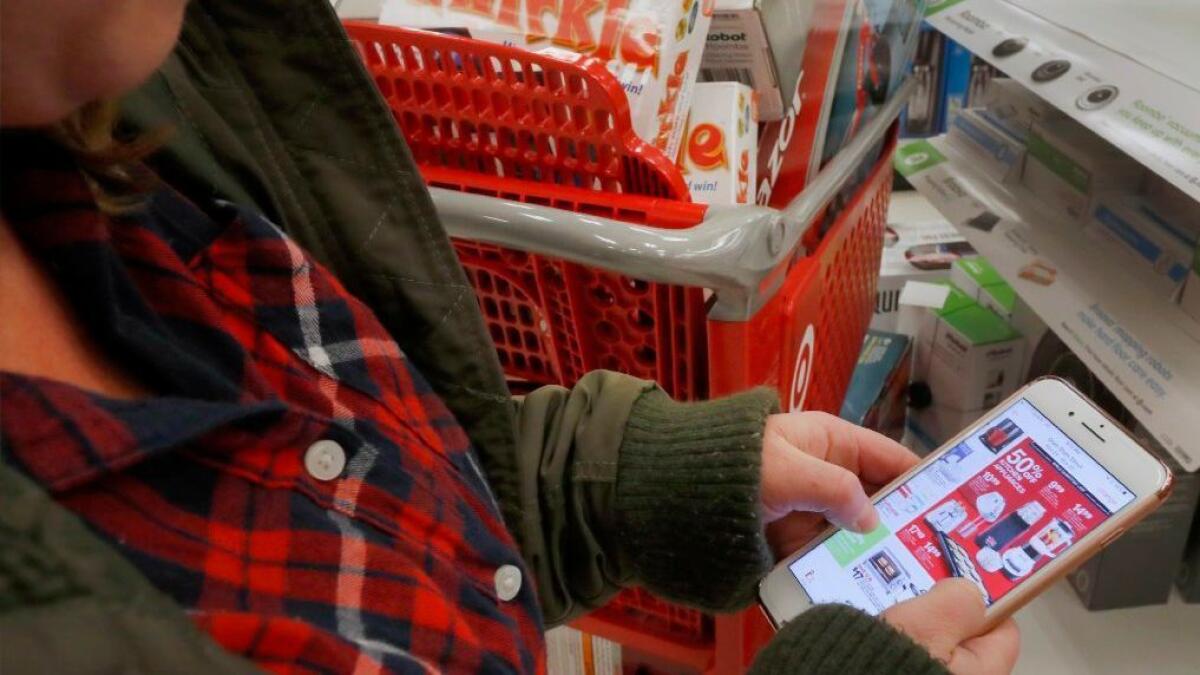 Cyber Monday is again expected to be the biggest online shopping day of the year — but just barely.
Online sales on the Monday after Thanksgiving are forecast to climb 9.4% from last year to a record $3.36 billion, according to the digital marketing and media firm Adobe Systems Inc.
But Internet sales on Black Friday nearly matched those expected on Cyber Monday. Online sales on Black Friday surged 21.6% from last year to a record $3.34 billion, Adobe reported.
It's a sign of how Cyber Monday, with its once-unique status in the holiday shopping season, has diminished as consumers make more purchases from their computers and smartphones throughout the season.
Black Friday has also shown signs of tipping into an online shopping event. This year, web traffic to e-commerce sites over the four-day weekend that began on Thanksgiving hit nearly 109 million people, surging past the 99 million who shopped at brick-and-mortar stores, according to the National Retail Federation.
"As more and more of these deals become available earlier, the importance of Cyber Monday over the long term and its share of the overall pie will probably be a little less significant," said Tuna Amobi, Internet retail analyst at CFRA Research.
Still, a record 122 million Americans are expected to browse the sales online on Cyber Monday, up from 121 million last year, the trade group reported.
The term Cyber Monday was invented in 2005 by the National Retail Federation trade group when its employees noticed a jump in online sales following the traditional post-Thanksgiving Black Friday start to the holiday shopping season.
Back then, consumers who had the Internet at home generally browsed with slower connections. When they returned to work or school Monday — often with a faster computer at their fingertips — they used that speed to shop online. Retailers jumped on the trend and began heavily promoting Cyber Monday sales.
Now, with smartphones and faster Internet, online holiday sales have accelerated throughout the shopping season, starting on Thanksgiving Day.
On this year's Black Friday, mobile sales jumped 33% from a year ago to $1.2 billion, Adobe reported. It was the first time that mobile sales on Black Friday surpassed $1 billion. This also could be the first year that holiday shopping visits on mobile devices surpass those on desktop computers, Adobe has forecast.
Roughly 75% of the money spent on Cyber Monday goes toward toys and computers, televisions, phones, video games and other electronics.
Amobi, the analyst, said some brick-and-mortar chains have improved their online experience in order to attract shoppers this year. That includes lowering prices to stay competitive with online giants such as Amazon.com.
"The really good ones — the Wal-Marts and Targets and Best Buys — those are doing a much better job this year online compared to last year when Amazon was pretty much eating everybody's lunch," he said. "It's very cut-throat out there."
Amazon, however, will continue to be the dominant web player during the holidays this year, analysts said. Last year, the company processed 54 million products on Cyber Monday, making for 629 orders per second. This year, Amazon has said it expects to do even more business.
On Monday, workers at an Amazon fulfillment center in San Bernardino busily stuffed watches, dustbins and nursing accessories into boxes, slapped blue tape on them, and sent the packages careening down miles of conveyor belts, on their way to delivery trucks.
"This is not a typical day," said Drew Herdener, a vice president of communications at Amazon. "It's the busiest shopping day of the year." He said the facility normally runs during the day only, but would remain open throughout the night on Monday.
Despite the records, stocks of some major online retailers were lower in early trading Monday. Amazon.com Inc. closed 1.74% down at $766.77 a share, and Best Buy Co. fell 2.68% to $45.33 a share.
For more business news, follow James F. Peltz on Twitter: @PeltzLATimes
ALSO
Black Friday shopping in Southern California? It's been pretty laid back this year
Still time to bargain hunt! 14 Cyber Monday travel deals on right now
Stocks open slightly lower on Cyber Monday after week of record highs
---
UPDATES:
3:55 p.m.: This article was updated to include additional retail data and context.
This article was originally published at 8:10 a.m.