Why your Christmas tree costs more — again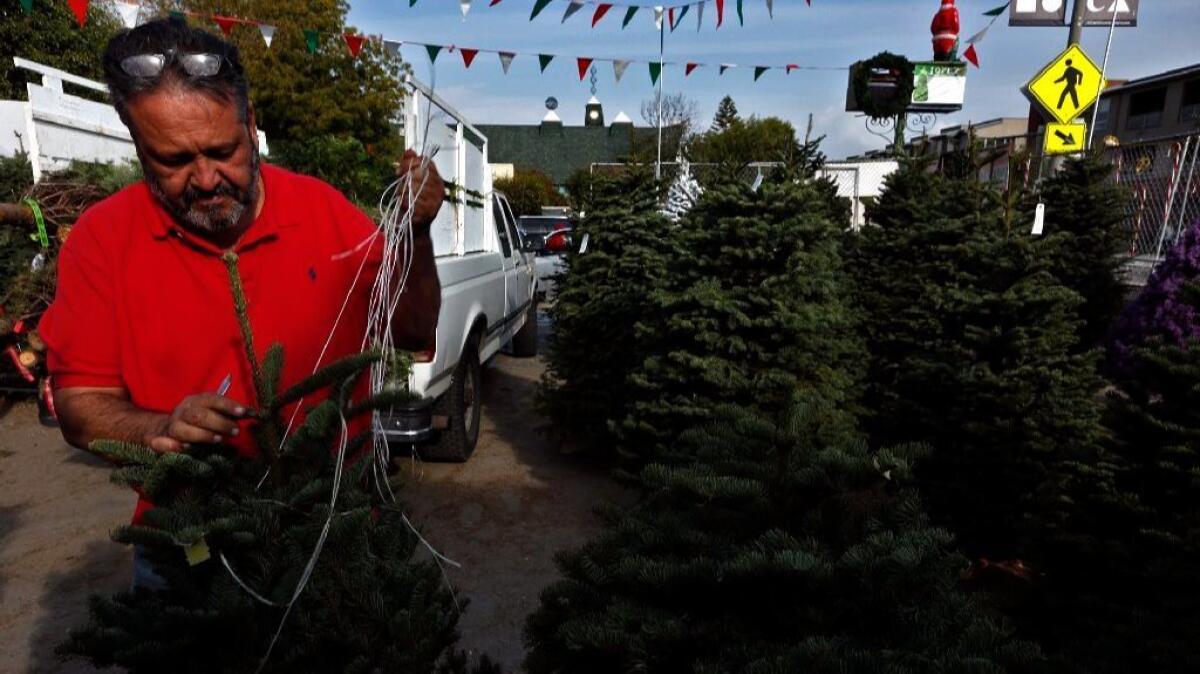 On an uncharacteristically crisp December night in Los Angeles, seasonal music mixed with a piney fragrance as mechanic Jose Rodriguez got a lesson in economics to explain why his Christmas tree was scrawnier and costlier than last year.
Tree seller George Lopez said the noble fir that Rodriguez was considering might not have even made it onto his lot last year. But Christmas trees are in short supply, Lopez said, so the grower harvested the less-than-ideal specimen rather than leave it for another season to fill out a few gaps.
"What am I going to do, not buy a tree?" said Rodriguez, who eventually counted out $125 for a fir that Lopez figured would have cost about $100 last year. "Once the decorations are on, it should be ok."
For the second year in a row, American consumers are paying more for their Christmas trees, and the selection might not be as lush.
"It's a tight supply and demand balance this year," said Doug Hundley, spokesman for the National Christmas Tree Assn., which projects that trees across the country are costing 5% to 10% more than last year.
We believe everyone who wants a natural Christmas tree will be able to find one.
— Doug Hundley, National Christmas Tree Assn.
A tree grower for 35 years, Hundley these days handles media questions for the trade group and doesn't want anyone talking about shortages lest consumers get the wrong message and buy the plastic and metal variety instead.
"We believe everyone who wants a natural Christmas tree will be able to find one," he said.
Hundley and other experts say the supply squeeze grew out of the Great Recession as well as agricultural shifts toward more lucrative crops and other land uses, which could contribute to higher prices in the future.
Growers in Oregon and North Carolina, which supply most of the nation's Christmas trees, were betting on an increase in demand shortly before the recession hit in 2007. Sales tanked, causing a severe oversupply of trees. That resulted in sharply lower tree plantings, said Chal Landgren, a professor at Oregon State University Extension Service and a Christmas tree specialist.
"The recession certainly had something to do with it, but the bigger problem was that we also overplanted by about 2 or 3 million trees" before the downturn, Landgren said.
"There wasn't any market for those trees," he said. "People left the industry and we've shrunk."
Between 2010 and 2015, the number of acres growing Christmas trees in Oregon fell to 41,223 from 57,250, federal data show.
Some growers planted other crops that were more profitable, and some faced a generational change, Hundley said.
"A lot of the growers started out in the 1950s. They are all aged out and their children sometimes aren't as interested in carrying on," he said.
Tougher conditions have winnowed trees, too.
"In an average year, about 10% of the seedlings die," Landgren said. "In these last two years, growers have experienced 50%, 60% and even 70% losses on noble firs."
Another factor: With vast distances to cover getting trees from the growers to market, higher fuel prices are contributing to higher costs.
Diesel, the fuel that powers long-haul trucks, is averaging more than $2.80 a gallon nationwide, up more than 40 cents from a year earlier, according to AAA. In California, diesel is averaging more than $3.55 a gallon, up about 70 cents from a year earlier.
Lopez, who runs Lopez Pumpkin Patch and Christmas Trees from the Venice United Methodist Church parking lot, agrees that everyone should be able to find a tree, but it might not be up to the standards of past years.
Getting 200 noble firs to sell used to be a simple, single-source purchase. This year, Lopez said he thinks distributors might be hoarding for fear of running out before the tree-buying season ends.
"I ask for 200 trees, they give me 20," Lopez said. "I go to another distributor and he gives me 50. It took forever."
And the quality of the trees is down: "I had to look at 100 trees before I could find 10 that I wanted," Lopez said.
Most consumers will find the quality difference acceptable, and pay up; such is the cost of keeping families in festive moods. But for some, the difference in price this year will put trees out of reach.
For four years, Errol H. Segal, who operates Active Recycling Co. in the Chesterfield Square neighborhood of South Los Angeles, has been giving free Christmas trees to anyone who brings in recyclables to sell.
Ashley Cano, 25, and her husband, Laccarri Ogletree, rounded up whatever they could find to recycle so they could get in on the free tree offer. Otherwise, she said, they would have a hard time affording one.
"This is even more great," Cano said, "because I just lost my job at Subway after working there four years."
Segal handed out 80 trees the first year. This year, he gave away nearly 100 on the first day, out of a 400-tree stash.
"The first comment I've been hearing from people is that Christmas tree prices have just gone out of sight," Segal said. "Next year, I'm going to go for 1,000 trees."
For more business news, follow Ronald D. White on Twitter: @RonWLATimes
ALSO
More Americans will fly during the Christmas holiday, adding to airlines' rising profits