Most Americans aren't financially healthy despite booming economy, survey finds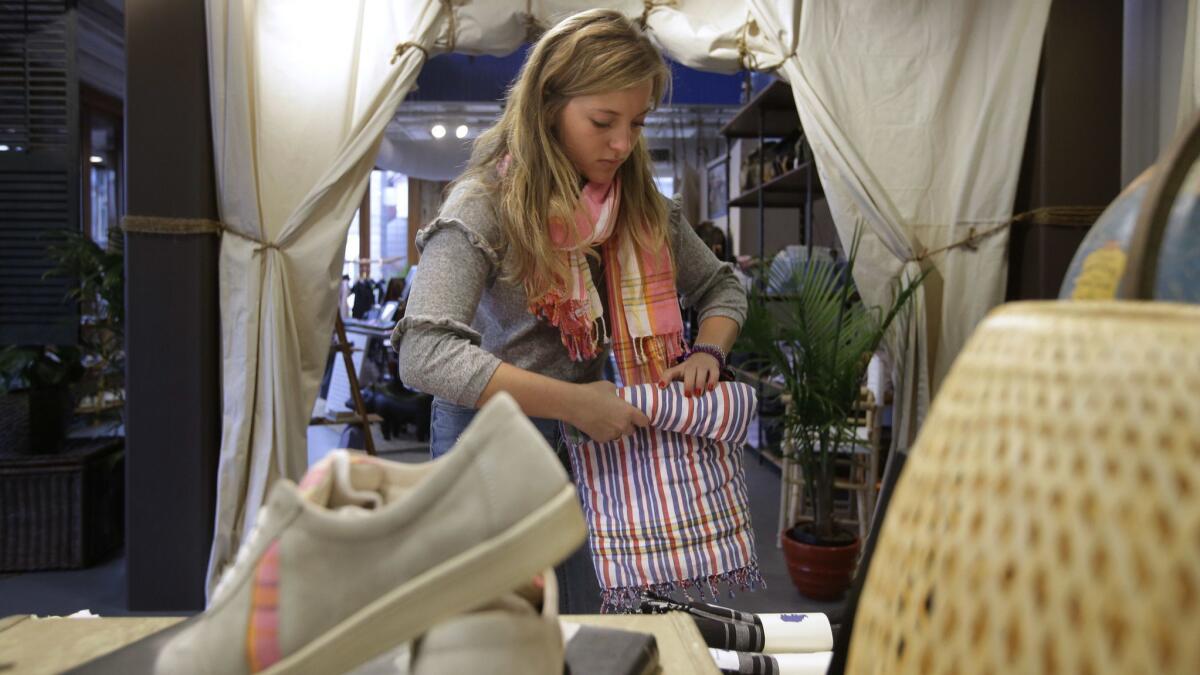 The economy is growing, unemployment is low and, lately, workers are starting to see some wage gains.
But a new survey from USC and the nonprofit Center for Financial Services Innovation makes the case that, despite an overall healthy-looking economy, many Americans are struggling to save, pay bills and remain on firm financial footing.
The survey, called the Financial Health Pulse, found that only 28% of American households are financially healthy, meaning they are in control of their spending, are saving money, don't have too much debt and are planning for the unforeseen.
An additional 55% are financially coping — struggling in a few areas, but doing OK in others — while 17% are classified as financially vulnerable, meaning they are struggling with most aspects of their financial lives.
Jennifer Tescher, CFSI's chief executive, said the goal of the survey, which the group plans to do annually, is to get a sense of how Americans are doing without relying on the kind of high-level economic data that policymakers typically focus on.
"There's this rosy-eyed view of what's going on in the economy that does not comport with what's going on on Main Street," she said. "There's a significant disconnect between the data and people's lives."
The survey, conducted between April and July, included questions about spending, bill payments, short- and long-term saving, debt, credit scores, insurance and financial planning.
Among the survey's roughly 5,000 respondents, nearly half — 47% — said they spend as much or more than they earn and 36% said they cannot pay all of their bills on time. The survey also found:
45% of Americans said they don't have enough savings to cover three months of expenses and 26% said they don't have enough for a single month.
30% said they have more debt than they can manage.
16% said they have delayed seeking medical care because of debt.
17% said they don't plan ahead financially.
Stephen Miller, a senior research fellow at the right-leaning think tank Mercatus Center, said he wasn't surprised by the survey's findings, in particular its conclusion that 17% of Americans are financially vulnerable. He says one element of that vulnerability is that Americans are often encouraged to borrow money — particularly student loans and mortgages.
"It's easy for people to fall through the cracks in the current system," he said.
Chris Thornberg, an economist with Los Angeles firm Beacon Economics, said it's clear that some Americans are still struggling financially, but he said a report such as this should not distract from the fact that the economy is growing, that Americans are generally paying their debts.
"If the message is 'We have a giant problem in the U.S. economy,' I reject that," he said. "There is a group of Americans that are falling behind. But we first need to start with saying things are pretty good for most Americans."
The CFSI report builds on existing surveys that try to assess Americans' financial health. The Federal Reserve, for instance, conducts an annual survey that asks similar questions, including whether households spend more or less than their income and whether they pay bills on time.
That report, too, suggests that many Americans are struggling. One of the Fed study's oft-cited findings is that many Americans don't have enough savings to cover an unexpected expense of $400. In this year's Fed survey, 41% of respondents said they couldn't cover such an expense, but that was down from 50% in the 2013 survey.
Because this is the first year of CFSI's survey, it's not clear whether — by its metrics — Americans' financial health is improving, but Tescher said her organization will continue to do the survey annually and be able to report trends over time.
What's more, the survey will collect much more data in the years ahead. This round of the survey is based only on responses from participants, but in the coming years USC and CFSI plan to include actual financial transaction data from respondents.
Working with financial information firm Plaid, researchers will ask survey respondents for permission to pull anonymized transaction data from bank accounts.
That information will help flesh out gaps in respondents' memories, said USC economist Jeremy Burke, who helped design the survey. For instance, bank data could help researchers figure out how much respondents are actually spending and earning, he said.
"We can look at how survey responses match what we really see and get an understanding of where people's blind spots are and how those blind spots might affect their financial health," Burke said.
Follow me: @jrkoren
---
UPDATES:
2:35 p.m.: This article was updated with background on the Federal Reserve's annual survey, and comments from researcher Stephen Miller and economist Chris Thornberg.
This article was originally published at 1 p.m.