LA Weekly reveals its secret owners: mostly men with Orange County ties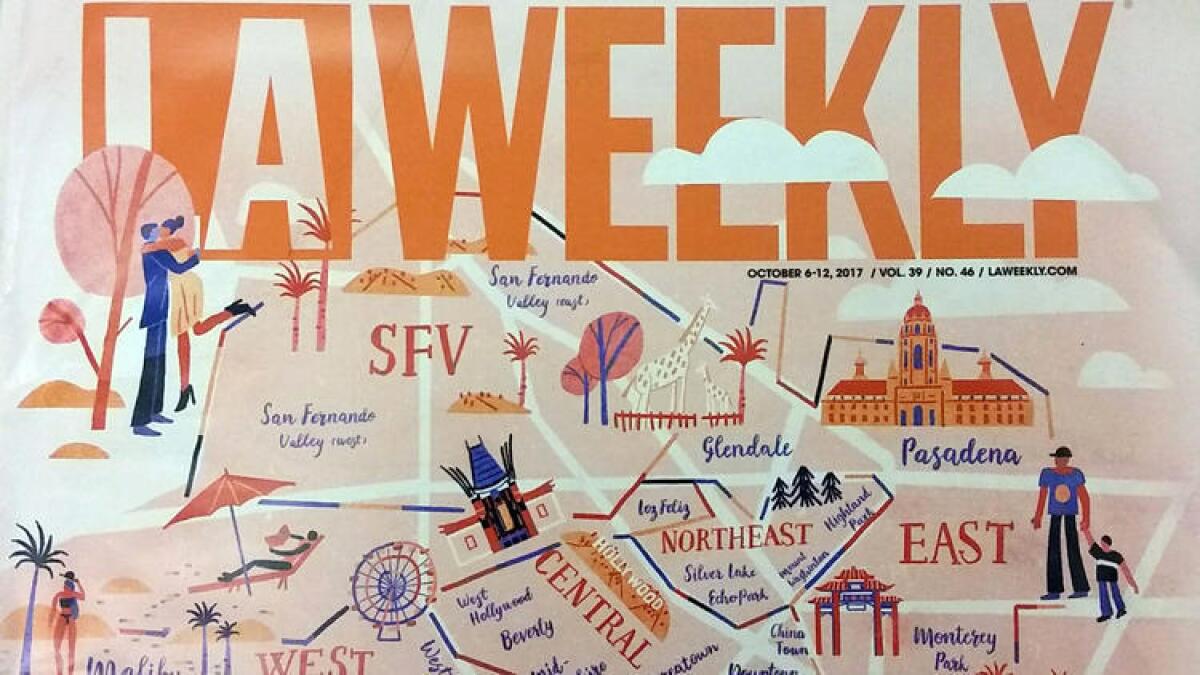 After weeks of mystery, LA Weekly's new owners were revealed Friday in a short online message from the publication's new operations manager. The lineup is heavy with men who have strong Orange County ties.
Brian Calle tried to make light of growing concern that Los Angeles' most famous alternative publication had not disclosed its backers since the Oct. 18 announcement that Voice Media Group had sold LA Weekly to a fledgling company called Semanal Media.
"There is a lot of talk about who owns LA Weekly," Calle wrote. "We've seen all the speculation. Is it a Russian oligarch? Is it some Trumpista? Is it Lord Voldemort?"
Calle said the publication, which laid off all its editors and all but one of its writers Wednesday, wasn't bought for nefarious reasons. Instead, he said, the alternative weekly was in the hands of people who wanted to make the property "the cultural center of the city."
In addition to himself, Calle said, the investors include David Welch, a Los Angeles-based attorney known for representing members of the cannabis industry; Kevin Xu, a philanthropist and investor who is affiliated with biotech firm Mebo International; Steve Mehr, an attorney and investor; Paul Makarechian, a boutique hotel developer; Mike Mugel, a real estate redeveloper; and Andy Bequer, a Southern California-based investor.
Erwin Chemerinsky, dean of UC Berkeley's law school, told The Times he also plans to invest, in part because he has "enormous admiration and respect" for Calle.
Alan Greenberg and Wayne Gross — partners in the high-powered litigation firm Greenberg Gross, which also lists Welch as a partner — "would like to become small minority investors" backing LA Weekly, the pair said through a spokeswoman.
Calle previously worked for the Southern California News Group, where he has was an opinion editor for the Orange County Register and 10 other daily newspapers. While running the Register's historically libertarian editorial page, he described himself as a "free-market enthusiast."
Mugel and Makarechian have both donated extensively to Republican political campaigns.
Calle isn't the only investor with ties to Orange County.
Mehr is chief executive of business development consultancy WebShark360 in Irvine. Mugel is CEO of the redevelopment firm Red Mountain Group in Santa Ana. Makarechian is CEO of Makar Properties, which has a Newport Beach mailing address. Half a dozen companies in Yorba Linda and Fountain Valley are registered in Bequer's name.
Chemerinsky used to be the dean of UC Irvine's law school, and for years he wrote a weekly column for the Register's opinion page, which Calle oversaw. Greenberg and Gross' law firm has its offices in Los Angeles and Costa Mesa.
Still, Calle told The Times, "almost everyone on the list has some very strong ties to L.A., whether it's education, business or growing up here."
Trevor Smith, who worked for Calle at the Register, has made the jump to LA Weekly too. "He's helping me with everything, some of the editorial content and some of the operations stuff," Calle said.
Calle said that Semanal did not take on any debt to buy LA Weekly and that he is the only investor who will draw a salary from the publication. He does not yet have a title, but he expects to be publisher.
A couple of new hires will be announced Monday, Calle said. He said the weekly will rely on stories written by full-time staffers, freelancers and unpaid contributors who are passionate about their communities. He said the mix would take the paper into "a new era of edginess and taboo for the city of L.A."
Key to the plan, he said, is a "strong editing team" — in the near term, probably three or four full-time editors. That number falls short of the five who were laid off this week.
Mehr, who is also an attorney for the consumer law firm Jacoby & Meyers, said the investor group is guided by a belief that LA Weekly had been underserving L.A. by producing superficial coverage — though he declined to cite examples.
"There's no agenda other than making an immense effort to allow [LA Weekly] to be the voice of L.A. again," Mehr said in a phone interview Friday.
He said he wanted LA Weekly to help raise the city's reputation as a cultural hub.
"We don't have a cultural scene on par with New York and San Francisco," said Mehr, the son of Iranian immigrants who grew up in Arcadia and later moved to Dana Point. "We want L.A. to rise to that level and create a sense of community around it."
Semanal Media had been under growing pressure to disclose its backers. The Society of Professional Journalists said Thursday the secrecy was "appalling and offensive."
Gabriel Kahn, a professor at the USC Annenberg School for Communication and Journalism, said it is vital for Los Angeles to have a stable alternative weekly to provide fuller local news coverage.
"At this point, local news coverage is the L.A. Times' California section and car chases on TV news," Kahn said.
Alternative weeklies "play a crucial role in local coverage by often digging into stories the big establishment outlets either ignore or didn't know about," he added. "They provide a different perspective in an often irreverent and nontraditional way that deepened our understanding of a city."
LA Weekly isn't the only local media outlet to have faced layoffs recently. Last month, the website LAist was shut down by its billionaire owner Joe Ricketts along with its sister sites in the Gothamist network. And in March, top editors at Los Angeles magazine were fired after parent company Emmis Communications Corp. sold the property to Hour Media Group.
Kahn said he is not optimistic about LA Weekly's prospects. Advertising market share is dominated by Google and Facebook, leaving smaller publications with little hope of competing. Gone are the days when LA Weekly was the chief arbiter of cool and the go-to source for cultural events.
"The question here is not ownership," Kahn said. "The model on which [the LA Weekly] relied upon is broken. Unless it's owned by a benevolent billionaire, the LA Weekly, as a product, is not sustainable."
Follow me @dhpierson on Twitter
Twitter: @raablauren
Times staff writer Matt Hamilton contributed to this report.
---
UPDATES:
4:20 p.m.: This article was updated with comments from investor Brian Calle and information about other investors and additional background material.
1:55 p.m.: This article was updated with comments from investor Steve Mehr.
Noon: This article was updated with background information on LA Weekly's investors.
10:10 a.m.: This article was updated with an interview with USC journalism professor Gabriel Kahn.
---
Sign up for the California Politics newsletter to get exclusive analysis from our reporters.
You may occasionally receive promotional content from the Los Angeles Times.