Brian Calle wants to turn LA Weekly into 'the cultural center' of the city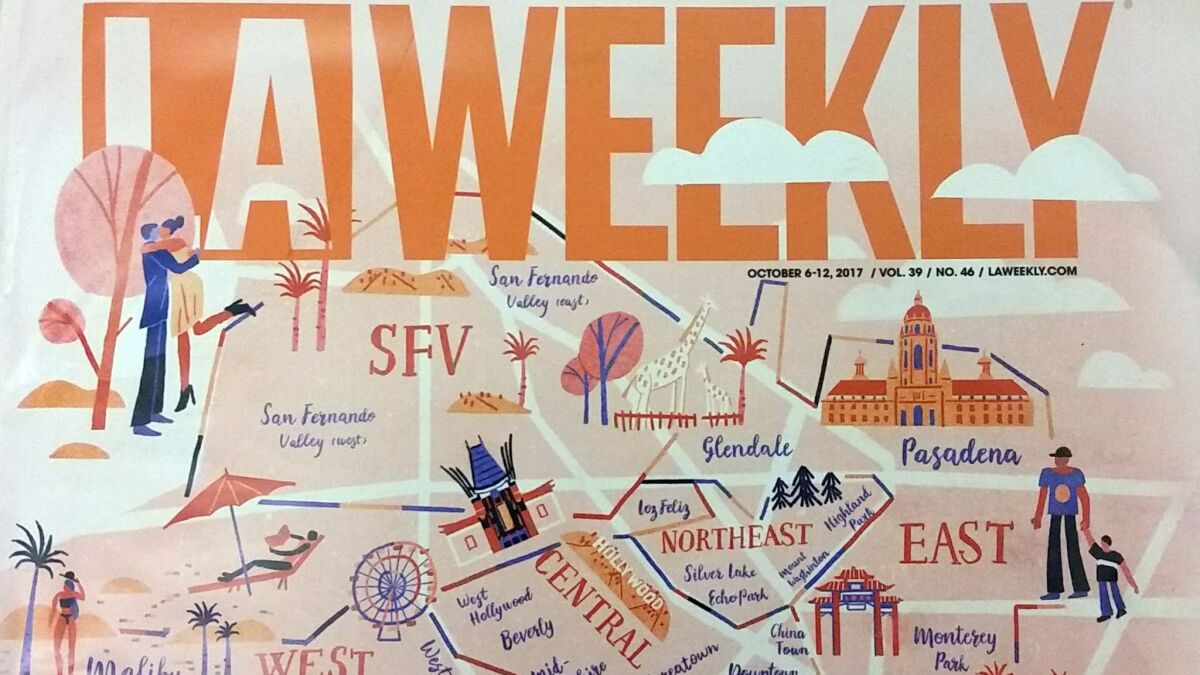 The financial backers of Semanal Media — the fledgling company buying LA Weekly from Voice Media Group — are still largely a mystery. But they have selected someone to manage the paper's operations: Brian Calle, who on Thursday laid out an ambitious vision for the alternative newsweekly as the hub of the city's culture.
Calle comes to the role from Southern California News Group, where he has served as opinion editor for the Orange County Register and 10 other daily newspapers. While running the Register's historically libertarian editorial page, he described himself as a "free-market enthusiast." But he said Thursday that the new ownership and management would not change LA Weekly's editorial bent.
He also confirmed that David Welch, a Los Angeles attorney known for representing members of the cannabis industry, is among Semanal's investors. He would not name any others, although he said Welch is the only one with marijuana-industry ties.
Emphasizing coverage of the arts and offering a guide to cultural issues and activities, along with investigative journalism, "LA Weekly has the ability to be the cultural center of the community," Calle said.
Pursuing this goal with the resources available will take "creativity" and "innovation," he said. About a dozen editorial staffers remain on the LA Weekly payroll, and they are slated to lose their jobs once the sale to Semanal becomes final. Calle said Semanal would offer to hire some current LA Weekly employees.
Calle voiced excitement about the opportunity to figure out a sustainable business model — a challenge that has long stumped leaders of most print publications. He cited Vice Media as an inspiration. The multiplatform media colossus, valued at billions of dollars, started as a free magazine in Montreal.
That doesn't mean Calle wants a lot of money to be poured into expanding quickly.
"My hope on this is that we're going to be careful and thoughtful and deliberate and analytical and data-driven," Calle said. He recalled what happened when Aaron Kushner and Eric Spitz bought the Orange County Register's parent company, Freedom Communications, in 2012 and embarked on a splashy, expensive effort to expand coverage and introduce Long Beach and Los Angeles print editions.
Their efforts failed. Kushner and Spitz resigned after less than three years, and in late 2015, the company filed for bankruptcy protection. Digital First Media bought its newspapers and added them to Southern California News Group.
Calle's last day with Southern California News Group is Friday. He called his new role at Semanal, where he does not yet have an official title, "exciting and humbling and scary."
The 37-year-old said that as an undergraduate at USC and grad student at Cal State Los Angeles, reading the newsweekly was a formative experience. "I just have such a reverence for what LA Weekly is and what it does," he said.
Voice Media announced in January that it was putting LA Weekly up for sale. It said at the time that the publication, founded in 1978, was still profitable.
LA Weekly's print edition is distributed throughout the city and is free for readers to pick up. It was once thick with news and culture articles, criticism, columns and calendar listings — and ads. But the paper and its newsroom have shrunk in recent years as news publications struggle to make money in the internet age.
Editorial staffers who are part of the International Assn. of Machinists & Aerospace Workers union are still unsure where they stand. A union representative told them last month that LA Weekly staffers' union contract would stay in force until it expires. Voice Media, however, said Oct. 31 that because Semanal is buying only LA Weekly's assets, Semanal will not be bound by the union contract.
---
Sign up for the California Politics newsletter to get exclusive analysis from our reporters.
You may occasionally receive promotional content from the Los Angeles Times.