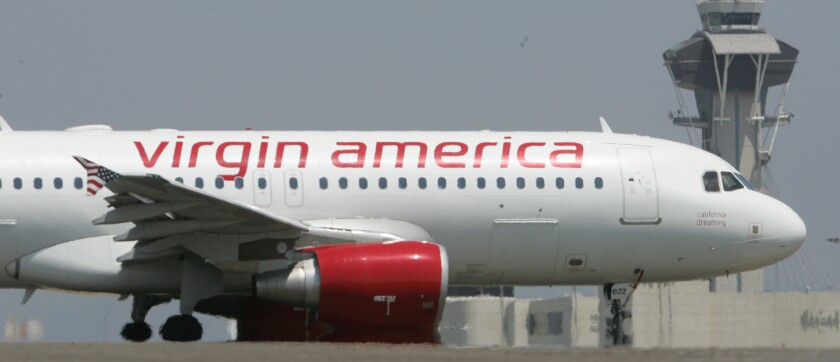 California-based Virgin America ranked highest among the nation's top 15 carriers in a study that looked at on-time performances, customer complaints and lost bag rates, among other factors.
The study, known as the Airline Quality Rating report, also found that the performance of the nation's airlines as a whole improved in 2013 over the previous year.
The ratings report was produced by researchers at Embry-Riddle Aeronautical University and Wichita State University and was based on data collected by the U.S. Department of Transportation.
For the overall industry, on-time arrival percentage dropped from 81.8% in 2012 to 78.4% in 2013. The rate of mishandled baggage was also worse, increasing from 3.07 per 1,000 passengers in 2012 to 3.21 per 1,000 passengers in 2013.
But the rate of passengers who were involuntarily denied a seat and the rate of complaints against airlines declined slightly in 2013, the report found.
"With a mixed bag of gains and losses across the 15 carriers rated, the improvement in AQR score for the industry is a positive sign," the report said.
However, critics of the airline industry point out that complaints filed by passengers directly with the carriers are not shared with the U.S. Department of Transportation, so complaint rates could be much higher.
Meanwhile, Virgin America got the highest overall airline score based on a combination of its ratings in various categories. For example, the airline had the lowest rate of mishandled bags in the industry and the second-lowest rate of bumping passengers from paid seats.
The ratings were released about a month after Virgin America announced that 2013 was its first profitable year since it launched in 2007. The airline, founded with the support of Sir Richard Branson, is expected to go public later this year.
In the ratings report, JetBlue ranked second to Virgin America, followed by Hawaiian, Delta and Alaska Airlines.
ALSO:
Ten things to know about your lost baggage
United Airlines to install 500 device charging stations at airports
SeaWorld reports latest drop in attendance amid Blackfish controversy
---