California proposes pesticide buffer zones around schools and day cares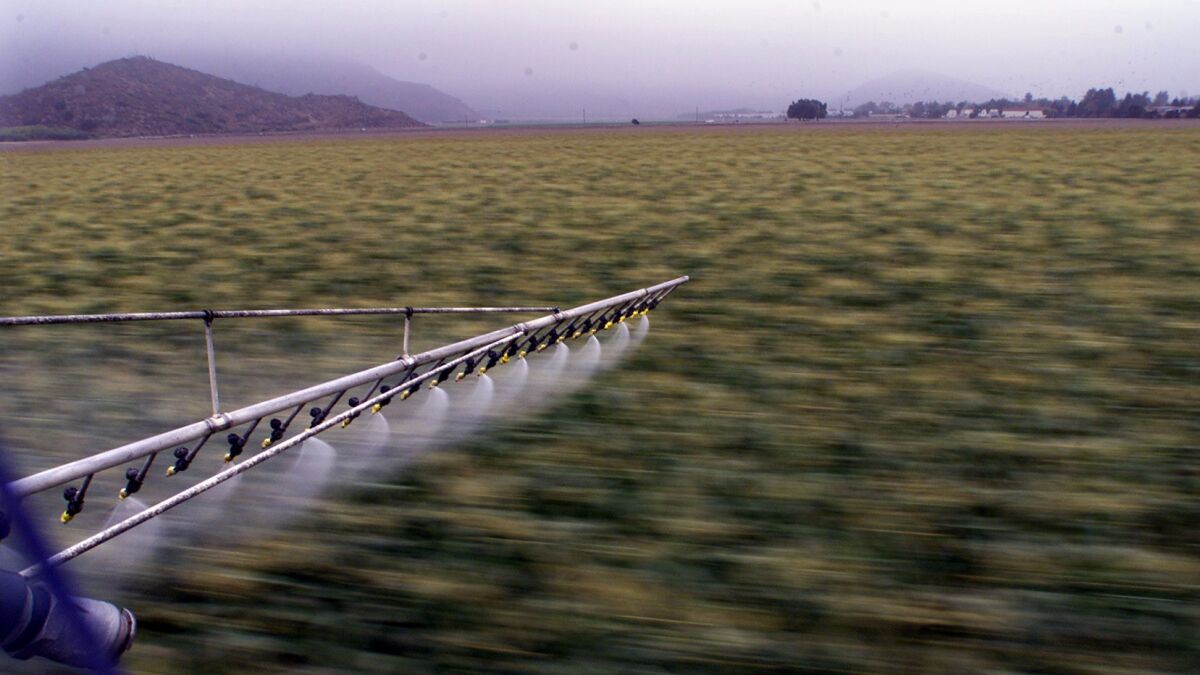 Crop dusting and many other forms of pesticide spraying will be banned within a quarter of a mile of schools and child day-care centers during the bulk of daylight hours, under a rule proposed by the California Department of Pesticide Regulation.
The proposed regulation, which would take effect next September, is the first statewide rule governing how pesticides can be applied in areas where farms lie close to facilities where children congregate. It would affect about 3,500 schools and day-care facilities and involve about 2,500 growers in California, according to the department.
"This regulation not only builds in additional layers of protection for students and school staff that are located in agricultural areas, but it also ensures meaningful communication between farmers and the schools and child day-care facilities that are their neighbors," Brian Leahy, director of the state Department of Pesticide Regulation, said Thursday.
The department will seek further public comment until Nov. 17.
The state's move comes months after a federal appeals court ruled that the federal Environmental Protection Agency was correct in not moving to create a similar regulation that would apply nationwide — a setback for environmentalists and farmworker advocates, but a relief for growers who feared that the rules would leave crops susceptible to damage and increase their production costs.
The rules restrict spraying within a quarter of a mile of schools and day-care facilities from 6 a.m. to 6 p.m. on weekdays. They apply to applications using airplanes and helicopters as well many land-based methods using liquid mists, gases and dust.
Many California counties already have regulations aimed at preventing unintentional drift of pesticides over areas where children congregate. Local governments would still be allowed to create and apply their own rules so long as they meet or exceed the state standards and are endorsed by the governments, growers and the affected facilities, said Charlotte Fadipe, a spokeswoman for the state Department of Pesticide Regulation.
Tom Torlakson, the state superintendent of public instruction, said the new rules "will provide more information to schools and let them continue communicating with all concerned parties."
In addition to warning schools and day-care facilities about what they will spray and when they will apply the chemicals, growers and pest-control companies will have to provide those facilities with more detailed information about the chemicals on an annual basis.
Environmental activists, farmworker organizations and school officials had pushed for a mile-wide buffer zone and longer bans on applying the chemicals.
Paul Towers, a spokesman for the Pesticide Action Network of North America, said the rules give a "false sense of security" to the predominantly Latino families that are "nearly twice as likely as their white counterparts to attend schools near pesticides linked to cancer and brain damage."
Schools in those areas often are used for other activities after 6 p.m. and on weekends, which are not covered under the rules.
Fadipe said the rules provide a base line for local jurisdictions, which can negotiate with school officials and growers to address local circumstances, including the varied climate conditions that affect pesticide drift.
"We realized we had all these different climates — one size fits all only applies to a certain extent," Fadipe said. "Our scientists believe a quarter-mile — which is four football fields in length — provides adequate protection."
Growers countered that there was no reliable science to justify such wide barriers and lengthy bans, which would increase growing costs and hamper their ability to protect food crops from pests.
Follow me: @LATgeoffmohan
---
UPDATES:
3:00 p.m.: This article was updated to include information about public hearings.
The original article was published at 2:20 p.m. on Sept. 29.