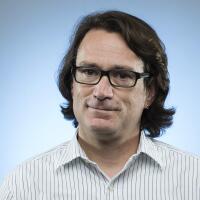 Geoffrey Mohan joined the Los Angeles Times in 2001 from Newsday, where he was the Latin America bureau chief in Mexico City. He started off here as a statewide roamer, detoured to cover the Afghanistan and Iraq wars and was part of the team that won the Pulitzer Prize for coverage of the California wildfires in 2003. He served as an editor on the metro and foreign desks before returning to reporting on science in 2013. He came full circle, roaming the state in search of stories about farming and food, before leaving The Times in April 2020.

Latest From This Author
The profusion of warnings stemming from California's landmark consumer safety law has left shoppers overwarned, underinformed and potentially unprotected, a Times investigation has found.

Coronavirus could be more deadly to California's cut-flower industry than drought or foreign competition.

The COVID-19 pandemic creates a logistical puzzle for the health care workforce

Emergency measures help allay fears of a labor shortage just as the harvest of major produce crops gets underway in California.

California's nearly $50-billion agricultural industry is bracing for a potential labor shortfall that could hinder efforts to maintain the nation's fresh food supply amid the widening coronavirus outbreak.

Concern about coronavirus, and the Trump administration's reaction to it, sent markets sliding to their worst day in more than three decades.

The primary maker of chlorpyrifos, a pesticide banned by California, won't be making the chemical anymore.

It's safe to eat romaine lettuce again after E. coli scare, according to the CDC.

A failed sale leads to a decision to shutter St. Vincent Hospital in downtown Los Angeles.