El Pollo Loco stock sizzles to close at 60% above IPO price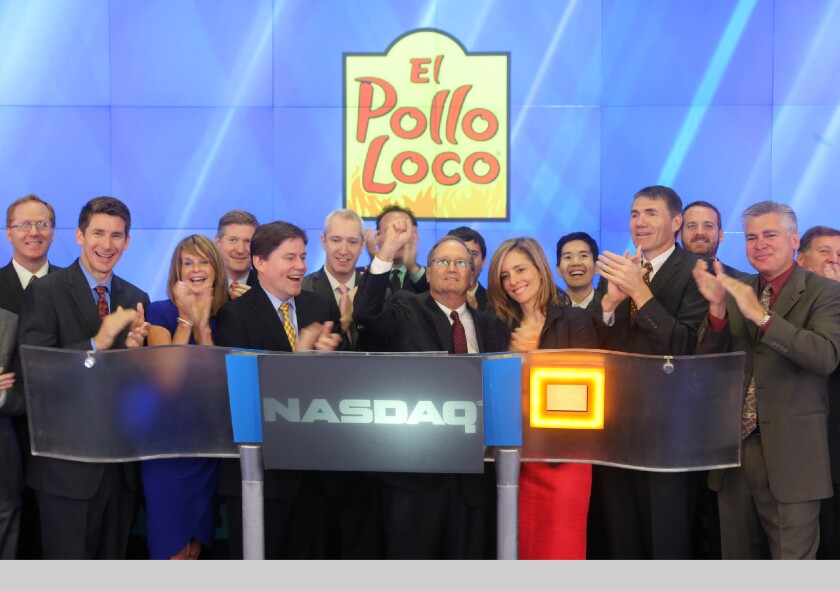 El Pollo Loco, the fast-food chain known for Mexican-style grilled chicken, found a sizzling reception on Wall Street for its initial public offering.
Shares of the Costa Mesa company closed up $9.03, or 60%, at $24.03, up from the IPO price of $15. The offering raised $107 million by selling 7.1 million shares of common stock.
El Pollo Loco joined a wave of IPOs this year as companies look to take advantage of a healthy stock market.
"It's been a good year for IPOs, and I think the restaurant industry like other industries has been able to capitalize on that," said Antal Neville, industry analyst at IBISWorld. El Pollo Loco seems "to feel it's a good strategy for them."
Chief Executive Steve Sather said El Pollo Loco differentiates itself from competitors by offering quality, healthful food at affordable prices.
"Our chicken is healthy. It's not deep-fried like some of our competitors'," he told the Los Angeles Times. "I think consumers are demanding not only products that taste great and are great quality, but also ones that are healthy for them. We are starting to hit that sweet spot."
El Pollo Loco opened its first location in 1980 on Alvarado Street in Los Angeles offering citrus-marinated, grilled chicken. Since then the chain has expanded to more than 400 locations in five states, including Arizona and Texas.
Like many others in the restaurant industry, El Pollo Loco is still shaking off the effects of the recession.
It lost about $57 million in the last three fiscal years and has $288 million in debt.
But in the three months ended March 26, El Pollo Loco reported net income of $5.5 million, up from a loss of $60,000 in the same quarter a year earlier.
Sather said the IPO would allow the company to pay down debt and free up cash to expand. Before refinancing its debt last year, El Pollo Loco was paying about $40 million in interest a year; after going public, the company will be able to reduce its annual interest payments to about $10 million, he said.
In the long run, the company could open new restaurants at a pace of up to 10% a year and expand to 2,300 locations, Sather said.
Analysts said El Pollo Loco's grilled chicken offerings are attractive to customers who are looking for healthier foods that are still friendly to their wallets. Shares of its main competitor, Chipotle Mexican Grill, have soared as diners flock to its customizable fare.
"They are competing against the Chipotles of the world on the high end," said Warren Solochek, vice president of client development of the food service practice at NPD Group. "And places like Taco Bell, which tend to be a little more economical, on the low end."
Follow Shan Li on Twitter @ShanLi
---
Your guide to our new economic reality.
Get our free business newsletter for insights and tips for getting by.
You may occasionally receive promotional content from the Los Angeles Times.