Prime to buy six Catholic hospitals in California; SEIU opposes deal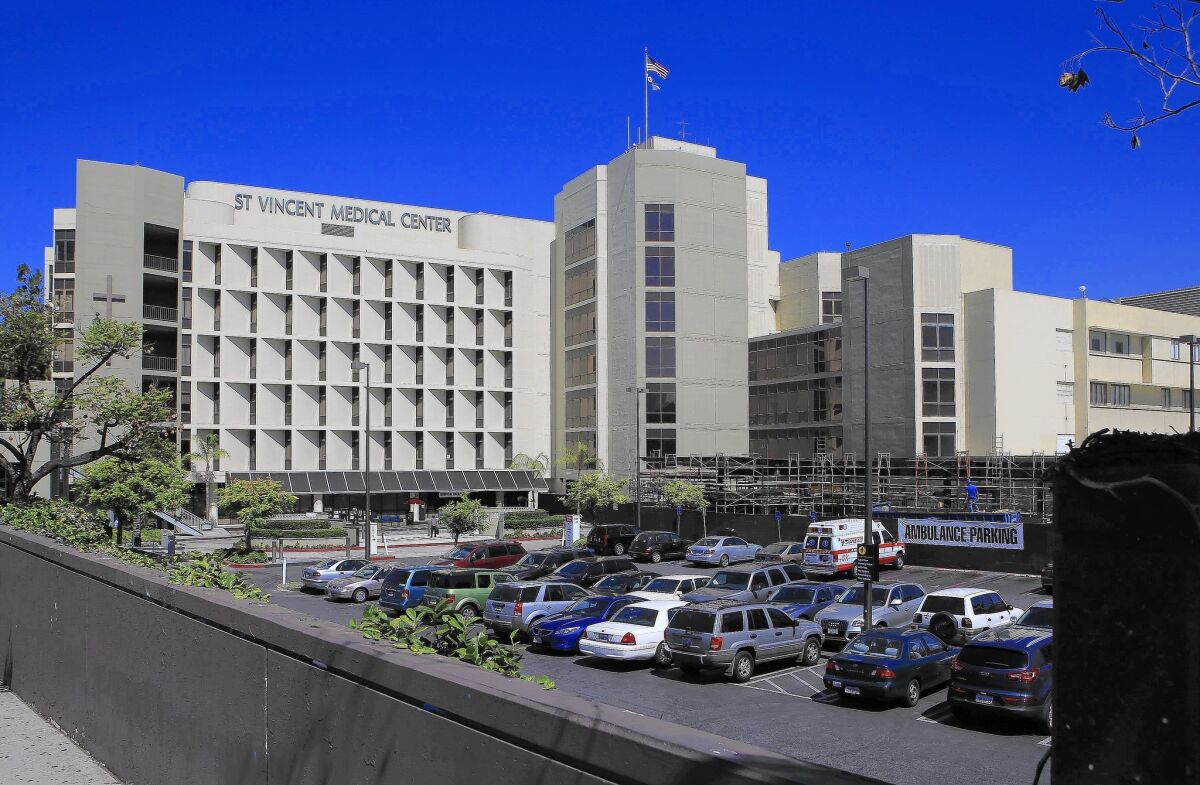 Escalating its battle with organized labor, Prime Healthcare Services Inc. reached a deal to acquire six nonprofit Catholic hospitals in California, including St. Vincent and St. Francis medical centers in Los Angeles County.
Under the agreement announced Friday by the Daughters of Charity Health System, Prime Healthcare said it would keep all six hospitals open and maintain their existing services, including emergency rooms and trauma centers, for at least five years.
For workers, Prime said it would take on nearly $300 million in pension liabilities for current and retired employees at the six hospitals, which have been struggling financially.
Prime, a for-profit chain based in Ontario, also said it would spend $150 million on capital improvements over three years and maintain most of the hospitals' 7,600 jobs. Other financial terms weren't disclosed.
The sale must now win approval from California Atty. Gen. Kamala D. Harris, and opponents are gearing up to defeat Prime's bid.
The Service Employees International Union has been attacking the long-rumored deal for weeks, saying Prime puts profits ahead of patient care. The union has recruited state lawmakers and community groups to oppose the takeover and it plans to air TV ads urging Harris to reject the sale.
"We are not going to roll over and risk watching Prime Healthcare cut services, raise prices and lay off caregivers like they've done in so many other communities in California and other states," said Dave Regan, president of SEIU-United Healthcare Workers West.
SEIU has ongoing labor disputes with Prime. The union represents 3,700 members at the six Daughters of Charity hospitals and three Prime hospitals.
The sale includes St. Vincent Medical Center near downtown L.A. and St. Francis Medical Center in Lynwood. Daughters of Charity is also shedding four Bay Area facilities: O'Connor Hospital in San Jose, Saint Louise Regional Hospital in Gilroy, Seton Medical Center in Daly City and Seton Coastside in Moss Beach.
Prime already operates 29 hospitals in California and eight other states. For years, it has faced criticism and government investigations surrounding its billing practices and handling of patient privacy.
A spokesman for the California attorney general's office declined to comment, pending its review. Prime has a mixed record with the state.
The attorney general's office has approved two past purchases by Prime and rejected two others, the most recent being in 2011 for Victor Valley Community Hospital in Victorville. In rejecting that deal, Harris noted Prime's "disturbing business model" and said its takeover was "not in the public interest."
The attorney general must approve transfers of ownership involving California nonprofit hospitals. The state's review could take three to four months.
In an interview, Prime's chief executive, Prem Reddy, defended the quality of care at his hospital chain and faulted SEIU for its attacks, calling them baseless and self-serving.
"I'm not anti-union," Reddy said. "But the only opponent of this deal is SEIU. Their interest is not in the healthcare of these communities. Their interest is in increasing membership."
Reddy said he was honored that the Catholic leaders of the Daughters system accepted his offer.
"This is an enormous responsibility for Prime Healthcare and personally for me as a physician," he said. "I don't take this lightly."
Meantime, federal officials continue to investigate allegations of improper billing by Prime hospitals, according to the company. Reddy said the company's conduct has been cleared in previous audits and that many hospitals nationwide undergo similar reviews.
Steve Valentine, president of the Camden Group, a national healthcare consulting firm based in El Segundo, said he doubts other bidders were willing to guarantee the employee pensions. He predicts Harris will ultimately approve the deal.
"These unions should be happy he's making good on the pensions. This is as good as it gets," Valentine said. "I think Prem will prevail."
Some hospital employees backed that notion and endorsed Prime's acquisition. The California Nurses Assn. said it supports Prime's involvement.
"Any delay or attempt to interfere with the sale right now puts vital hospital services, jobs and the health of our communities at risk," said Donna Fischer, a registered nurse at Saint Louise Regional Hospital in Gilroy.
Other workers weren't so sure, based on Prime's record.
"Every day my co-workers and I provide top-notch care to our patients, and that doesn't seem to be the goal of Prime Healthcare," said Caroline Plaza, a trauma-room assistant at St. Francis Medical Center.
Daughters of Charity began seeking offers in January as the chain struggled financially and an alliance with Ascension Health, the nation's largest Catholic healthcare system, ended. Robert Issai, CEO at Daughters, said the chain has been losing about $10 million a month.
Twitter: @chadterhune
Sign up for the California Politics newsletter to get exclusive analysis from our reporters.
You may occasionally receive promotional content from the Los Angeles Times.