Pricey personal loans would be outlawed by bill that would reshape state lending industry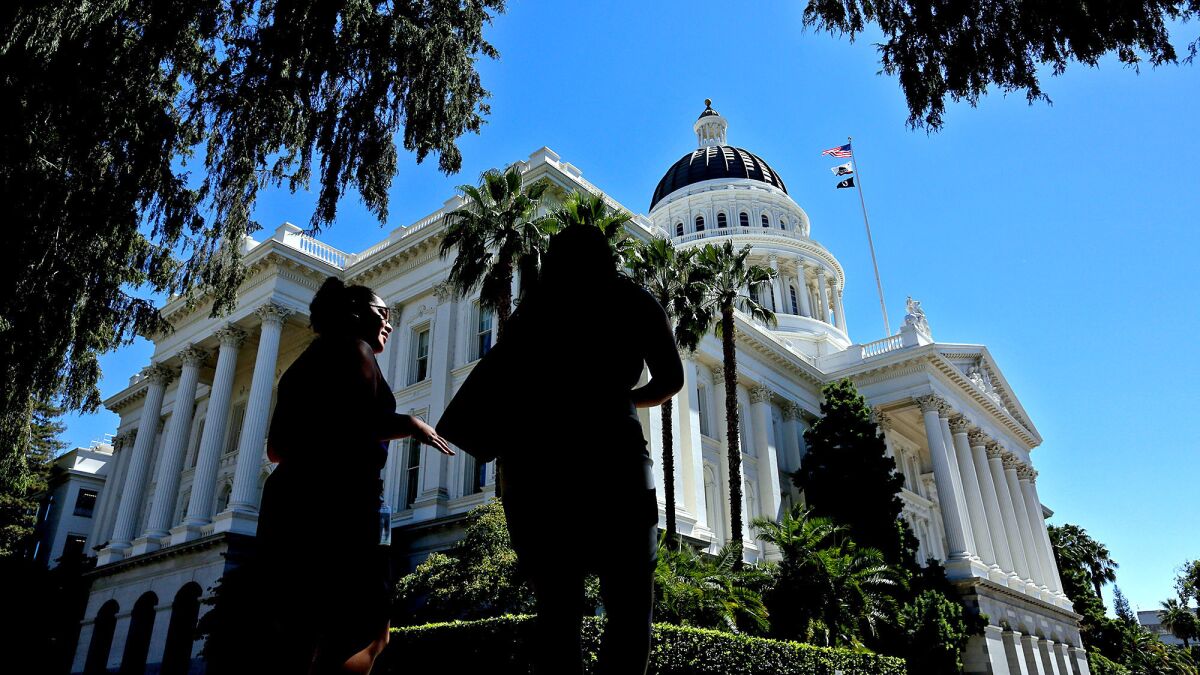 California lawmakers are once again trying to cap the interest rate that lenders can charge on large personal loans, renewing an effort to eliminate the state's flourishing market for super-expensive debt.
A bill introduced Thursday by Assemblyman Ash Kalra (D-San Jose) could dramatically reshape California's lending industry by capping interest rates at roughly 20% for consumer loans between $2,500 and $10,000. Since rate caps were removed by the Legislature in the 1980s, there's been no limit to the amount of interest lenders can charge on those loans.
That has led to startling growth in the market. In 2016, more than half of the loans between $2,500 and $5,000 and about 21% of larger loans charged interest rates of 100% or higher. In all, Californians in 2016 — the most recent year for which state data are available — borrowed $1.1 billion at triple-digit interest rates.
"This would take us back to a time when there were stronger consumer protections," Kalra said. "My first goal is to really eliminate the high-interest-rate practices, the triple-digit APRs. This bill would certainly do that."
The loans targeted by the bill are different from payday loans, which are far smaller and meant to be repaid in a few weeks. These larger, longer-term loans with such high rates were once rare but have surged in popularity. Finance companies with big marketing budgets, as well as economic factors including rising medical costs and high rents have driven the growth, the Times reported last month.
Last year, Kalra authored a similar bill that called for a rate cap on loans up to $5,000, but the bill died in committee. So did a related bill he coauthored with Assemblyman Matt Dababneh, an Encino Democrat who later resigned amid allegations of sexual misconduct.
The current bill, AB 2500, is coauthored by Sen. Holly Mitchell (D-Los Angeles) and nine other legislators.
Graciela Aponte-Diaz of the Center for Responsible Lending, an advocacy group that is sponsoring the bill, called these super-expensive loans predatory and "disgusting" products that are pitched to desperate consumers.
"These are marketed as quick fixes, quick cash, but the truth is once people take these out, it's far worse," she said. "They lead to overdraft fees from banks, wage garnishment and bankruptcy."
But Kalra's bill would do much more than ban lenders' priciest offerings. The bill would extend an existing set of rate caps that now apply to loans of less than $2,500 to all loans of up to $10,000. That would cap interest rates at roughly 19% for loans up to $10,000.
Had the caps been in effect in 2016, 98% of loans between $2,500 and $5,000 and 95% of loans up to $10,000 would have been outlawed. Only about $91 million of the $2.7 billion in loans made in those sizes in 2016 had rates below 20%.
Kalra said he believes the proposed cap is at an appropriate level "that allows for profit and allows for access to credit. Still, some economic studies suggest — and lenders agree — that a rate cap would lead to many fewer loans being made. The loans often are unsecured and made to borrowers with bad credit, making it unlikely that lenders would extend such loans at dramatically lower rates.
Indeed, lenders that specialize in the most expensive loans — including Orange County lender LoanMe and Fort Worth's Elevate Credit — generally do not offer loans in states with interest rate caps. They also do not offer loans of less than $2,500 in California, as those loans would have to comply with existing rate caps.
Even Oportun, a Redwood City lender that the Center for Responsible Lending has worked with and that does not charge anywhere close to 100% for even its priciest loans, would have to curtail its lending, said Chief Executive Raul Vazquez.
In 2016, Oportun made more than $600 million in loans between $2,500 and $10,000. The vast majority charged interest rates of at least 25%, according to a report filed with the state Department of Business Oversight.
"At these rates, we'd have to decline a lot more people," said Vazquez, who added that he is studying Kalra's bill. "What we really want to do is to ask the author … to work with us to develop a cap that provides the needed consumer protections without cutting that access to credit."
Oportun is one of the largest participants in a state pilot program that allows lenders to offer sub-$2,500 at rates above the interest rate cap if they comply with a handful of consumer-friendly rules, including adhering to strict underwriting and agreeing not to force customers into arbitration to settle disputes.
Vazquez said he would like to see Kalra's legislation consider some of those elements rather than simply calling for a rate cap.
"It's hard to boil a product down to one feature," he said. "We want to have a thoughtful approach that considers all the elements of a responsible, affordable loan."
One risk of creating too low a rate cap is that, if regulated lenders cut back, it could push borrowers to unregulated online lenders.
Officials in New York and other states have tried to crack down on high-interest loans offered by lenders affiliated with Native American tribes or headquartered on tribal land. Those entities argue they are not subject to state lending laws and can offer loans at whatever rates customers will accept.
Aponte-Diaz of the Center for Responsible Lending said it's possible that a broader rate cap could make California an attractive market for tribal lenders but that the state nevertheless must act to protect consumers.
"We've got to take it one step at a time," she said. "We want to take care of these licensed lenders. There are always loopholes, and payday lenders find them, but we have to take it little by little."
Follow me: @jrkoren
---
Sign up for the California Politics newsletter to get exclusive analysis from our reporters.
You may occasionally receive promotional content from the Los Angeles Times.