Looking for legal weed around L.A.? WeHo is your only option — and you'll have to wait until Jan. 2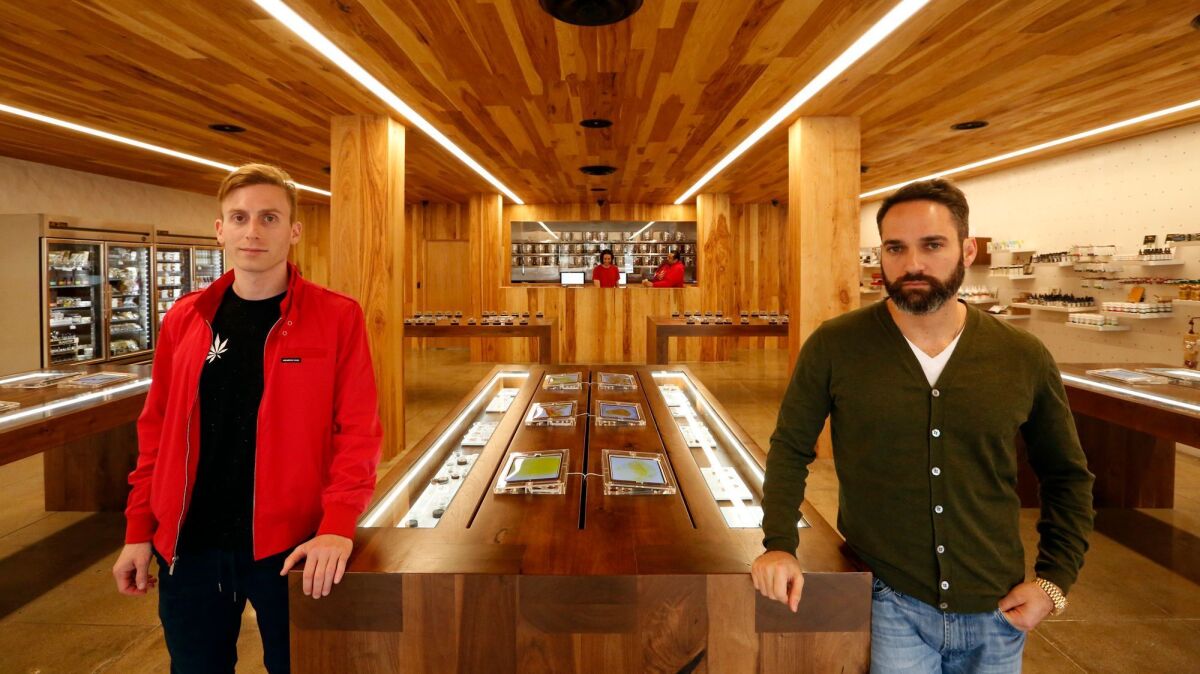 Recreational marijuana sales will be legal in California come Monday morning, but Angelenos will have to wait a day — and will have limited options — if they want to buy cannabis without taking a road trip.
As of Friday afternoon, only two shops in the Greater Los Angeles area had been granted licenses to start recreational sales. Both are in West Hollywood and, at the city's request, will open Jan. 2, not on New Year's Day.
The next-closest options are in San Diego and the Palm Springs area, according to a list of licensees maintained by the California Bureau of Cannabis Control.
The two West Hollywood shops are expecting a rush of business Tuesday, both because of the novelty of legalization and because of the lack of other local options. They've been stocking up on inventory and training workers in advance of what's likely to be a hectic first few days and weeks.
"We're in uncharted territory," said Daniel Yi, a spokesman for MedMen, the operator of one of the two West Hollywood shops. "You can only stock so much marijuana product in a building. We can't have the entire population of L.A. come shop at our location."
Jason Beck, one of the owners of Alternative Herbal Health Services, the other West Hollywood dispensary permitted for recreational sales, said he's expecting lines out the door and has hired extra security to, among other things, make sure customers don't light up immediately after making their purchases.
"We want to make sure they get to a safe location where they're able to consume," he said. "We want safe, responsible usage."
California's new cannabis licensing rules require that pot shops — both medical and recreational — get permits from local authorities before being granted a state license. Because Los Angeles, Long Beach and other cities haven't finalized their local permitting rules, the state has not been able to grant licenses to businesses in those jurisdictions.
In Los Angeles, that means not only will there be no recreational shops licensed to do business on Jan. 1, but some longstanding medical marijuana shops may close temporarily because they don't yet have a state permit.
Angelenos looking to score on Jan. 1 will have to drive to either San Diego, where nine shops are permitted to start recreational sales, or to the Palm Springs area, where there are 10 licensed shops between Cathedral City, Desert Hot Springs and North Palm Springs.
Options are more plentiful in nearly every other region of the state — save for the Central Valley, where a shop in Woodlake near Visalia is the only licensed recreational retailer.
Several shops are licensed to begin recreational sales on New Year's Day in San Jose, Santa Cruz and Oakland. In wine country, there are licensed shops in Sonoma and Mendocino counties. And in the far reaches of Northern California, there are permitted shops in Eureka and the cities of Shasta Lake and Mount Shasta.
In all, the California Bureau of Cannabis Control had issued just 47 recreational retail licenses as of Dec. 29. All of them are temporary, set to expire May 1.
Follow me: @jrkoren
---
Sign up for the California Politics newsletter to get exclusive analysis from our reporters.
You may occasionally receive promotional content from the Los Angeles Times.