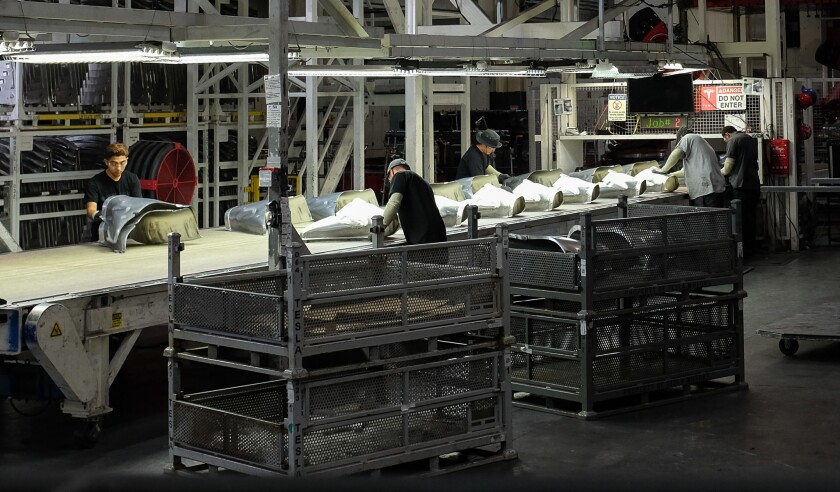 Tesla Inc. said Wednesday that it plans to raise up to $1.15 billion with stock and convertible debt offerings to help finance the launch of its widely anticipated Model 3 mid-market sedan.
The Palo Alto electric car maker plans to offer $250 million of common stock and $750 million of senior notes convertible into cash and/or stock.
Tesla said underwriters were granted a 30-day option to buy up an additional 15% of each offering, and that Tesla Chief Executive Elon Musk would purchase $25 million of the stock.
The announcement sent Tesla's existing shares sharply higher in after-hours trading. The stock closed during normal trading hours at $255.73 a share, down $2.27 for the day, then jumped 2.2% to $261.40.
Tesla said last month that it was on track to start producing the Model 3 in July and to reach volume production by September.
The car, with a starting price of $35,000, is aimed at a wider following of car buyers and is seen as crucial to Tesla's long-term success. Tesla already builds its mainstay Model S luxury sedan and the Model X sport utility vehicle.
The stock and debt offerings are aimed at offsetting widespread concern that Tesla might face a cash shortage as it not only ramps up the Model 3, but continues building its Gigafactory battery factory in Nevada and absorbs SolarCity Corp., a provider of solar-power panels that Tesla recently acquired.
Tesla said the notes being offered would be convertible to cash and/or stock at Tesla's election, and that the interest rate, conversion price and other terms of the notes would be determined later.
Twitter: @PeltzLATimes
---