California Atty. Gen. Xavier Becerra says Trump administration proposal could mean billions in lost tips for workers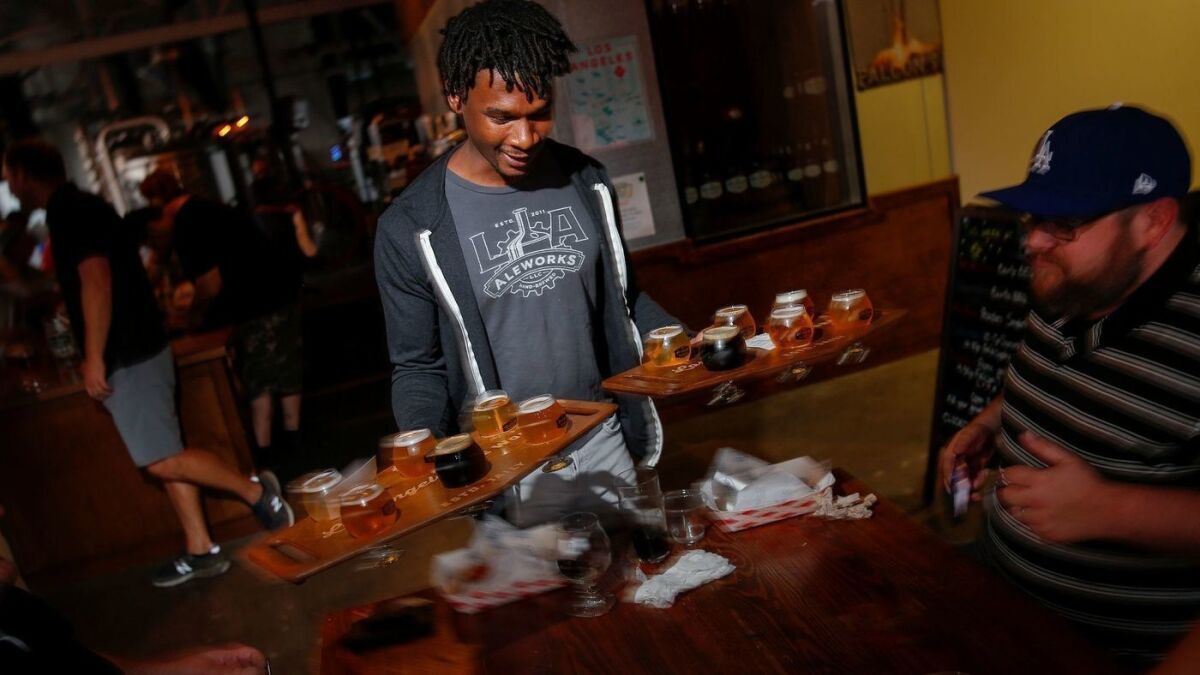 California Atty. Gen. Xavier Becerra joined a coalition Monday to oppose a U.S. Department of Labor proposal governing tips, arguing the new rules could result in workers losing billions of dollars each year.
Becerra, along with 16 other attorneys general, filed a letter of opposition with the department on the last day of public comment for a proposal that would rescind portions of a 2011 Obama rule that mandated workers receive the tips given to them. Becerra's spokesperson said the office helped lead the drafting of the letter against the potential rule.
In announcing that proposed change, the U.S. Labor Department said it would apply only to workers who earn at least the federal minimum wage of $7.25 and would allow employers to share tips with "back of the house" workers like cooks who don't receive tips.
Critics, however, say employers will simply pocket tips earned by their workers, essentially engaging in wage theft.
"When customers tip an employee, they expect their money to go to the employee, not the employer," Becerra said in a statement. "Hardworking men and women, especially those who are paid close to the minimum wage, depend on every penny they've earned to feed their families, keep a roof over their heads, or advance their education or careers."
According to a Labor Department spokesperson, who declined to be named, an employer could legally keep tips for themselves under the new proposal, though he said such a scenario would be unlikely, because it would reduce the incentive for good customer service and cause workers to find a new job.
There are roughly 1.29 million waiters, waitresses and bartenders who receive tips nationwide, according to the Labor Department. The new rules would not be restricted to the restaurant industry.
An analysis from the left-leaning Economic Policy Institute found employers would keep $5.8 billion in worker tips each year, about 16% of all tips earned.
The proposed change has proved controversial, in part because the Labor Department did not release such an economic analysis with its proposal.
Last week, Bloomberg Law, citing unnamed sources, reported the department did produce an analysis but hid it from public view after it revealed workers could be out billions of dollars.
The Labor Department spokesperson declined to comment on that story but said the department followed required procedure and would issue an "informed" cost-benefit analysis as part of any final rule.
On Monday, the department's Office of Inspector General announced it would conduct an audit of the rule-making process used in coming up with the new tip proposal.
If the regulation is changed, tipped workers paid less than federal minimum wage would still keep all of their tips.
That doesn't apply to California, where employers must pay the state minimum wage regardless of whether workers receive tips.
In his statement, Becerra said his department is "prepared to use every tool at our disposal to protect" workers who could be negatively affected by the proposed rule.
Follow me @khouriandrew on Twitter
---
UPDATES:
6:45 p.m.: This article was updated with information from Becerra's office that he helped lead the drafting of the letter.
This article was originally published at 4:00 p.m.
---
Sign up for the California Politics newsletter to get exclusive analysis from our reporters.
You may occasionally receive promotional content from the Los Angeles Times.