Delta bans pit bulls as emotional support animals, citing dog attacks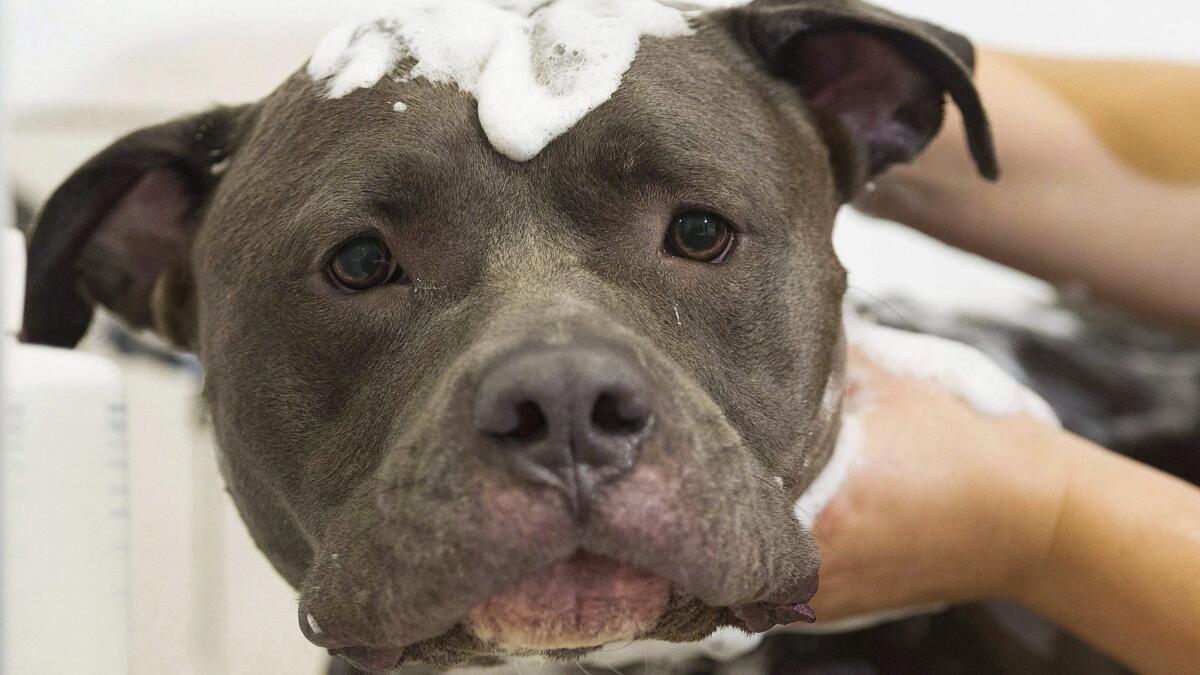 Kathryn Hurley, a director at a Los Angeles dog rescue service, has been flying for years with her pit bull dog, Jax, an emotional support animal that has been trained to behave on a flight.
She learned the hard way that Delta Air Lines has new restrictions on traveling with animals: Hurley had to cancel her trip to Detroit scheduled for next month because Delta wouldn't let Jax on the plane. The showdown was the result of a new policy by the Atlanta-based carrier that limits passengers to one emotional support animal per flight and bans all "pit bull type dogs" either as service animals or emotional support animals.
Service animals are trained to assist passengers with physical disabilities, such as blindness; emotional support animals help alleviate the anxiety and stress suffered by people with mental-health disabilities.
Delta is not alone in adjusting its animal policies. Several major airlines have adopted new restrictions for passengers flying with animals following a series of incidents involving dogs on planes and a surge of passengers flying with dogs, cats, turkeys and other creatures.
The increase has been attributed to fliers who — either legitimately or not — take advantage of the federal Air Carrier Access Act, which allows people with mental-health disabilities to fly on a plane with an emotional support animal free of charge if it alleviates their condition.
In a statement, Delta said that two Delta employees were recently bitten by a pit bull traveling as a support animal.
"We struggled with the decision to expand the ban to service animals, knowing that some customers have legitimate needs, but we have determined that untrained, pit bull-type dogs posing as both service and support animals are a potential safety risk," the airline said.
Hurley is not buying Delta's reasoning. She said her dog has flown with her to Detroit more than eight times with no problems.
"I understand that people abuse the [emotional support animals] rule and actually side with tightening up restrictions to make sure dogs are well behaved, trained, and needed but banning a breed is and always will be completely ignorant, unhelpful and discriminatory," she said.
Hurley said Delta refunded her fare but wouldn't reimburse her for the added cost of booking a more expensive last-minute flight on another carrier.
To read more about the travel and tourism industries, follow @hugomartin on Twitter.