Wal-Mart workers plan Black Friday protests for higher pay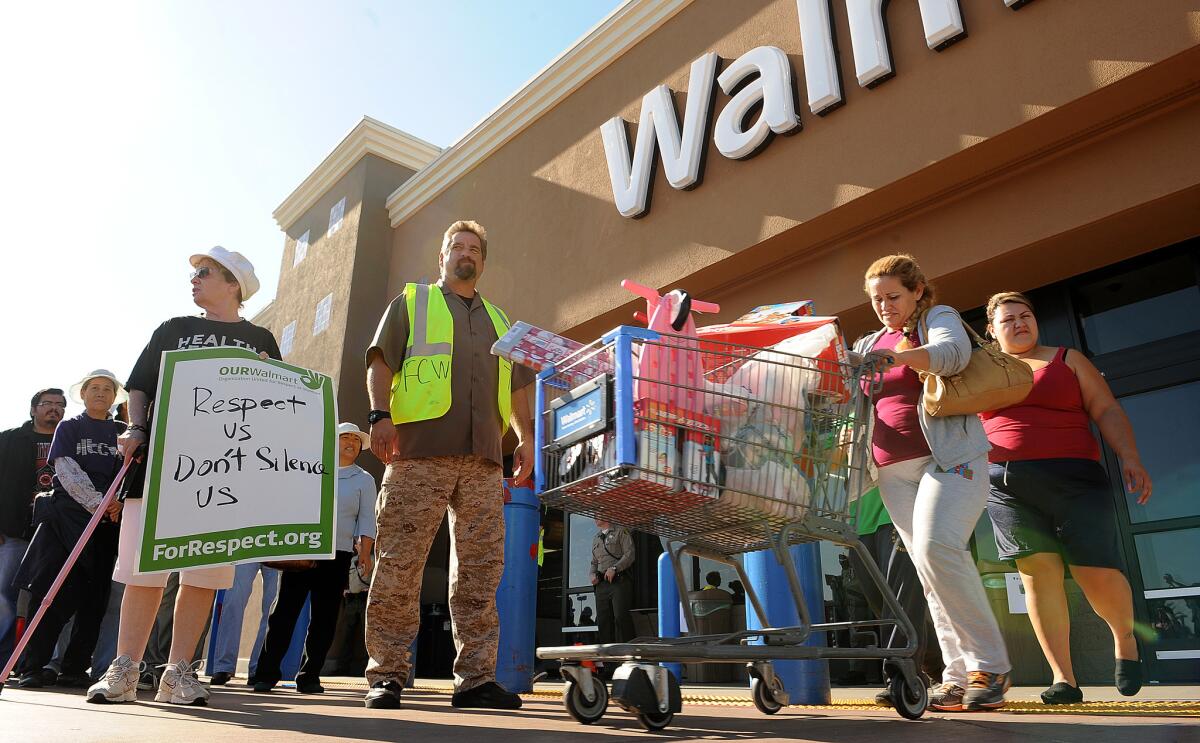 Wal-Mart workers and their supporters plan to launch protests at stores across the country on Black Friday to push for higher wages and better working conditions for employees.
Organizers say rallies and marches will occur at 1,600 Wal-Mart locations on the day after Thanksgiving in what they say will be the largest protests ever against the nation's biggest retailer.
Backing the demonstrations is Our Wal-Mart, the union-supported group of employees that has been pushing for a living wage of $15 an hour and more full-time positions. A protest earlier this month at a Wal-Mart in Pico Rivera ended with the arrest of 23 people for unlawful assembly and failure to disperse.
Martha Sellers, a cashier at the Wal-Mart store in Paramount, said her low salary forces her to rely on ramen noodles and sometimes peanut butter to survive.
"The truth is it's not easy to talk about hunger and being hungry," Sellers said during a media call on Friday. She said she wants $15 an hour so she can buy groceries that are healthy.
Wal-Mart spokeswoman Brooke Buchanan said many of the protesters participating in the Black Friday demonstrations are being paid to show up by unions.
"We have seen this story before about the protesters and unions threatening to protest in a large amount of stores," she said. "What it turns out to be is a handful of stores with a handful of associates."
Large demonstrations could be a damper on the shopping bonanza that is Black Friday at Wal-Mart and retailers nationwide. The day after Thanksgiving traditionally kicks off the holiday season, when retail companies can make 40% of their annual sales.
The fight for a living wage and higher minimum pay has gained steam this year as rallies, sit-ins and strikes have raised awareness of the issue.
In June, Seattle leaders voted to raise the city's minimum wage to $15 an hour, the highest minimum of any metropolis in the nation. The Los Angeles Unified School District signed a contract in July to raise its minimum wage to $15 an hour by 2016, which will boost the earnings of its lowest-paid employees, including custodians and cafeteria workers.
Los Angeles Mayor Eric Garcetti is pushing for a $13.25 minimum wage for all workers in L.A. by 2017.
Follow Shan Li on Twitter @ShanLi