Warren Buffett is building up a 'recession resistant' energy powerhouse
Next for Berkshire Hathaway Energy is the planned $9-billion purchase of Texas electricity company Oncor. (July 24, 2017) (Sign up for our free video newsletter here http://bit.ly/2n6VKPR)
From California to the Midwest, billionaire investor Warren Buffett is steadily building an energy powerhouse.
Buffett's Berkshire Hathaway Energy subsidiary has gobbled up utilities and natural gas pipelines and tapped into clean energy production, including from Southern California's abundant geothermal resources.
The latest move by Berkshire Hathaway Energy is the planned $9-billion purchase of Dallas-based Oncor, a regulated electricity service provider with 10 million customers and more than 3,700 employees. It's one of the nation's largest power transmission companies.
"Oncor is an excellent fit for Berkshire Hathaway, and we are pleased to make another long-term investment in Texas," Buffett said in a statement announcing the deal, which is expected to close by the end of the year. "When we invest in Texas, we invest big!"
Buffett's big investment amps up an energy operation that last year contributed nearly 10% of Berkshire Hathaway's $24 billion in earnings.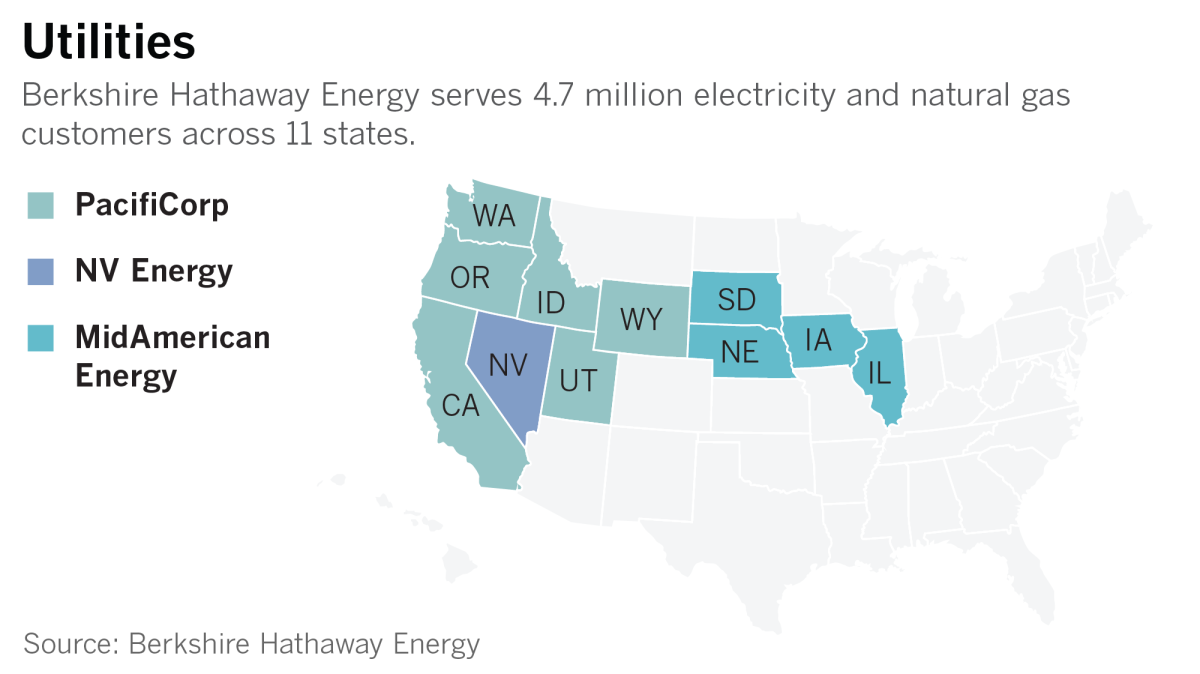 Buffett views utilities and their earnings as "recession resistant," providing "an essential service for which demand is remarkably steady," the so-called Oracle of Omaha told Berkshire Hathaway shareholders in the latest version of his famous annual letter.
Berkshire Hathaway Energy declined to make anyone available to comment for this report.
Jon Wellinghoff, former chairman of the Federal Energy Regulatory Commission, said he believes Berkshire Hathaway recognizes that there are many areas of the electrical grid that operate inefficiently and — like any business — it is looking to capitalize on that.
"There are tremendous efficiencies to be squeezed out of the system," said Wellinghoff, a former chief policy officer at SolarCity who is chief executive of consulting firm Policy DER.
"I think Berkshire Hathaway's strategy is to maximize the use of the transmission system," he said. "I also think it can be and ultimately will be a good use of renewable energy."
Berkshire Hathaway appears to be doing all it can to counter a purported death spiral of economic harm that power companies face because of growing energy efficiency regulations, consumers generating their own power with rooftop solar panels and the advent of electricity storage options in homeowners' garages.
At the same time, Berkshire Hathaway is pushing for a regional approach to delivering electricity throughout the West, with the operator of California's electrical grid at the control switch.
The state's grid manager, the California Independent System Operator, has inched ever closer toward making a regional grid a reality, including the expansion of its electricity-trading market.
That market now includes the state's shareholder-owned utilities Southern California Edison Co., Pacific Gas & Electric Co. and San Diego Gas & Electric Co. as well as out-of-state entities such as Arizona Public Service. Municipal utilities also have become members — the nation's largest, the Los Angeles Department of Water & Power, is expected to join in spring 2018 — at least some at the prodding of Berkshire Hathaway subsidiaries.
Some critics of Berkshire Hathaway argue that Buffett's company is inconsistent in its approach to clean energy and climate change as it continues its expansive march across the country.
For example, its MidAmerican Energy subsidiary in the Midwest produces about 47% of its electricity largely from wind power and expects to reach 85% by 2020.
Meanwhile, the company's Western utility, PacifiCorp, which powers homes in Oregon, Washington and California and feeds California's electric grid, operates on 62% coal. PacifiCorp doesn't expect to completely shut down its coal operations until 2036.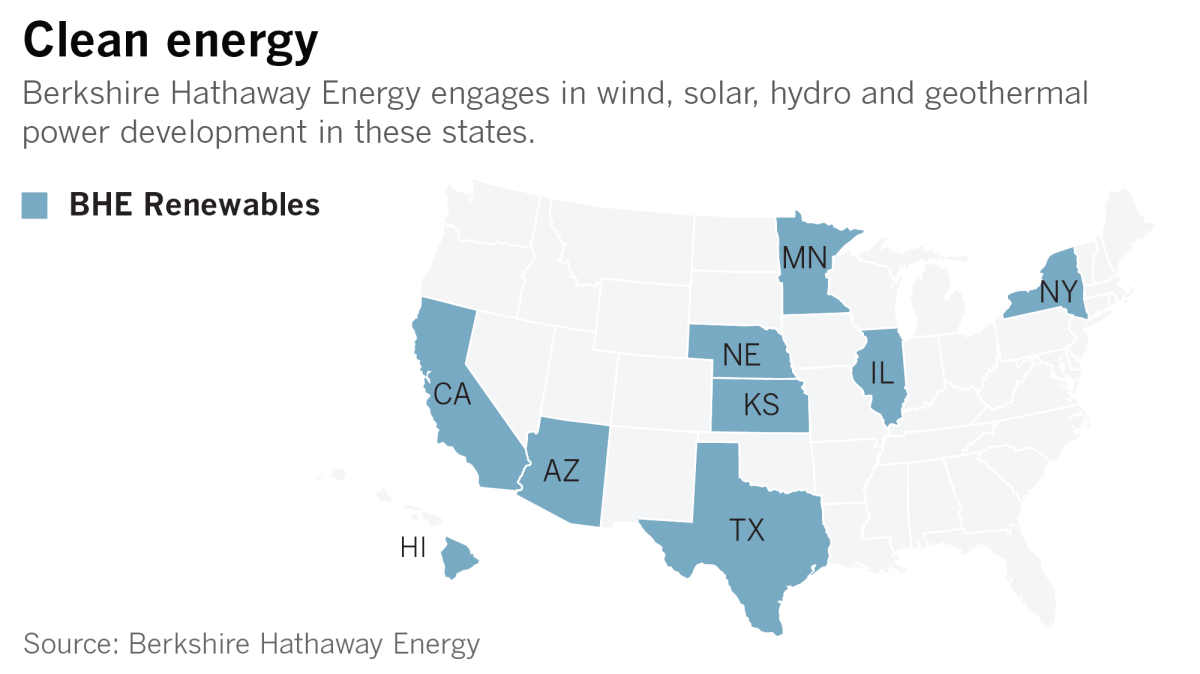 "There seems to be a disconnect between Berkshire Hathaway's and Warren Buffett's concern for climate change in some parts of the portfolio," said Mary Anne Hitt, director of the Sierra Club's Beyond Coal Campaign.
"It's actually kind of mystifying to us that PacifiCorp isn't championing clean energy the way MidAmerican is," Hitt said.
Some of Berkshire Hathaway Energy's expansion efforts are being challenged by California's Imperial Irrigation District, which is questioning the company's regional approach. The agency is concerned that Berkshire Hathaway could introduce PacifiCorp coal into California and apply charges from throughout its Western operations to Californians.
Maria Severson, a San Diego lawyer representing the irrigation district, said utility cases involving Berkshire Hathaway Energy's operations in Idaho, Utah, Wyoming, Oregon, Washington and California highlight the complexity of the company's growing empire.
Do Californians have to pay for Berkshire Hathaway's projects in other states if the company shows that California could benefit? And if the coal plants provide electricity to California, will Californians have to pay for that or for shutting down the plants to meet the state's clean energy mandates?
"If they're going to be regionalized, is our rate structure going to change?" Severson asked. And with the abundance of clean geothermal energy in the Imperial Valley, "our concern is the renewables here would be ignored and coal energy would be brought in."
Berkshire Hathaway Energy subsidiaries also generate electricity from clean sources such as the geothermal activity at the Salton Sea in Imperial Valley, where the resource is abundant; wind in Wyoming; and solar in Arizona.
In support of efforts to supply more wind power throughout the West, the company is working to add 1,000 miles of transmission lines in Wyoming and Idaho.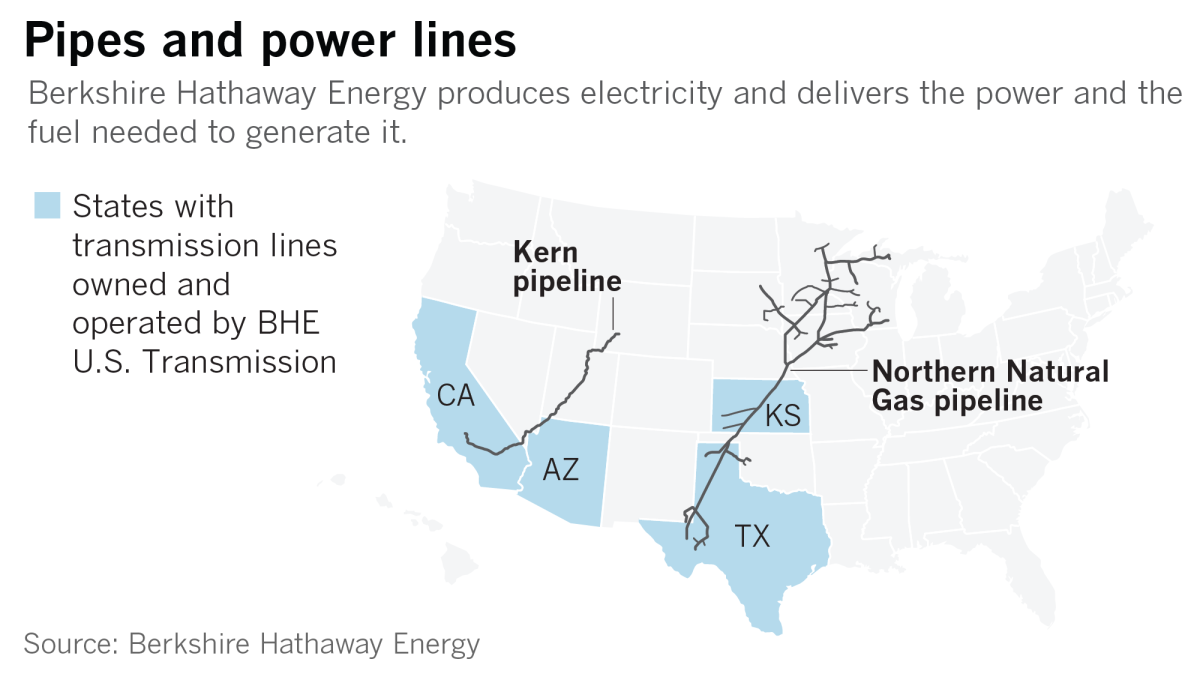 In past interviews, company executives have said that where projects benefit Californians, the company would look to recover costs from the state's utility customers, raising concerns among some critics.
In particular, some industry experts have questioned whether utilities should continue to build big-box power plants and expand the transmission line network.
Wellinghoff, who is a strong proponent of a more localized approach referred to as "distributive generation," said he does not believe there is a need to build more natural gas plants or other so-called baseload facilities that can run at all times.
But he said there is a need for a combination of the kinds of approaches broached by Berkshire Hathaway with expansion of transmission networks as well as the more individualized and community efforts pushed by Elon Musk and his Tesla Inc.'s solar, battery and electric vehicle ecosystem.
"I think the tension is sort of a false dichotomy," Wellinghoff said. "Distributive resources work best locally for individuals. But there are multiple homes and businesses that aren't suitable for that. Those people are all going to need energy from someplace."
As for Berkshire Hathaway's coal-heavy Western operations, Wellinghoff said he does not believe that will be an issue for long.
"Ultimately the renewables are going to win," he said, "because they're much cheaper."
For more energy news, follow Ivan Penn on Twitter: @ivanlpenn
ALSO
California invested heavily in solar power. Now there's so much that other states are sometimes paid to take it
Why Warren Buffett is investing in an airline industry he once called a death trap
Warren Buffett's bet on Bank of America positions him to land a $12-billion profit
---
Sign up for the California Politics newsletter to get exclusive analysis from our reporters.
You may occasionally receive promotional content from the Los Angeles Times.