Report: Wells Fargo may face more federal sanctions over insurance, mortgage practices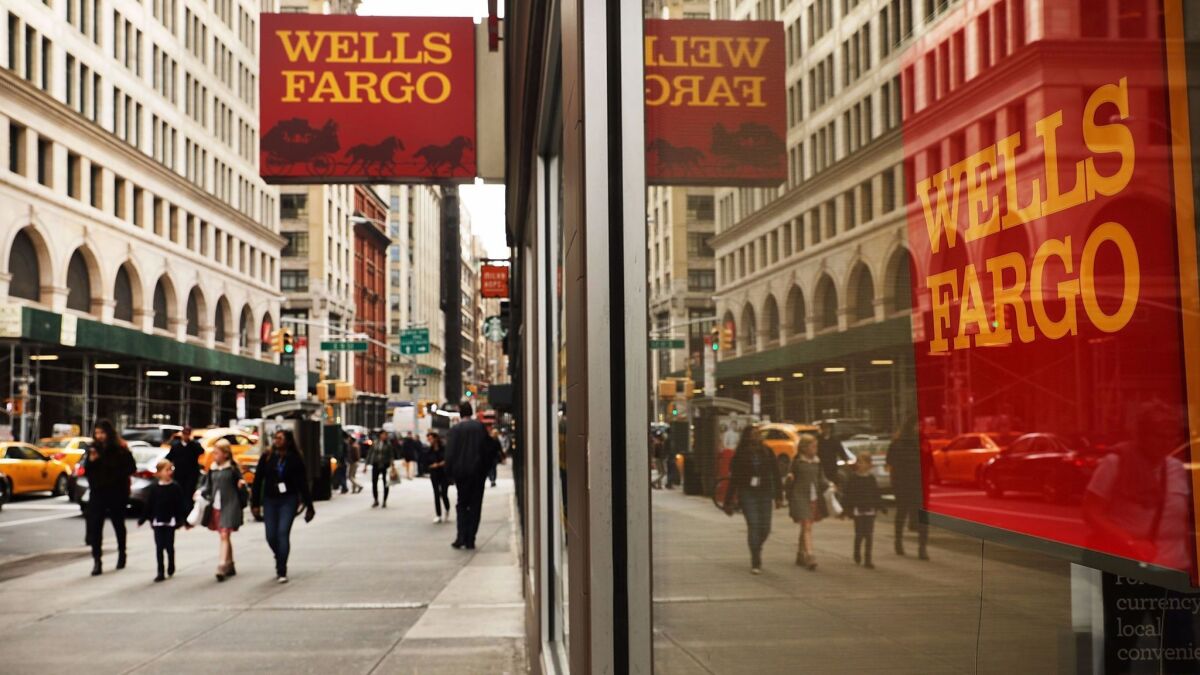 Wells Fargo & Co. may face new sanctions from a key federal regulator over bad practices the bank has copped to over the last several months, including forcing auto loan customers into unneeded insurance policies and charging improper fees on some mortgage borrowers, according to a news report.
The Wall Street Journal reported Wednesday that the Office of the Comptroller of the Currency, one of the regulators that last year fined Wells Fargo for its creation of sham bank accounts, has advised the San Francisco bank's board that it may face a new formal reprimand for willingly harming customers and failing to correct problems in its mortgage and auto-lending businesses.
The report, which cited unnamed sources familiar with the matter, suggested the OCC may issue a cease-and-desist order, a regulatory action that demands a bank stop certain practices and take corrective action.
Such orders are sometimes accompanied by big fines. When federal regulators and the Los Angeles city attorney's office reached a $185-million settlement with Wells Fargo last year over its sham-accounts scandal, that sum included a $35-million fine required by an OCC cease-and-desist order.
A spokesman for the OCC said the agency does not comment on "supervisory matters pertaining to specific banks."
Wells Fargo spokeswoman Catherine Pulley said she could not comment on any specific interactions with the bank's regulators.
"While there is still work to be done, Wells Fargo is dedicated to making things right, fixing the problems, and building a better bank," Pulley said in a statement. "We are making critical changes across our risk-management functions and line-of-business operations to rebuild the trust of our customers and team members."
The potential OCC action focuses on two lines of business where Wells Fargo has admitted to bad practices that harmed customers.
In July, the bank said that an internal investigation found that about 570,000 auto loan customers may had been forced to pay for auto insurance policies they didn't need and that some 20,000 may have had their vehicles repossessed because the added cost of the unneeded policies pushed them into default.
The policies in question are those put in place by lenders when borrowers don't have or can't prove they have auto insurance of their own. However, the Wells Fargo borrowers either had their own insurance or were not properly informed about the bank-placed policies.
In October, the bank acknowledged that some mortgage borrowers may have been pushed to pay interest rate-lock fees that should have been paid by the bank. Those fees are owed when a mortgage application is delayed, and are supposed to be paid by borrowers only if they are responsible for the holdup.
The rate-lock issue was first reported by ProPublica, and later led to lawsuits and an investigation by the Consumer Financial Protection Bureau.
In both instances, the bank said it was taking corrective action and would repay harmed customers.
Wells Fargo pledged to pay $80 million in refunds and other compensation to auto loan customers going back to 2012. Last month, it said it would offer refunds to mortgage borrowers who paid rate-lock fees dating back to 2013.
Twitter: @jrkoren
Sign up for the California Politics newsletter to get exclusive analysis from our reporters.
You may occasionally receive promotional content from the Los Angeles Times.