Billionaire Thomas Tull lists a small village in Thousand Oaks for $85 million
Thomas Tull, founder and former chief executive of Legendary Entertainment, and wife Alba Tull are listing their 33-plus-acre compound in Thousand Oaks for sale at $85 million.
At that price, the private and gated estate in the North Ranch area is rubbing elbows with the high-priced mansions that are often associated with the Westside of L.A. But of the nine L.A.-area homes publicly listed at $80 million or more, only one sits on more than 20 acres.
Tull began assembling the hilltop compound seven years ago, acquiring three parcels on the same cul-de-sac in separate transactions, according to listing agent Jordan Cohen. He then privatized the street and embarked on a three-year-long reimagining of the newly formed property.
A fourth parcel was added to accommodate a boutique organic working farm, separate ranch house and glass greenhouse. In total, the estate comprises seven separate structures and a one-quarter-acre lake.
"Having a wealth of land to create an estate on this scale was unique, said Brian Biglin of Biglin Architectural Group, who designed the property. "Throughout Beverly Hills and Bel-Air, you see these estates, but they don't have land to them," Biglin said. "That's a very unique point with this property, because you do have a true estate and you also have the accessory structures."
The property "is very similar to a European estate, where you have some 35-plus acres of land with a main estate and a working farm," he added.
The estate centers on a sprawling chateau inspired by 18th century French romantic architecture. A winding cobblestone driveway leads past formal gardens and stone bridges to reach the home. The idyllic display, which features four cascading pools and natural stone, was designed to evoke the famous Giverny gardens of impressionist painter Claude Monet, Biglin said.
Clad in stone, the three-story primary residence is awash in rich details such as custom millwork, domed ceilings and wood paneling. There is 32,000 square feet of living space in the main house including a full-floor master retreat, French-inspired chef's and commercial prep kitchens, a receiving room, a great room, a grand dining room and a gym.
Black walnut paneling finished in French wax fills the library, and a wine vault has a tasting room and temperature-controlled walls with storage for 2,500 bottles. A 1,869-square-foot collectible museum is complete with a biometric gas system that removes oxygen from the room in the event of a fire. Custom-framed automated artwork conceals the TVs in the family room and master bedroom. The sports lounge/viewing room is Pittsburgh Steelers-themed; Tull is a part-owner of the team.
For the producer's personal cinema, which is Dolby Laboratories-certified, the theater was built inside a second room (think: a box within a box) for soundproofing and optimal acoustics. A total of 21 speakers and six subwoofers pump out cinematic sound quality. There are 18 reclining seats centered on a 20-foot-wide screen. The entire setup is 4k digital.
The 5,000-square-foot master suite and has a sitting rooms, two bathrooms and his and her closets. Two loggias sit off the master suite, one of which features a spa.
The grounds, irrigated by two private municipal-quality wells, include expanses of lawn, hand-selected trees, a sports court, dog kennels and a Barbara Butler-designed children's playground. A 275-kW solar array supplies the electricity.
A pool house sits beside the main swimming pool and holds a range of spa facilities including a Himalayan salt therapy room used to improve breathing. A second, infinity-edge swimming pool sits off the 11,000-square-foot guest house, which connects by breezeway to a two-story photo studio and auto museum. The guest house also has its own guest house.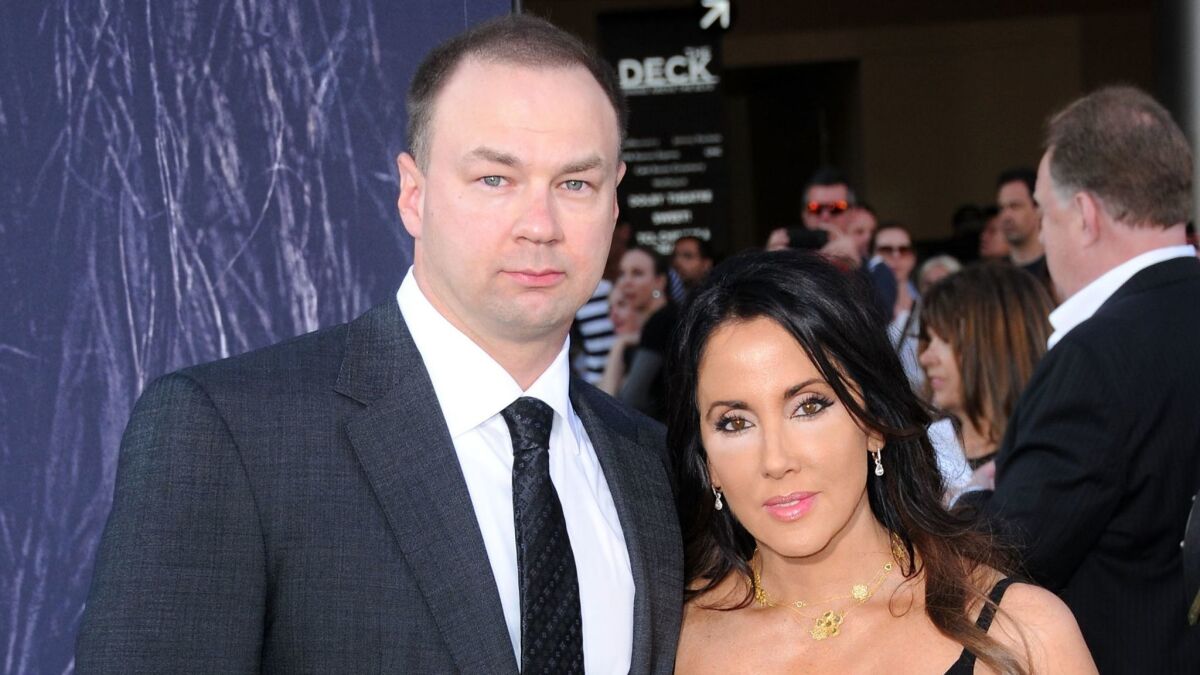 There are 12 bedrooms, 32 bathrooms and more than 50,000 square feet of indoor living pace across the entire compound.
The organic farm, used to produce farm-to-table food for Tull and his family, is equipped with 18 in-ground farm beds and roughly 150 citrus and fruit trees. The pond, stocked with catfish, bluegills and largemouth bass, features a stone millhouse with a working water wheel.
Views from the property take in the rolling hillsides and mountains in every direction.
Tull, as a producer, has scores of credits include such box-office hits as "The Dark Knight," "Godzilla," "Jurassic World" and "Kong: Skull Island." He resigned as chairman and of chief executive of Legendary Entertainment last year after the production company was acquired by China's Dalian Wanda Group in a deal worth $3.5 billion.
The 47-year-old billionaire is selling the estate because he is relocating his family and holding company, Tulco, to the Pittsburgh area, according to the Post-Gazette. His business ties to the area, which he considers his adoptive hometown, also include a minority ownership stake in the Steelers football franchise and Rivendale Farms, a sustainable organic farm operation in Washington County, Pa.
Jordan Cohen of RE/MAX Olson & Assoc., Westlake Village, holds the exclusive listing.
Twitter: @LATHotProperty
MORE FROM HOT PROPERTY:
Fleetwood Mac's Lindsey Buckingham is back looking for a buyer in Brentwood
Another year, another price point for comedian and actor Russell Peters
Suzanne Somers' Palm Springs compound, once listed for $35 million, to be auctioned
NBA forward Solomon Hill scores a fresh contemporary on the Westside