Income potential is a big selling point for L.A.'s millennial home buyer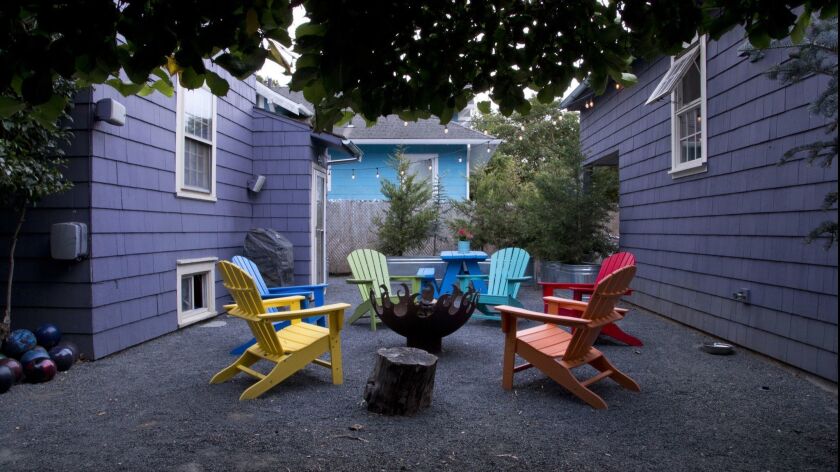 More than one-third of millennial buyers say it's very important that their new home offer some way of generating income, according to Zillow.
In Los Angeles, millennials are getting more creative as they try to grapple with the area's high cost of living and squeeze more out of their investments, especially the biggest one they're likely to ever make: buying someplace to live. This includes pursuing less traditional paths such as buying multi-family housing or cramming into a smaller space today to get ahead tomorrow, real estate experts say.
Here are a few tips from agents on what millennial home buyers should expect when buying a property with income potential.
Checking into Airbnb
Tatiana Tensen, Sotheby's International Realty: I am a millennial, and when I bought my first house, I made sure it had a guest unit for me to generate some income with Airbnb to offset my mortgage.
There are several reasons millennials seek out income properties more than any other generation: the sharing economy and collaborative consumption, pressure from our parents to invest wisely, and housing prices.
When I bought my first house I went from paying less than $1,000 a month to $3,800. It was the scariest thing I ever did. I took the leap of faith that my husband and my careers would continue to flourish and also that we would be able to make money renting out the teeny guest unit in the back on Airbnb. Would we have been able to pay our mortgage without Airbnb? Sure. But that wouldn't leave much money left over for avocado toast.
Being a full-time landlord is definitely not for everyone. Here are things I tell people who are looking for homes with space for full-time renters:
Know your rights as a landlord and get to know your tenants' rights — there are a lot of them.
Know your goals and why you're buying an income property.
Being a landlord is work. Learn to be handy or find someone who is.
Don't forget you are paying taxes on that extra income.
The rules of Airbnb are tightening. Many units will no longer be eligible for Airbnb. Potential buyers need to be fluent in the changing rules.
Airbnb is also seasonal. There are some months when I am booked 98% of the days available. Other months it is only 8%. Make sure you can pay your mortgage without it.
Tiny living
Jason Insalaco, Coldwell Banker Hallmark: Millennials are doing something that others won't do: sacrificing space in order to build wealth.
Last year, my millennial clients purchased a dapper duplex in Burbank. The property consisted of two large, two-bedroom residences that are currently occupied at near market rents. Instead of moving into the property they own, they stayed in their cozy studio apartment in a 10-unit building in northeast Los Angeles. They manage the property for their out-of-state landlord and pay significantly reduced rent.
Even though they tire of the tiny living space — less than 450 square feet — and tenants' frequent texts and door knocks at 3 a.m. for building emergencies, my clients have decided to remain renters for several years. With the modest cash flow they receive from their Burbank duplex, the slow but steady equity growth, and their reduced housing costs as resident managers, they are saving money to start a family. They plan to move into one of their Burbank units when they have their first child.
Multiplying multiples
Megan Wilson, Brad Holmes Group / Compass: Three of the five buyers we have closed escrow with so far this year have desired a rentable space within the home. One buyer even decided to go with a fourplex in order to occupy one of the units and rent out the others. It's definitely a trend in the East L.A. market, where buying is still relatively more affordable than other areas of the city, and buyers can still afford it along with the $70,000 in student loan debt.
The advice I would give first-time buyers, one millennial to another:
Not all properties are ADU (accessory dwelling unit) eligible. Do research.
Talk to a lender about buying a single-family residence versus a multi-unit residence. Some buyers don't realize that they may be able to afford more when buying an income property as opposed to a single-family property.
Research private lenders versus banks. You may be able to get a lower rate with a bank, but a private lender can usually help make a more competitive offer as far as tighter contingency deadlines.
The WeHo no-no
Chris Jacobs, Keller Williams Beverly Hills: The internet, social media and smartphone apps like Airbnb have influenced millennials to think smarter and be savvier about ways they can make money from their property purchase, as well as use the additional income to pay their property taxes for the year or just put money in the bank. There is a lot of money to be made and millennials know it.
A large portion of my business is in West Hollywood, and many buyers seeking income properties are unhappy when they find out that the city and a large majority of buildings have rules and restrictions against rentals.
Most buildings in West Hollywood enforce a one-year policy that states the new owner must live in (or own) the unit one full calendar year before they are able to rent it out. Some even limit the number of condos one person can own, whether it's in their name or an LLC. Millennial buyers specifically seeking out property to rent right away are definitely turned off by these rules enforced by the buildings and city and are forced to venture out a bit.
Separate spaces
Debbie Weiss, Keller Williams Santa Monica: I've certainly worked with a lot of millennials that have wanted the future income potential of an ADU or guest room either in the back or adjacent to the house. But I am also seeing a growing trend of young buyers that want a future space for their parents in the house or in the back for a guesthouse or ADU.
As far as having a space to rent out as a rental or Airbnb, I always suggest making sure it has its own separate entrance and, if possible, backyard area that is separate or can be separated from the main backyard. If there isn't already an ADU, and if there is interest in having one for the future, get the plans done and permitted now while it's still legal; then you will be grandfathered in and can build it at your leisure.
neal.leitereg@latimes.com | Twitter: @LATHotProperty
---
Inside the homes of the rich and famous.
Glimpse their lives and latest real estate deals in our weekly newsletter.
You may occasionally receive promotional content from the Los Angeles Times.