L.A. approves new rules for Airbnb-type rentals after years of debate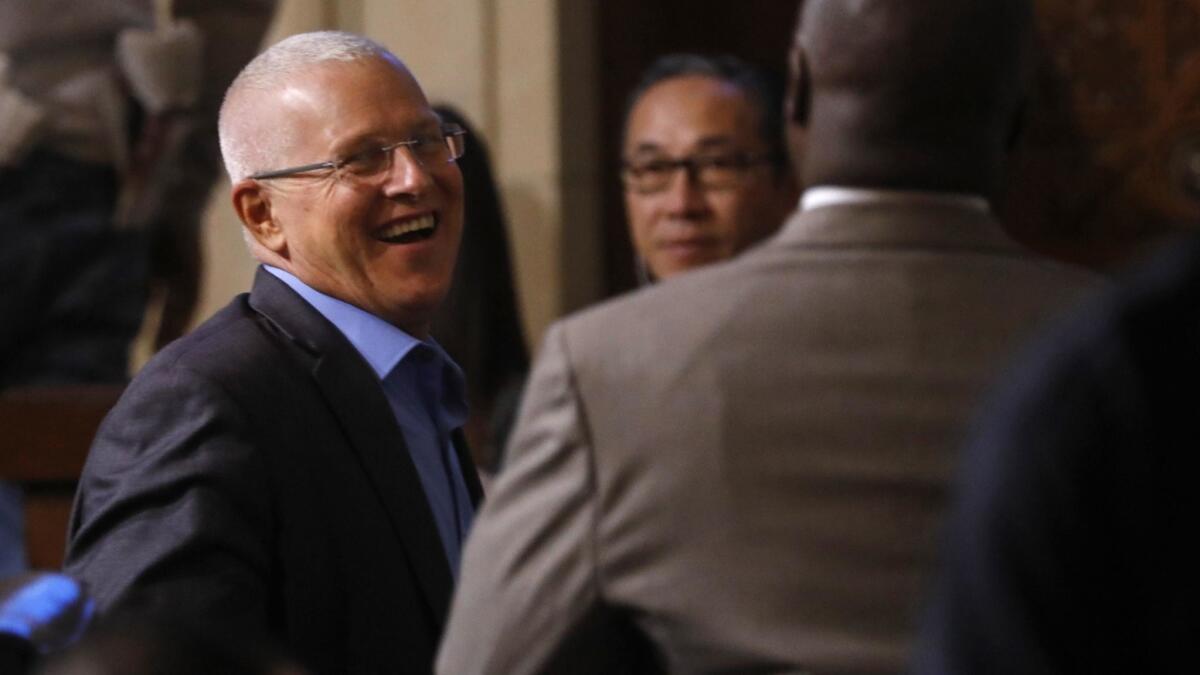 The Los Angeles City Council unanimously voted Tuesday to impose new rules on renting out rooms and homes for short stays, regulating a phenomenon popularized by the rise of online platforms such as Airbnb.
The law, which goes into effect in July, allows Angelenos to host such rentals only in their "primary residence," not a second home or investment property.
The vote came more than 3½ years after Councilman Mike Bonin and Council President Herb Wesson first laid out a proposal to regulate short-term rentals, arguing that the city needed to prevent homes from being operated like hotels.
As the debate dragged on year after year at City Hall, tenant activists and the hotel industry agitated for the city to quickly pass new rules. Gina Charusombat, policy and program coordinator for the Thai Community Development Center, argued that landlords had a financial incentive to displace poor tenants to make way for tourists.
"Every day we delay implementing regulations worsens the housing crisis," Charusombat said.
The long-standing debate has pitted a coalition of tenant advocates, neighborhood activists and the hotel industry against companies such as Airbnb, HomeAway and their hosts. Airbnb alone has spent roughly $1.3 million in the last four years lobbying the city on the rules, according to city disclosures.
It is harder to tell how much Airbnb critics have spent because some do not break down lobbying expenses by issue, but hotel industry groups and the Keep Neighborhoods First coalition have spent at least $625,000 during that period, city records indicate. Rival camps of hotel workers and Airbnb hosts have packed city hearings in contrasting shirts of red and blue.
As it stands, renting out a home for fewer than 30 days at a time is legally barred in much of the city, according to planning officials. But L.A. has rarely cracked down on such rentals, and their operators have fought — and sometimes won — when it has tried to do so. Bonin said the existing rules have been "absolutely unenforceable."
Under the new rules, Angelenos can host such rentals only in their "primary residence," defined as the place where they live at least half of the year. Hosts must register with the city, pay lodging taxes, keep records for city inspection, and make sure they have working smoke detectors, fire extinguishers and information on emergency exits, among other requirements.
Hosts can offer their homes for short stays of up to 120 days annually. However, Angelenos can exceed that cap and welcome temporary guests all year if they do not have multiple citations from the city in recent years, or can make a successful case to planning officials that doing so would not hurt the neighborhood.
And some homes are off-limits for such rentals: Angelenos cannot host them in hundreds of thousands of apartments covered by the Rent Stabilization Ordinance, which limits rent hikes for tenants, or units that fall under affordable housing covenants.
At the Tuesday hearing, Airbnb hosts complained that the new law was saddled with steep fees and would bar some responsible hosts from earning income from their homes. One Silver Lake rental host, David Darwish, said the city was "acting like Gestapo" and "going after small mom-and-pop businesses."
"We do Airbnb because we need it, because L.A. is becoming increasingly unaffordable and we need it to survive," said Rhonda Hayder, who told council members that she hosted short-term rentals in a bedroom in her rent-stabilized duplex in Miracle Mile. Stopping her from renting out that bedroom, she said, would do nothing to ease the housing crisis.
Despite such concerns, Airbnb deputy policy manager Connie Llanos called the passage of the new law "an important step" that would legalize home sharing for many L.A. hosts. Critics of such rentals, in turn, billed the new regulations as a welcome compromise that would protect renters.
The rules also impose new requirements on hosting platforms such as Airbnb and HomeAway. They cannot process any booking from a host who has not registered with the city, or who has exceeded the annual limit on how many days they can rent out their home. If the platforms do so, they can be hit with fines of $1,000 a day.
And the online platforms must regularly hand over host information to the city, a step that L.A. officials say will help with enforcement.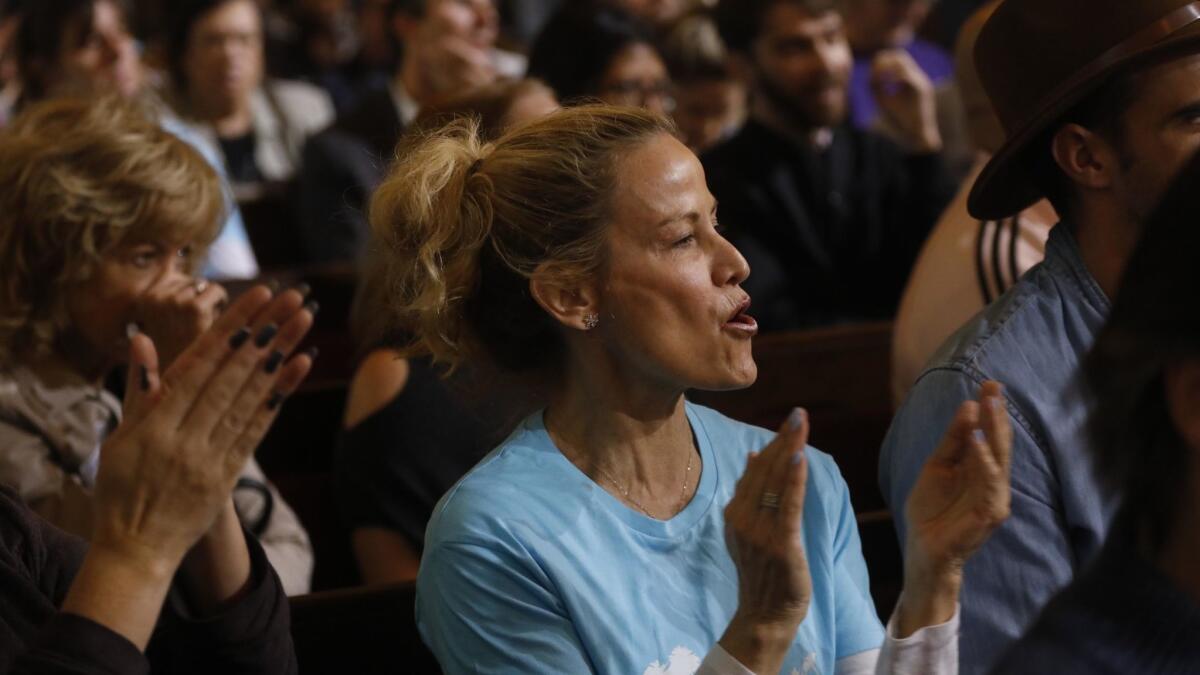 That could be a sticking point for some companies. Airbnb, for instance, has cautioned the city that it will not provide names and addresses unless it gets a subpoena, according to the planning department. It has tangled with other cities over their requirements for hosting platforms.
Airbnb has, however, floated the idea of creating a system that could forward information to the city when hosts register with its website. But it said it would do so only if L.A. allowed for "vacation rentals" — renting out something other than a primary residence for short stays, such as a second home or investment property.
HomeAway, which offers vacation rentals, has argued for a legal pathway for the practice, saying it provides a needed option for travelers seeking the comforts of a home. Last week, a council committee said the new rules should not go into effect before a "vacation rental" ordinance was also in place.
That idea alarmed tenant activists, who feared waiting on the second ordinance could delay the new law indefinitely and ultimately undercut its effectiveness. At the Tuesday meeting, the council voted to eliminate that provision and allow the new rules to go into effect in July, regardless of whether vacation rentals had been legalized.
That does not mean that the debate over such rentals is over: Wesson and Councilman Marqueece Harris-Dawson introduced a new proposal Tuesday asking city staffers to draft an ordinance that would allow vacation rentals and cap their number across the city. Council members are also slated to consider whether to allow some exemptions to the ban on rent-stabilized apartments.
Twitter: @AlpertReyes
Sign up for Essential California for news, features and recommendations from the L.A. Times and beyond in your inbox six days a week.
You may occasionally receive promotional content from the Los Angeles Times.