From Orange County to the Texas border: How Bill Melugin became a Fox News fixture
Right before Fox News correspondent Bill Melugin goes on the air to deliver a live report — these days mostly from the southern border — he looks down for a moment and whispers.
While it might appear that he's talking to a control room in New York, he says he's summoning his late father for moral support.
"I'm just asking him to watch over me," Melugin, 32, said in a recent interview. " 'Don't let me mess up. Hope I'm making you proud.' It's a little conversation I have with him before every live shot."
Whatever sustenance Melugin believes he is getting from the Great Beyond appears to be working. The Orange County native, who now lives in Brentwood, did 1,000 live shots from along the Rio Grande Valley last year and is a rising star at the conservative-leaning cable news channel.
The follically gifted Melugin, who as a college student had a brief stint as a fashion model in Milan, could probably get a comfy anchor job in a temperature-controlled studio far from the Texas heat (he recently did some fill-in work out of the Fox News Washington studio). Instead, he is committed to covering a politically fraught issue that has generated wrath from Fox News critics over the years.
Using thermal-capable drones that can fly at night — and over federal land that can't be entered on the ground — Melugin's crew regularly provides dramatic footage of migrants crossing the border from Mexico.
He's says he's watched migrants drown as they cross the Rio Grande, children being sexually assaulted and illegal drugs being seized. Using conversational Spanish, his interviews with those who cross — most originating from Venezuela and Cuba — are brief, as they can no longer talk once they are apprehended by Border Patrol authorities. He recounts the painful stories of why they risked their lives to come to the U.S. Cameras also capture the movements of camouflaged figures crossing illegally at night.
Melugin's persistence on the border, where he spent 170 days in 2022, is an irritant to the Biden White House, according to a Politico report. The publication quoted anonymous officials who described the coverage, which is often presented with the on-screen graphic "Biden's Border Crisis," as alarmist. U.S. Customs and Border Protection counted a record 2.4 million migrant encounters last year.
Tarlov has the challenging task of serving hot takes from the left on the No. 1 show on cable news.
Jay Wallace, the Fox News executive who oversees the network's coverage, said he's never gotten a specific complaint from the administration about Melugin's reporting.
Where Fox News has gotten major blowback is how its commentators have weaponized the immigration issue to rile up the MAGA followers in the network's audience.
Last year, host Tucker Carlson said the Democratic Party's border policy is aimed at "trying to replace the current electorate" in the U.S. with "new people, more obedient voters from the Third World." The calamitous tone on the topic has persisted for a while. In 2018, Carlson has said mass immigration made the country "poorer and dirtier and more divided."
But the opinion hosts do not try to draw Melugin into debates or commentary on the issue when he appears on their Fox News shows. He's turned down offers to appear on public forums about immigration. He accepts that Carlson and other opinion hosts riffing off his reports is standard operating procedure at Fox News.
"I've seen our footage spun on both sides of the aisle," Melugin said. "You'll sometimes have people on the right wing using the footage to say there's an invasion on the border. I've seen our same footage used by people on the left to say 'We're being so cruel to these migrants. This country is showing no humanity.' All we're doing is putting a mirror up and showing what's happening. People are going to use it for their representative political commentary and that's fine."
Gabriel Kahn, a journalism professor at USC Annenberg School for Communication and Journalism, said Melugin is not in an enviable position in having to navigate inflammatory Fox News commentary. But he believes reporters need to be more vigilant in how their work is used in an era when the line between straight news and commentary can be blurry.
"If he sees that his reporting is being manipulated on his own network in a way that doesn't represent the facts as he sees them accurately, he has a responsibility to correct that record no matter how uncomfortable that might make him," Kahn said. "The truth is that in the current media environment, it's not enough just to report facts as you see them; you also need to be the guardian of your own reporting."
Melugin countered that he will go on shows such as "Tucker Carlson Tonight" so he can control the way his stories are told. "I am willing to report for any show, anytime, anyplace, because if my reporting is going to be used, then who better to make sure it's done right, and done accurately, than me?" he said.
The narrative of the country's handling of the border has been an ongoing challenge for the federal government.
Jeh Johnson, who served as director of Homeland Security in the Obama administration, recalled a 2014 poll that showed 54% of the public believed there was an immigration crisis, even though border crossings were at a 20-year low. He said he had to court conservative media to counter the perception the dramatic images on the border can create.
Johnson is among the immigration experts who are concerned that news coverage does not focus enough on the causes that are driving people from countries with authoritarian regimes to risk their lives coming over.
"There's not enough imagery of what life is like for these families in Central America, which is causing them to flee in the first place," Johnson said. "People need to understand that so long as the push factors exist ... there's no level of border security that you could throw up that will prevent people from making the basic decision to flee a burning building."
Wallace maintained his network has addressed reasons for the surge at the border, but said the network's focus on how the U.S. deals with migrants when they arrive is legitimate.
"We've tried to go down to show some of these routes in the past and the tough road that they have, but at the end of the day it is up to the United States to come up with a policy to manage this," he said.
Melugin is well aware Fox News has its detractors. But he asserts that the locals in border towns such as El Paso and Eagle Pass appreciate the network's presence there, as other outlets were rarely seen before governors took the highly controversial decision to start shipping migrants out to New York, Martha's Vineyard and other politically blue areas.
"The Rio Grande Valley is traditionally a very Democratic area," he said. "We've had locals come up to us, shake our hands and say 'You know, we don't watch Fox' but they shake our hands and say, 'Thank you guys for being out here to cover this.'"
Melugin is clearly well-sourced in the border enforcement community as well. Last July, he reported on leaked audio of DHS Secretary Alejandro Mayorkas telling Border Patrol agents during a private meeting in McAllen, Texas, that "we're losing" and the border situation is "unsustainable."
A graduate of Walter Cronkite School of Journalism and Mass Communication at Arizona State University, Melugin covered the border in his first TV job at a station in El Paso in 2013 and quickly worked his way to KTTV, the Fox-owned station in Los Angeles.
Melugin quickly got on the radar of Fox News executives who wanted him to come east to join the network. He turned them down but said he would be interested if they had an opening in his hometown. He joined Fox News in May 2021.
Melugin's desire to be in Los Angeles stems from the sudden death of his father, Gary, a West Coast manager for insurance company AIG, who suffered a pulmonary embolism at age 55. He is still emotionally raw over the loss that changed his approach to life and his family.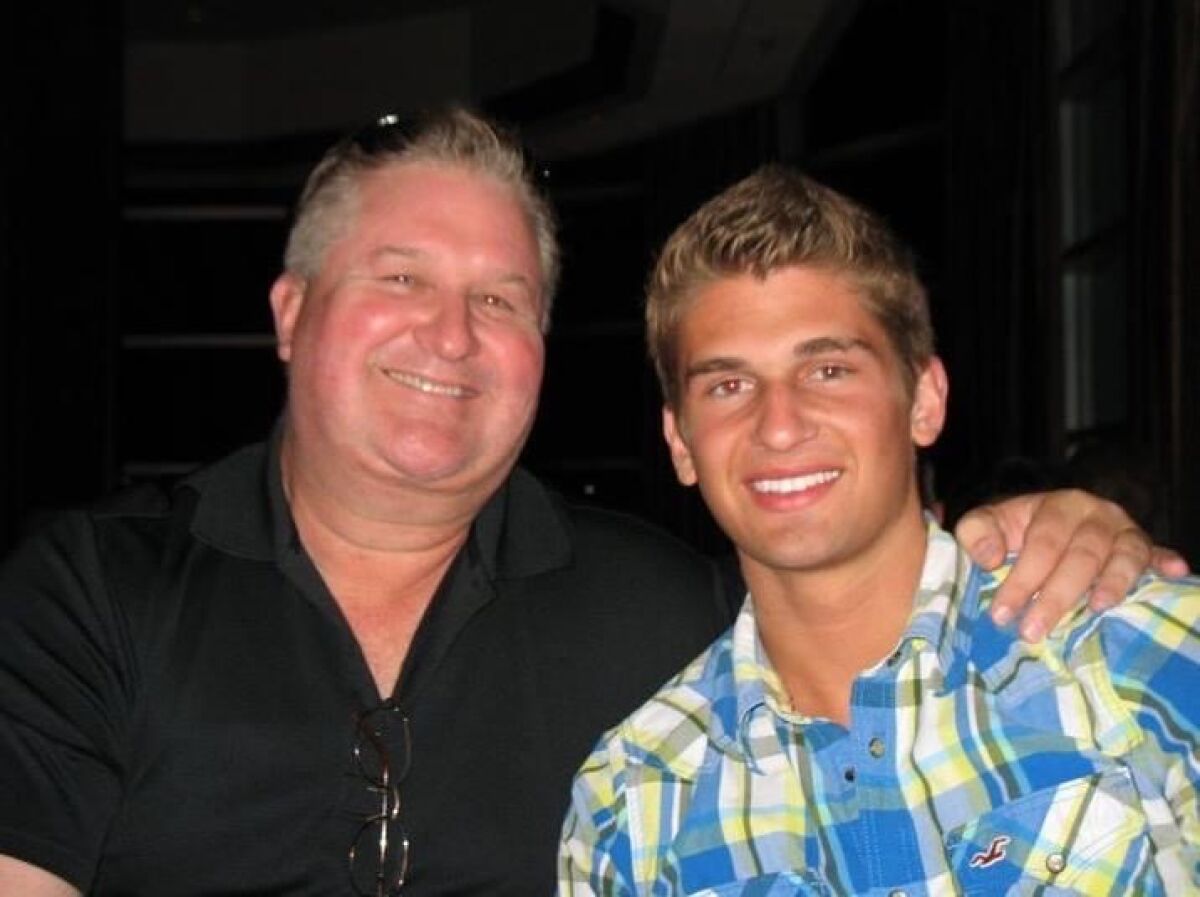 "I considered myself an immature little boy who really didn't know anything about life and took a lot of things for granted," Melugin said. "It made me grow up very quickly."
Melugin said his father constantly encouraged him to have a strong work ethic. KTTV anchor Elex Michaelson, a friend and former co-worker, saw him act on it close-up when he arrived at the station in 2017.
"He was still pretty green, and they kind of took a chance on him," Michaelson said. "He was not originally hired as an investigative reporter at our station but was just so passionate about it that on weekends, after work and before work, he's poring through documents and looking at all these different stories on his own time in almost an obsessive way that I have not seen any of my colleagues do at any of the stations that I worked."
Melugin was part of the KTTV team that uncovered exclusive pictures of California Gov. Gavin Newsom dining at French Laundry without a mask at the height of the COVID-19 pandemic in 2020.
Melugin won an Edward R. Murrow Award in 2021 for a gritty report on meth addiction in the homeless community, perpetuated by Mexico's Jalisco New Generation Cartel.
Melugin's mother, Audrey, was proud but a little anxious over the reports that have propelled her son's career. "He's had to kind of toughen himself up a little bit because of some of the things he sees," she said. "He has a soft heart."
Audrey Melugin would have never predicted her son would become a regular presence on TV. As a shy kid growing up in Aliso Viejo, he wanted to be a writer.
"If someone had told me, even when he was in high school, he'd be doing what he's doing now I would have bet the house it wasn't going to happen" she said.
Always an animal lover, Melugin and his Fox News crew have tried to help place abandoned pets that turn up along the Rio Grande. Audrey Melugin has two dogs from the litter of one of the animals they looked after, and a cat recovered during her son's time working in El Paso.
She is thankful her son has chosen to remain close to Orange County, where she still resides (Michaelson describes his pal as a "mama's boy"). But she is also aware his career is on the ascent.
"I've always told him if you have a better opportunity do it, but he is very protective of me," she said. "I appreciate it. But I don't want to be the one to hold him back either."

Inside the business of entertainment
The Wide Shot brings you news, analysis and insights on everything from streaming wars to production — and what it all means for the future.
You may occasionally receive promotional content from the Los Angeles Times.