Tucker Carlson's Fox News show faces more advertiser exits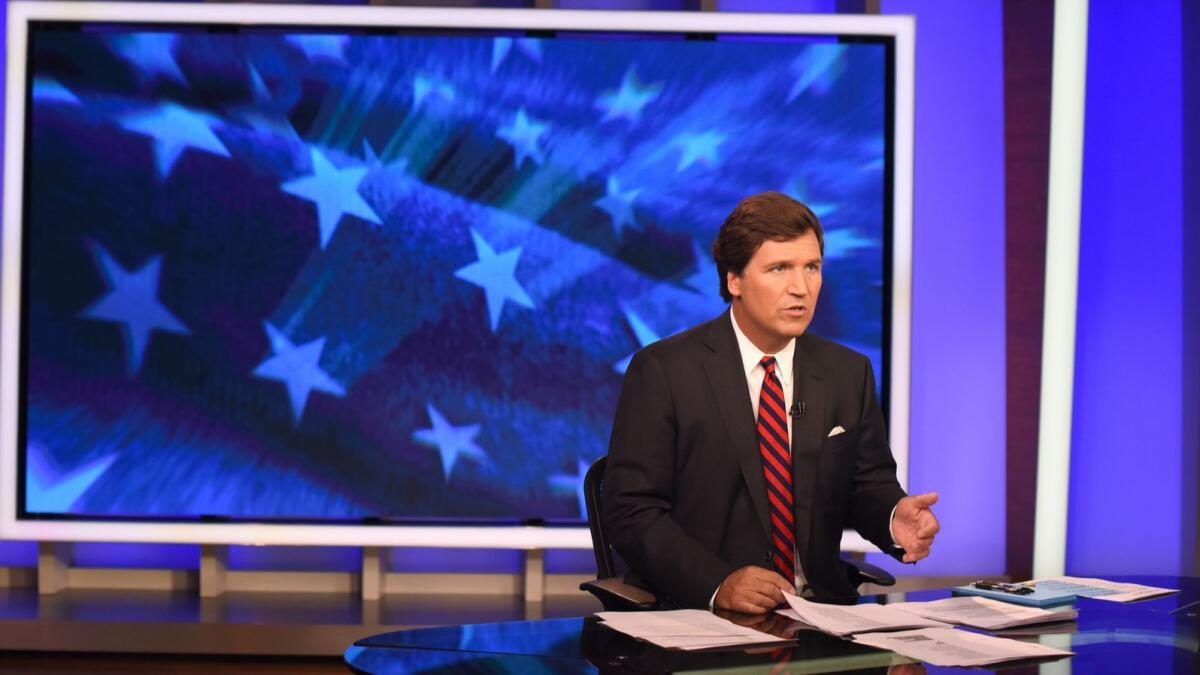 Fox News host Tucker Carlson will go on a previously planned Christmas vacation next week while his bosses contend with an exodus of advertisers that threatens to financially damage his top-rated program.
More than two dozen advertisers have publicly announced that they won't run commercials on "Tucker Carlson Tonight" following pressure from Media Matters for America, Sleeping Giants and other liberal activist groups upset over the host's recent on-air comments that described mass immigration as making the country "poorer and dirtier and more divided."
Negative reactions to Carlson comments — largely delivered through organized tweets — have had a devastating effect on the program's lineup of advertisers. Lexus, Pfizer, Takeda, Voya, IHOP, Jaguar, Pacific Life, Ancestry and SodaStream are among the brands that have publicly said they have removed their commercials.
Since the advertiser flight, Fox News has cut the number of commercials carried in the 8 p.m. Eastern hour when Carlson airs. Only a handful of major brand-name companies have been running ads in the program, with other spots taken by direct marketing advertisers known to look for opportunistic prices that are lower than the typical rate. Five companies — Bayer, John Deere, AstraZeneca, My Pillow and Sanofi — have said they will remain in the program.
Fox News has said that the advertiser fallout will have no negative financial effect on the cable network as the commercials bought for Carlson's time period have been moved to other programs. That may be the case for a while. But running fewer or cheaper spots on "Tucker Carlson Tonight" over a long period will eventually cut into the program's profitability.
Carlson has been a major ratings success for conservative-leaning Fox News since he took over the 8 p.m. hour in April 2017, delivering close to 3 million viewers on many nights. Before the recent controversy hit, commercials on his program are among the highest priced in all of cable news, around $12,300 for a 30-second spot, according to Standard Media Index.
While Carlson has never been afraid to be controversial, he had previously managed to escape the targeting of media watchdogs and activists who have driven advertisers away from the programs of Fox News hosts Sean Hannity and Laura Ingraham.
Fox News has defended Carlson, who has not backed away from his comments.
"We cannot and will not allow voices like Tucker Carlson to be censored by agenda-driven intimidation efforts from the likes of Moveon.org, Media Matters and Sleeping Giants," the network said in a statement. "While we do not advocate boycotts, these same groups never target other broadcasters and operate under a grossly hypocritical double standard given their intolerance to all opposing points of view."
Carlson will appear on tape on two programs next week. Fill-in hosts will appear the rest of the week. Carlson's time off is unrelated to the advertiser situation, as news hosts typically take time off during the Christmas holiday.
Twitter: @SteveBattaglio
Inside the business of entertainment
The Wide Shot brings you news, analysis and insights on everything from streaming wars to production — and what it all means for the future.
You may occasionally receive promotional content from the Los Angeles Times.