For director Eva Longoria, 'Flamin' Hot' is bigger than Cheetos origin story
Premiering Saturday in Austin, Texas, the new movie "Flamin' Hot" tells the story of Richard Montañez, who rose from janitor to executive at Frito-Lay and has long claimed to have invented the wildly popular Flamin' Hot Cheetos flavor of spicy snacks.
The film is the fiction directing debut from Eva Longoria and will begin streaming June 9 on Hulu. (Watch an exclusive clip from the film below.)
Starring Jesse Garcia as Montañez, the film follows its protagonist from his early days as a petty criminal to his low-level job at a California Frito-Lay plant, where he eventually places a fateful phone call to the CEO of parent company PepsiCo Roger Enrico (Tony Shalhoub). Also starring Annie Gonzalez as Montañez's wife Judy, with Dennis Haysbert and Matt Walsh as fellow factory workers, the film is an energetic and lively modern fable of perseverance, self-belief and overcoming the odds.
Richard Montañez has for years told a story of how he dreamed up Flamin' Hot Cheetos while working as a Frito-Lay janitor. The archival record, former employees and Frito-Lay itself say otherwise.
It's also been shadowed by a blockbuster Times story disproving Montañez's account of his role in the origin of Flamin' Hot Cheetos, published in 2021 when the film was already in development. Nevertheless, the project moved forward.
"That story never affected us," Longoria said in a recent phone interview. "Feels like L.A. Times would have better resources dedicated to more important things.
"We never set out to tell the history of the Cheeto," she contended. "We are telling Richard Montañez's story and we're telling his truth."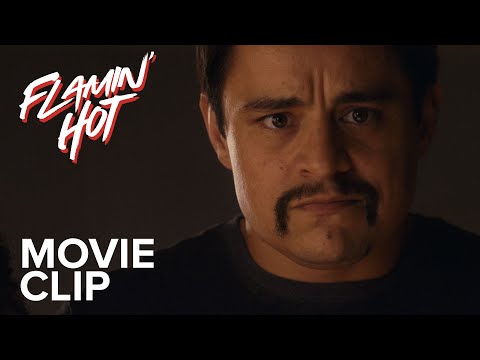 As a Frito-Lay company investigation quoted in The Times story concluded, however, "We value Richard's many contributions to our company, especially his insights into Hispanic consumers, but we do not credit the creation of Flamin' Hot Cheetos or any Flamin' Hot products to him."
In particular, Longoria cited as evidence of Montañez's involvement a PepsiCo statement released after the publication of The Times story in which the company responded to public outcry over its initial description of the tale as an "urban legend."
But the statement, though it affirmed Montañez's other contributions to the company, did not dispute The Times' reporting, reiterating that PepsiCo could not "draw a clear link" between Montañez's story and the team whose "spicy product offering" was "tested in market and found [its] way into permanent products on store shelves, including Flamin' Hot Cheetos."
The frustration over Sam Dean's article isn't so much about Richard Montañez rather than a microcosm of two big issues that continue to plague Mexicans in the U.S.: historical erasure, and the continued yearning for heroes that white America can also embrace.
Asked for further comment on Longoria's unsubstantiated assertions about Montañez's version of the story and PepsiCo's response, a representative for Searchlight Pictures, which produced the film, referred The Times to an interview with Longoria published by People magazine in January in which she also stated, "We were never telling the history of the Cheeto."
Longoria prefers to focus on the undisputed fact of Montañez's rise through the company's ranks and his role in developing marketing targeted specifically to Latino consumers: "His genius was the fact that he knew the Hispanic market and he knew how to mobilize them."
"Richard's story is our story. We are all Richard Montañez," she said. "There's been a time in our lives where somebody said, 'No, no, no. Ideas don't come from people like you.' 'No, no, no. That job isn't for somebody who looks like you.' 'No, no, no. I don't think you're quite qualified for that.' And so I think we all are going to relate to his perseverance and his belief in himself. How he just was like, 'Why not?' He dared to ask, 'But why not me?'"
The project originated around 2017, when producer DeVon Franklin was introduced to Montañez and committed to bringing his story to the screen. The project was set up at Searchlight with a draft of a script written by Lewis Colick. With dozens of directors vying for the project, Longoria eventually won the job. Writer Linda Yvette Chávez, whose credits include the series "Gentefied" and the upcoming adaptation of "I Am Not Your Perfect Mexican Daughter," was brought on to revise the screenplay.
Though still best known as an actor, most notably on the series "Desperate Housewives," Longoria has been increasingly active behind the camera as well. Having made several short films, she has also directed episodes of numerous series including "Jane the Virgin," "black-ish" and "Gordita Chronicles" and directed the feature documentary "La Guerra Civil," which premiered at the 2022 Sundance Film Festival.
For Franklin, Longoria was a clear choice to lead the project.
"The last thing that I wanted to do was to make a film that was not honoring the community that we were trying to celebrate," Franklin said. "And so Eva brought the specificity, the vision, and she also brought a commerciality. Her vision was to make a commercial film that would have comedy and heart."
We were never telling the story of the Flamin' Hot Cheeto. We were telling the story of Richard Montañez.
— Eva Longoria on her feature directing debut, 'Flamin' Hot'
Even knowing she was up against more experienced directors while trying to get the job, Longoria remained convinced she was the best choice for the project.
"I really felt like I was the only person who could tell this story because I am Chicana, because I am from the Mexican American community, because I understood the struggles that the family faced and that our community faces," she said. "So when I approached the movie, whether it was crewing up or casting, authenticity was my North Star. I was like, 'This is my superpower.' I know this world.
"I know we put Tapatío on our spaghetti — that's just something my dad does. The salsa verde goes on this taco," Longoria said. "And some of those things people may glaze over and not really realize, but the rhythm of the language, the culture of our spice and our food, the way we dress, those things mattered."
As depicted in the film, the Mexican American community has forged a particular connection to Flamin' Hot Cheetos — Longoria included.
"I like to say, this isn't PepsiCo's product, this is our product," Longoria said. "The Hispanic community made this product popular, we made it a pop-culture phenomenon. This is our product. It's not your product."
Longoria added, "I don't know if there's a Mexican that doesn't eat Flamin' Hot Cheetos. I didn't even know there were normal Cheetos. I grew up eating Flamin' Hot Cheetos. And one day I bought a bag and I was like, 'Ugh, these taste weird.' And it was normal Cheetos. I was like, 'There's normal Cheetos?'"
Get the Indie Focus newsletter, Mark Olsen's weekly guide to the world of cinema.
You may occasionally receive promotional content from the Los Angeles Times.