UC Irvine students offer a 'Bittersweet Farewell' to a beloved professor and dance pioneer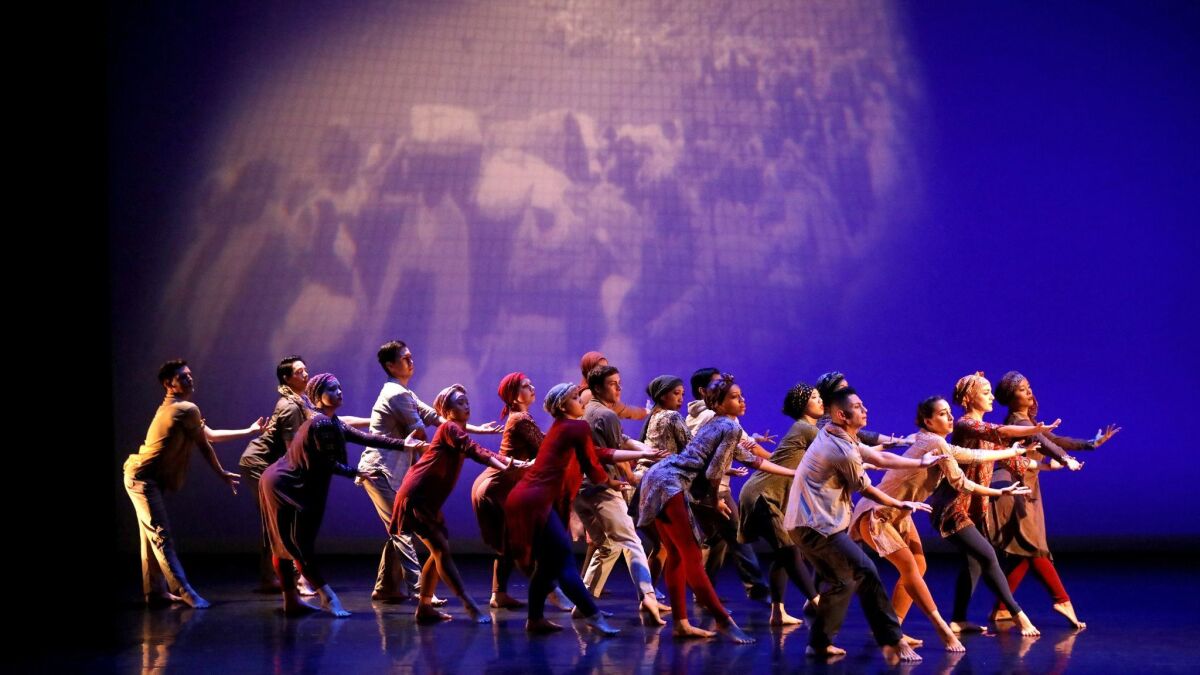 Donald McKayle mixed love with melancholy in his 2015 lyrical dance piece "Bittersweet Farewell," which honored deceased friends — bonds made during 70 years working on Broadway and in television, movies, modern dance and academia.
So "Bittersweet Farewell" was an appropriate title too for the loving yet wistful McKayle tribute dance concert on Wednesday (repeated Thursday) at UC Irvine. Before McKayle's death in April at age 87, the choreographer, director and beloved professor had taught at UCI for almost 30 years.
Students, colleagues and dance company directors came from around the country to celebrate McKayle, believed to be the first African American man to choreograph and direct a Broadway musical and an irrepressibly buoyant artist who championed the marginalized. At a post-concert memorial, speakers remembered his warm spirit, how he loved to sing and, as his widow Lea Vivante McKayle recalled, how he cooked gourmet meals at big parties for students and friends.
But the audience also came to see the final performances of UCI Etude Ensemble, the student group and university class that McKayle started in 1995. Admission was by audition only, and McKayle ran it with the same high standards that he demanded of his professional dancers; he was known as a first-rate coach who could elevate a dancer's qualities beyond expectations.
The tribute program included his last three full-length pieces, plus two sections from the celebrated 1972 "Songs of the Disinherited": a solo of proud and mournful longing, "Angelitos Negros," and the rousing "Shaker Life," which had many in the full house bouncing and rocking in their seats.
Graduating senior and Etude Ensemble member Molly Gray said that the tough subjects McKayle tackled in his art — racism and immigration — impressed upon her that dance can be a call to action.
"From the first day I walked into the ensemble, I've never danced that hard," Gray said in an interview before the concert. "We wanted to make him proud. We pushed ourselves harder than for most other teachers because we wanted to fulfill his vision."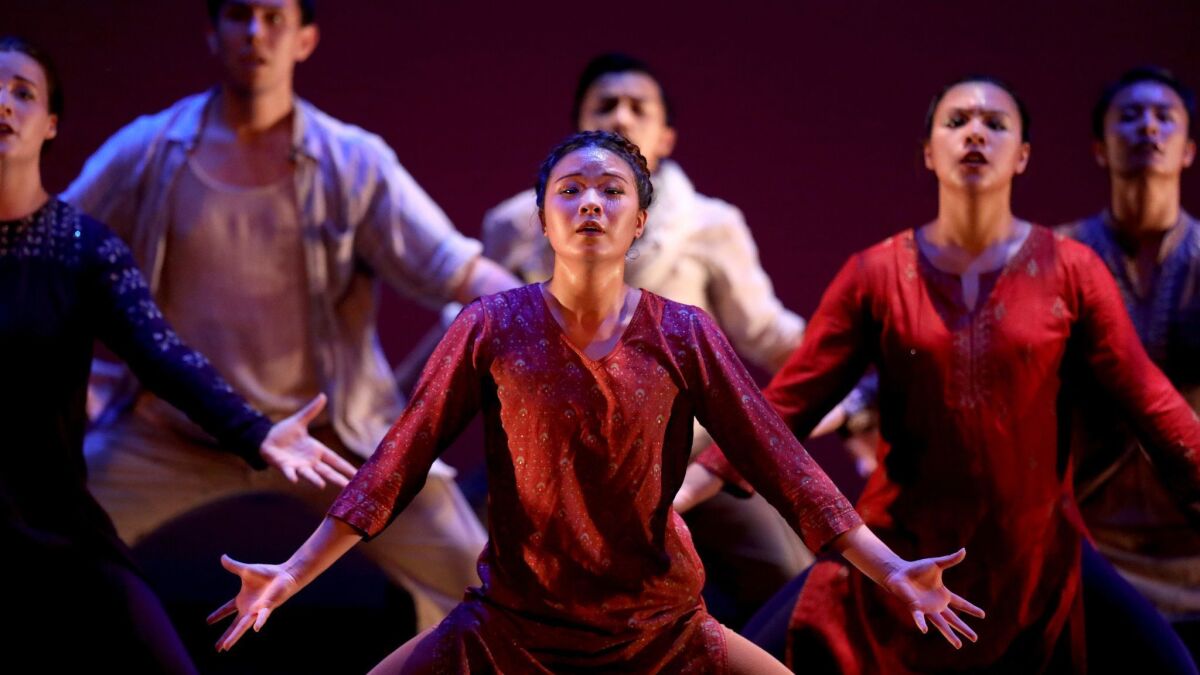 Junior Edgar Aguirre said McKayle took time to get to know his students, and he expected them to perform with emotional truth and heart.
"I think in some ways Mr. McKayle would see something in us that we didn't already know about ourselves. He wanted us to know and learn that," said Aguirre, who started as a street dancer and had not heard about McKayle before enrolling at UCI.
With McKayle gone, Etude Ensemble is closing down. The choreographer willed his artistic works to his wife, a former dancer, who will license the pieces for performances with input from Dennis Nahat, a former principal dancer with American Ballet Theatre and former director of the Cleveland San Jose Ballet.
McKayle's dances are in the repertory of distinguished companies worldwide, including Alvin Ailey American Dance Theater and the Lula Washington Dance Theatre, which performs six of McKayle's older, iconic works.
Though he was always busy with commissions and non-university projects — in the 1990s he was a resident choreographer for Limón Dance Company and choreographed the Broadway production of "It Ain't Nothin' But the Blues" — the Etude Ensemble became his primary creative outlet at the end of his life. And his students were devoted to him: When the administration considered not renewing his contract in 2016, students launched a petition drive that became a national campaign and that forced the department to allow him back.
He continued working with his students three days week until just a few months before he died. Sitting in a wheelchair, he relied on assistant Bret Yamanaka, and the imagination of his students, to translate verbal directions and fluttering fingers into steps and phrases. Yamanaka noted that though it's sad the company is closing, it's also bringing past and present members together.
"I think that it is a reminder that the Etude Ensemble has, and always will be, a family," said Yamanaka, now a dancer in New York. "I've been reached out to by people who were in the ensemble asking me to meet with them to talk about our experiences. It's giving us the space to know we want to hold onto this."
McKayle's final completed piece, 2017's "Crossing the Rubicon: Passing the Point of No Return," about the plight of refugees, will be performed next year by the Denver-based Cleo Parker Robinson Dance.
"We're going to keep his legacy alive," company founder and director Robinson said.
See all of our latest arts news and reviews at latimes.com/arts.
---
Get our L.A. Goes Out newsletter, with the week's best events, to help you explore and experience our city.
You may occasionally receive promotional content from the Los Angeles Times.