Review: Want to hear the real La La Land? Lend an ear to the L.A. composers of the Hear Now festival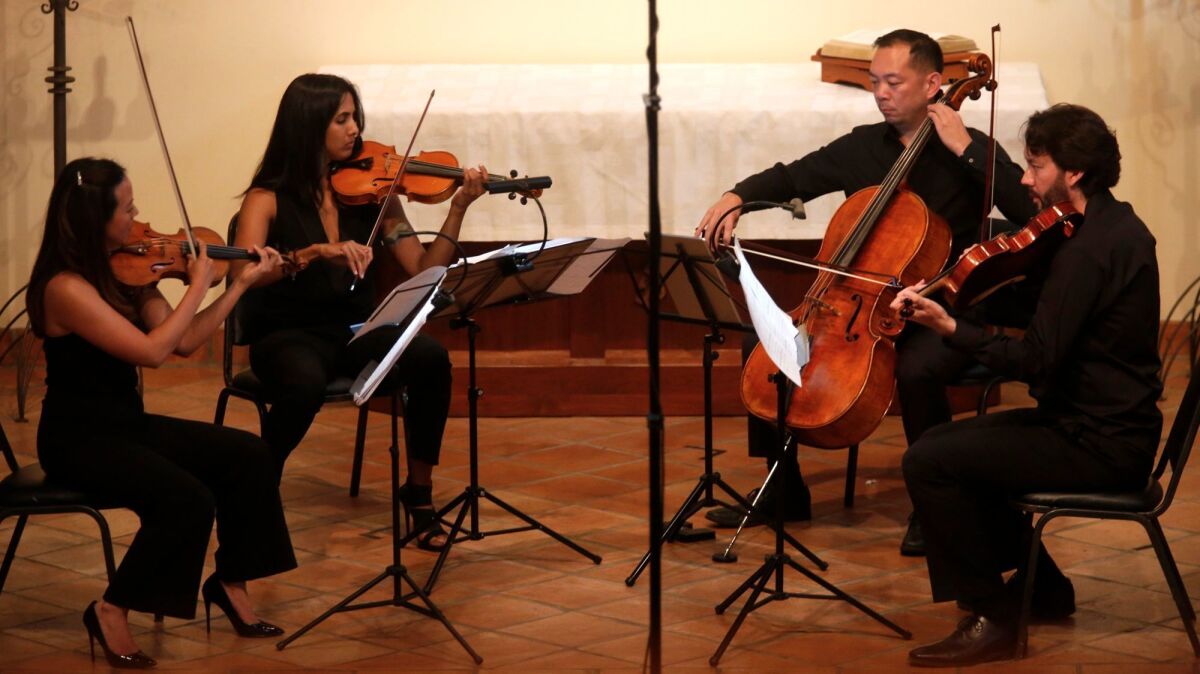 Music Critic
The music of "La La Land" is not really the music of La La Land. It may be only in the obvious but narrow sense that this was music written for a film made here and celebrating freeway culture. But the music of Lotus Land, or 72 suburbs in search of a city, or whatever other SoCal cliché you prefer, is essentially 7,200 (at least) composers in search of opportunity. And what you hear in Compton, Carson, Santa Clarita or on a sound stage in Culver City is not the same music.
Twenty-one of those composers got their 15 minutes, or slightly less, of fame over the weekend in three concerts of the seventh annual Hear Now Music Festival devoted to the Los Angeles scene, which in reality means L.A. and its environs stretching as far as Brooklyn.
No responsible conclusions should be drawn from such a tiny sampling in an area where composers can be found around every corner and under every rock. Some are celebrated. Some have academic associations. But not even the most tuned-in follower of the local new-music scene has a clue about most of them. Composers may not even have all that much idea of one another. They write their music, whatever that might be.
This is in great distinction to, say, the Icelandic sound that characterized the recent Los Angeles Philharmonic Reykjavík Festival — music from a city where everyone seems to know everyone and has similar names, where icy long drones pervade pop music and orchestral music, and where musical textures have a crystalline consistency. On the other hand, it is a stretch to call the composers who made it into this year's Hear Now festival L.A. composers. Few are natives or have even been here for long. Many of the pieces were written elsewhere for musicians from elsewhere and premiered elsewhere.
Musical styles varied, but not as widely as you can readily find around town. A certain kind of composer, more modernist than not, tends to submit scores. The panel that makes the selection — headed by festival founder Hugh Levick and associate director Gernot Wolfgang — broadly shares that sensibility. Missing were the meditative composers who record for the Cold Blue label, the barely audible music of Michael Pisaro and his followers, the wild experimentalists at CalArts, the hardcore Minimalists, the conceptual post-Minimalists and the improvisers in the downtown art scene.
Still, no two of the 21 pieces resembled each other, further evidence that L.A. music has never been one thing. An infrastructure of incomparably versatile musicians on the planet has grown to service all the variety. Two especially convincing ensembles were in residence: Brightwork newmusic and the Lyris Quartet, and they were joined by first-rate soloists.
Each of the concerts had a bit of a theme. The first, held at the Throop Unitarian Universalist Church in Pasadena, was a collaboration with People Inside Electronics, a.k.a. PIE, an electrified concert series, and it began Los Angeles-centric. Composer and electric guitarist Alexander Elliott Miller accompanied photographic slides of the Belmont tunnel, through which the Red Cars used to run underneath downtown with suggestive undulation.
Two of only three female composers in the festival, Mu-Xuan Lin from Taiwan and Wen Liu from China, were on this program. The first provided an amplified piano solo played by Vicki Ray that took its inspiration from Vladimir Nabokov. Wen, echoing the sound of petals falling, played around with the modified murmur of two double basses, cello and flute.
Ironically, the acoustic music programs Saturday and Sunday took place at First Lutheran Church in what must be the last bohemian corner of Venice, which otherwise has become Silicon Beach. The church boasts an acoustically reverberant hall in which everything sounds entrancing.
The first half of Saturday's concert was dedicated to Jeffrey Kahane, the outgoing music director of the Los Angeles Chamber Orchestra and a native Angeleno. It included inventive ensemble works written in Brooklyn by Andrew Norman and Ted Hearne, composers LACO championed before they joined the USC faculty a couple of years ago. In Hearne's tribute to the assassinated Black Panther founder Huey P. Newton, a bluesy piano must cope with thuggish percussion and other instruments. In Norman's woozy "Mine Mime Meme," a cellist seeks equilibrium.
Kahane played with glittering finesse a piano solo by his son, Gabriel, who was born a mile away but who is now a mainstay on the Brooklyn scene as pianist, composer and singer who crosses genres with ease. The luminous heart of his "Works on Paper," however, is based on his L.A.-themed song remembering the old Ambassador hotel on Wilshire.
There was, of course, much more to the festival, and all of it adding up to a kind of miscellany. I caught only half of Sunday's program but was able to catch up with the rest thanks to a recording of the concert supplied by the festival.
Two vocal works were standouts. Juhi Bansal's song "Begin," sweetly sung by Elissa Johnston, used a text about Charles Babbage's 19th century machines to restore a sense of wonder to the computer that modern commercialization and hacking are doing their best to squelch. In festival director Levick's disturbing "The Messiah" for speaking cellist, Cecilia Tsan recited a text about a cello-playing savior unable to save the world.
The Lyris, the latest in a string of great L.A. quartets, filled every square inch of First Lutheran with rapturous sonorities in David Hertzberg's "Méditation Boréale" and created wind turbulence in the raw scratching of strings in Thomas Kotcheff's "Scratch Cradle." Russell Steinberg's "Subterranean Dance" supplied rhythm lacking elsewhere. David Lefkowitz's sophisticated settings of love poems by Shakespeare, Pushkin and French surrealist Robert Desnos benefited from Alison Bjorkedal's alluring harp accompaniments. Xavier Muzik's improvisational "The Surface" was more crazy than not and all the more likable for that.
Such is this sliver of Hear Now, which is but a tiny sliver of L.A. music, itself an example of an incomprehensible large scene with no center. This weekend the sliver gets whittled down further with a touring selection of the previous weekend's festival taken to Los Angeles City College on Friday, Chapman University on Saturday and Cal State Dominguez Hills on Sunday.
Get our L.A. Goes Out newsletter, with the week's best events, to help you explore and experience our city.
You may occasionally receive promotional content from the Los Angeles Times.