Jim Henson's universe: Muppets, 'Sesame Street,' Fraggles and more, all in one traveling exhibition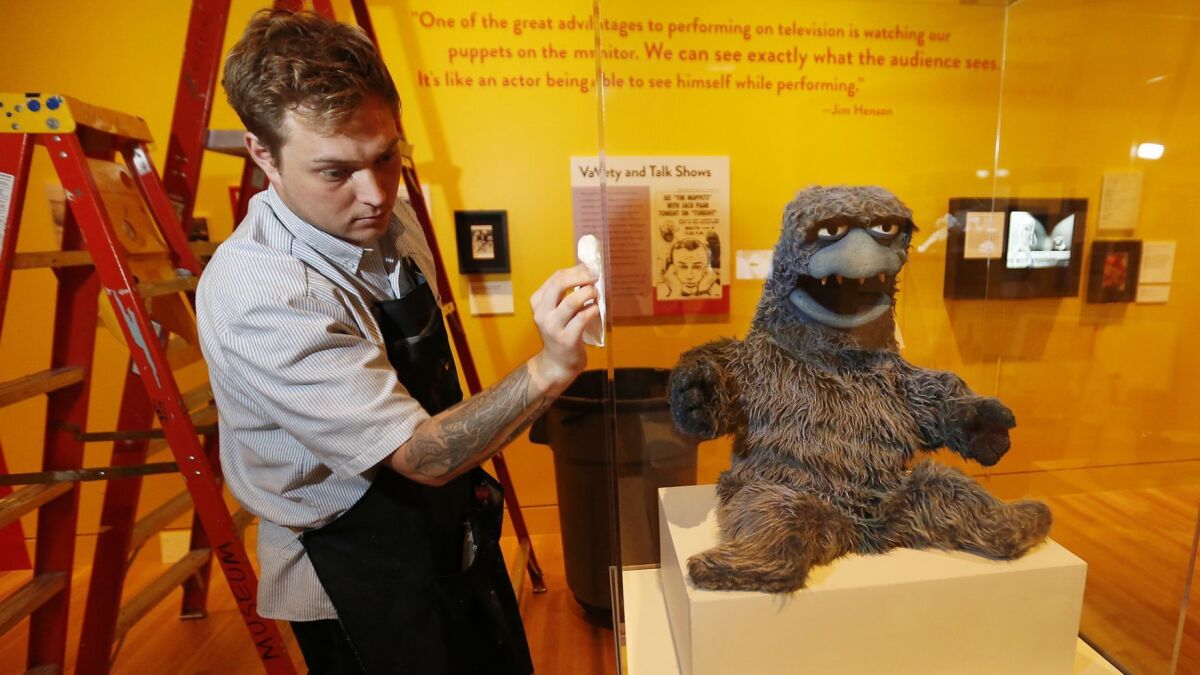 The first thing one expects in an exhibition devoted to Jim Henson is a kind-eyed, green amphibian made of felt. And, yes, Kermit the Frog welcomes visitors to a new Henson installation at the Skirball Cultural Center.
Perhaps the last thing visitors might expect, though — even those well-versed in the Muppets, "Sesame Street" and "Fraggle Rock" — is Henson's concept plans from the 1960s for a multimedia nightclub.
"The Jim Henson Exhibition: Imagination Unlimited" that opened Friday in Brentwood is a full portrait of the man who is best known for his puppets but who also was a lucrative ad man, an experimental filmmaker and a visionary with dreams of making entertainment that would "make world peace break out."
The latter facet is what prompted the Skirball to host the exhibition, a traveling version of a permanent fixture at the Museum of the Moving Image in New York. The Skirball has added new elements to the MoMI exhibition, including puppets from "Jim Henson's Pajanimals" and the Netflix series "Julie's Greenroom" with Julie Andrews. Both shows deal with social issues, and the latter's diverse puppet characters include young people of color and a piano prodigy who uses a wheelchair.
"What we've added are elements that, I think, will really speak to our L.A. audience," said Skirball curator Bethany Montagano. "One is Jim Henson as a social change agent, who led with the values of inclusivity, diversity, pluralism, and then always trying to highlight and bring out the potential of kids who felt disadvantaged or marginalized."
The Skirball also added an exclusive puppet, on loan from the Jim Henson Co.: a craggy, cloaked Skeksis from Henson's 1982 film "The Dark Crystal" — because Montagano is a "secret superfan."
The exhibition traces four decades of Henson's career, beginning with early puppetry work he did in advertising with his wife, Jane, in the 1950s — including two anthropomorphic gas pumps — and appearances on variety shows like "The Ed Sullivan Show." Among the 30 media pieces playing throughout the exhibition are Henson's avant-garde short film "Time Piece" (1965) and his Kubrickian episode of "NBC Experiment in Television."
There's also a reproduction of the faceted interior wall of that nightclub Henson imagined, which would have provided an immersive theater experience with projected imagery and dancers on tables.
Henson died in 1990 at age 53, and almost immediately, Jane Henson hired a professional archivist (who is still with the company) and created the Jim Henson Legacy to organize, preserve and display the abundance of notes, sketches, media and — of course — puppets.
"My father saved almost everything," said Cheryl Henson, who runs the Jim Henson Foundation, a separate nonprofit devoted to the advancement of puppet theater. "I'd say my father was always about the present and the future — he didn't spend much time thinking about the past. My mom is the one who was interested in telling the story of the past, telling the story of where it came from and what has happened."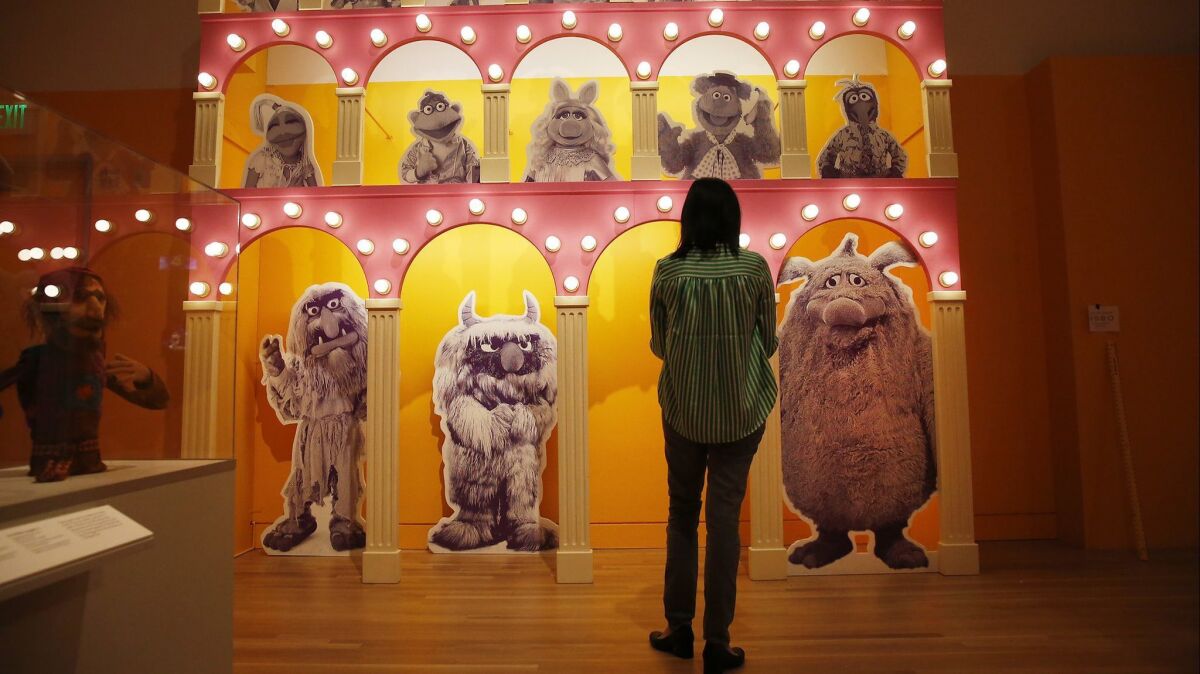 The Jim Henson Legacy initially partnered with the Smithsonian Institution, which created a traveling exhibit ("Jim Henson's Fantastic World") that visited 13 U.S. cities. After the Hensons sold the Jim Henson Co. in 2000, the family began exploring the idea of creating its own museum — but shelved it once the family had bought the company back in 2004.
Instead, the Hensons partnered with the Smithsonian, the Center for Puppetry Arts in Atlanta (which has the largest number of Henson puppets) and MoMI. The New York museum is home to about 500 artifacts that tell Henson's story through the lens of film, television and advertising.
MoMI's collection is large enough that curator Barbara Miller could package a traveling exhibition, which has the same narrative but uses different puppets and objects. The touring collection is actually larger than the one at MoMI and contains exclusives such as puppets in the likenesses of Henson and his longtime Muppeteer pals, Frank Oz and Jerry Nelson, built in 1971 for an appearance on "The Perry Como Winter Show."
The only non-negotiable item for both exhibitions: Kermit. MoMI borrowed an extra frog, this one built in 1978, from the Henson family for the touring version.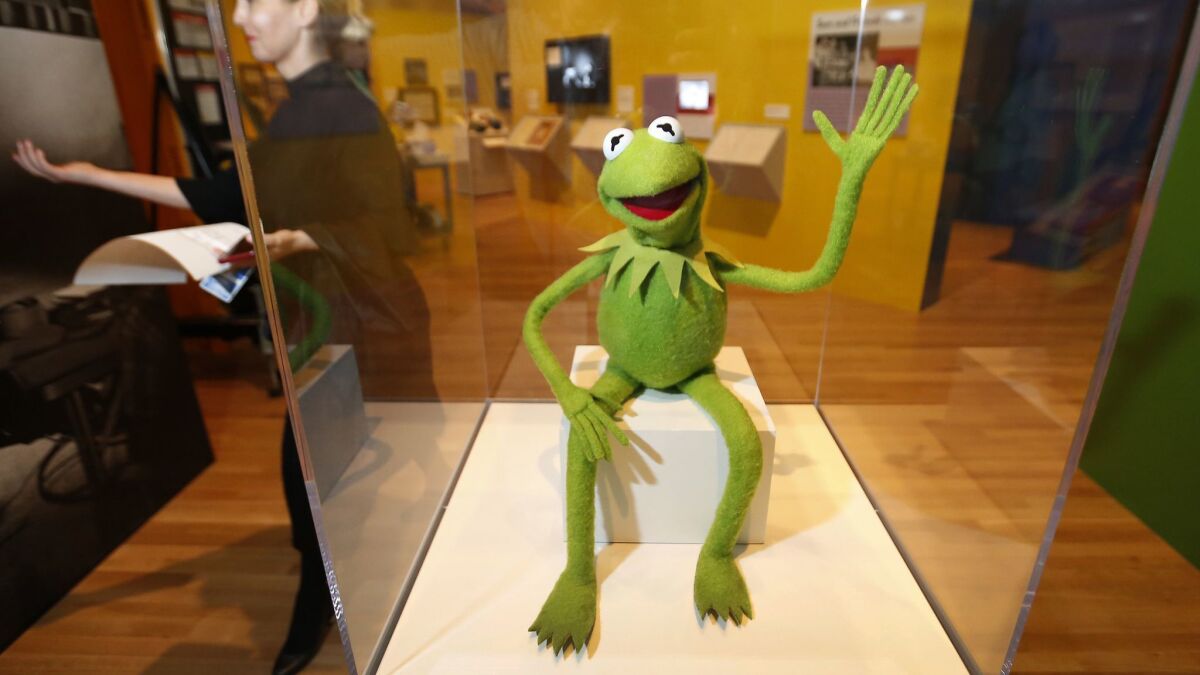 Showcasing all the worlds Henson created isn't simple. His children are in the custody of three corporate parents: the Fraggles and "Dark Crystal" gelflings belong to the Jim Henson Co., Bert and Ernie and their brethren belong to Sesame Workshop and Kermit and his "Muppet Show" pals live at the Walt Disney Co.
"You'd think it would be a nightmare," curator Miller said, laughing. But she insisted that the three rights owners are "fantastic partners."
"I think they trusted us, and in the end, I think they felt like we honored the integrity that they were out to sustain," she said.
It helps that several members of Henson's inner circle, not to mention his family, are on hand to provide continuity. Posing all the puppets in each version of the exhibition is Bonnie Erickson, who joined Henson in 1971 and eventually became head of the Muppet workshop and later executive director of the Jim Henson Legacy. She also designed Miss Piggy.
"The desire to tell people about these shows is really from the heart," Cheryl Henson said. "And you can see that with Bonnie."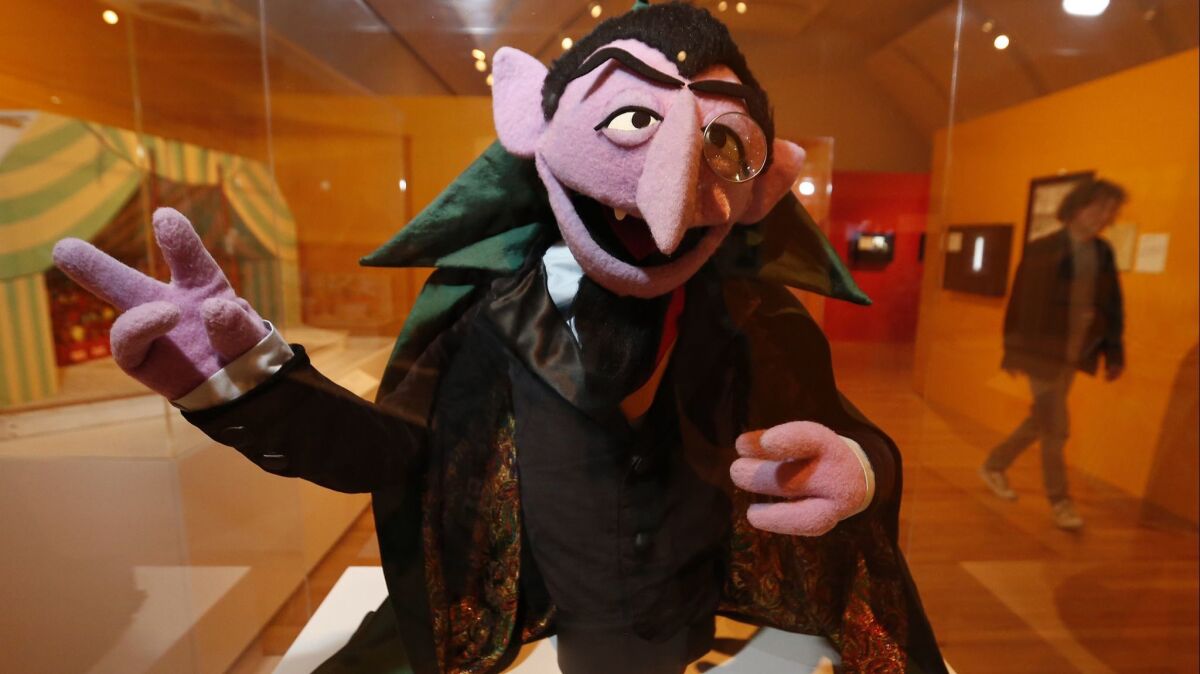 Using armatures, the puppets are all posed with animated expressions and body language.
"In a way, it poses a bit of a challenge to a museum curator, who wants to present objects as objects, right?" Miller said, "and not put on a display, making something look alive in a certain way. Those are discussions that we had to have about whether we showed the puppet sleeves, and whether we showed the puppet rods. So we made some compromises."
Cheryl Henson said puppetry is "always about the illusion of life — whether it's being performed or whether they're being photographed, it's always an illusion. So when you pose them, you need to pose them as though they're alive. There are really subtle things that can be done, just in terms of the placement of the arms, the eye focus, the tilt of the head. So we do insist on having somebody with experience pose the puppets, because it really is a skill."
She added, "You really don't want a room full of dead puppets."
♦ ♦ ♦ ♦ ♦ ♦ ♦ ♦ ♦ ♦
'The Jim Henson Exhibition: Imagination Unlimited'
Where: Skirball Cultural Center, 2701 N. Sepulveda Blvd., Los Angeles
When: Through Sept. 2; closed Mondays
Price: $6-$12; free on Thursdays
Info: (310) 440-4500, skirball.org
See all of our latest arts news and reviews at latimes.com/arts.
MORE MUSEUM NEWS:
Design unveiled for new Orange County Museum of Art
MOCA has lacked an effective director for nearly 20 years. It's time for change
Get our L.A. Goes Out newsletter, with the week's best events, to help you explore and experience our city.
You may occasionally receive promotional content from the Los Angeles Times.