Her opera helps a Pakistani rape survivor find a louder voice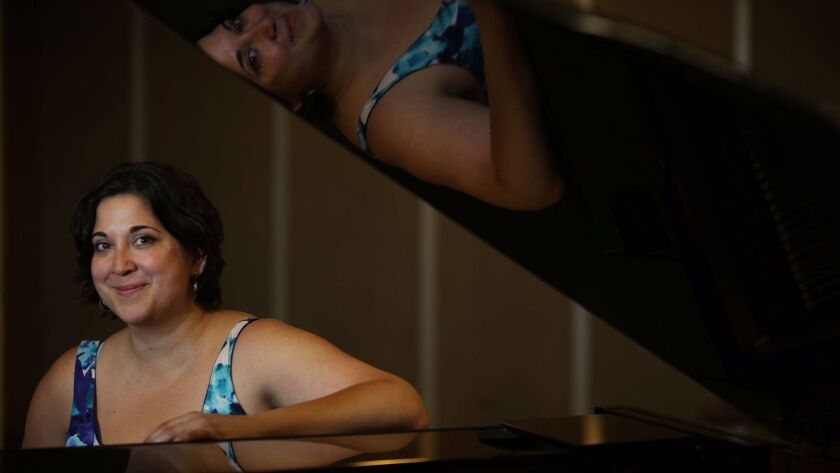 Sometimes, the smallest childhood experiences can have the biggest impact on a life.
As a kid in Southern California in the 1980s, Kamala Sankaram rode to school with her Indian father accompanied by the hypnotic, warbling vocals of South Indian classical music. When her white mother was at the wheel, Beethoven's decisively Western melodies flowed through the speakers.

For the record:
2:39 a.m. Nov. 30, 2021An earlier version of this article called Beth Morrison the creative director of "Thumbprint. She is a creative producer.
A fusion of those two distinct childhood soundtracks permeates the score for "Thumbprint," Sankaram's ripped-from-the-headlines chamber opera about Mukhtar Mai, a Muslim Pakistani woman who overcame a brutal sexual assault to bravely pursue justice and social change.
"Thumbprint" receives its West Coast premiere Thursday through Sunday at REDCAT as part of Los Angeles Opera's "Off Grand" series, often contemporary works with unconventional formats or edgier themes. Mai is flying to L.A. from Pakistan to see the production for the first time.
Just as she did at the opera's 2014 world premiere in New York, Sankaram is playing the lead role of Mai in the L.A. performances of "Thumbprint."
"Kamala being Mukhtar just makes so much sense," said Beth Morrison, the creative producer for "Thumbprint," noting Sankaram's South Asian ancestry. "I think Kamala is a unique example of a very high level composer/performer. I feel like her career is really just about to explode."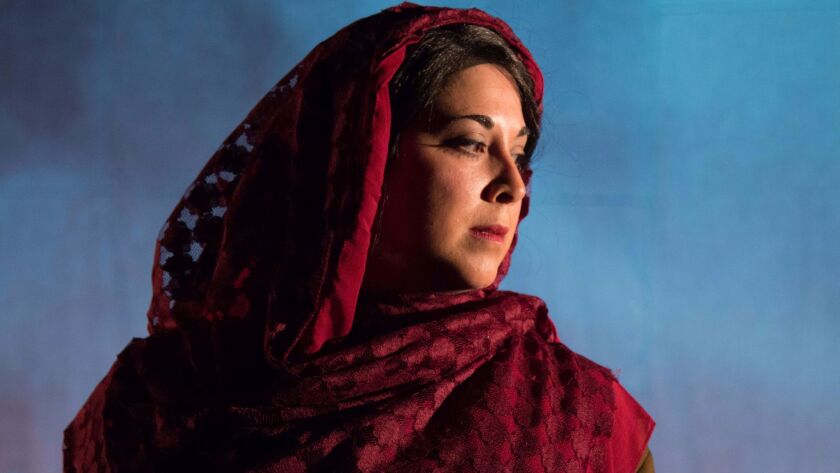 Juggling multiple roles is something Sankaram has managed throughout an eclectic career.
An easygoing thirtysomething who lives in the Bronx with her longtime partner and two cats, Sankaram has a resume that includes singing gigs at a Catholic church and a recent jazz festival in Germany, voice-acting on Comedy Central and Cartoon Network shows, commissions from Houston Grand Opera and Washington National Opera and an upcoming recording project with her indie-Gypsy-operatic rock band, Bombay Rickey.
Sankaram plays the accordion and sitar, the latter picked up at 19 after her Indian grandfather gave her the instrument as a gift. Her PhD, however, is actually in psychology from the New School for Social Research in New York.
She became interested in music and theater as a high school student in Ramona, Calif. With the help of friends, she launched the school's drama club. She also was active in show choir.
"I started doing arrangements for my choir and wrote a couple songs that we sang in the talent show," Sankaram recalled with a bubbly laugh. "After that I studied music and theater and psychology at Sarah Lawrence College."
The PhD in psychology was, to some degree, a way to appease her father, who was "never comfortable with the idea of music as a career and offered to pay for a degree that was more practical."
Sankaram's doctoral interest in semiotics and pragmatics influences her compositional practices. Her manipulation of musical motives and tonalities is informed by her understanding of music as language. When telling a story through music, she contemplates melodic and harmonic signifiers as a way to reveal character.
We shouldn't give up hope even if it seems kind of impossible. I think that message is important for us now more than ever.
Composer Kamala Sankaram
Sankaram stayed in New York after school, and it was there, among the young experimental opera theater crowd, where she met producer Morrison.
In 2008 Morrison had seen a production of "Seven," a documentary play that relays the true stories of seven women who fought for social justice. One monologue in particular — playwright Susan Yankowitz's telling of Mai's story — struck a chord.
Mai was gang raped in 2002 by members of a powerful Pakistani clan as an act of honor revenge. Local custom called for her to commit suicide after the rape, but the young woman defied tradition. Not only did she choose to live, but she took her case to the police in an attempt to prosecute her rapists.
As she navigated the court systems, Mai had to use her thumbprint to sign documents because she could not read or write. Mai's experiences in court inspired her to start Mukhtar Mai Women's Organisation, a foundation dedicated to educating young women in Pakistan.
Morrison suggested Mai's story to Sankaram as the basis for a song cycle. The resulting music premiered in 2009 at Beth Morrison Projects' 21C Liederabend concert at Galapagos Art Space in Brooklyn.
But Sankaram felt that more music needed to be written to tell Mai's story fully. Morrison agreed.
"It's a story that needs to be told," the producer said. "People need to know it and hear it."
Morrison put Sankaram in touch with Yankowitz, who became the opera's librettist. Her "Seven" monologue and her "Thumbprint" libretto are based on interviews she conducted with Mai through a translator.
SIGN UP for the free Essential Arts & Culture newsletter »
As she composed the music, Sankaram said she was intensely focused on "making a piece that was true to people who had been assaulted."
"That was the hardest part," the composer said, noting that the assault scene in "Thumbprint" was developed with director Rachel Dickstein. "We went through several drafts. There's no music. It's just a chorus of breaths."
Sankaram acknowledged that "Thumbprint" is a difficult story to tell. Still, in the end, it's a piece about optimism and hope.
"That's part of why I'm glad that we're doing it now," she said. "I think that the central message of the piece is that one person with conviction can make a change, even to something that is deeply entrenched in a society. We shouldn't give up hope even if it seems kind of impossible. I think that message is important for us now more than ever."
♦ ♦ ♦ ♦ ♦ ♦ ♦ ♦ ♦ ♦
'Thumbprint'
Where: REDCAT, 631 W. 2nd St., L.A.
When: 8 p.m. Thursday-Saturday, 2 p.m. Sunday
Tickets: $69 (subject to change)
Info: (213) 972-8001, LAOpera.org
Support coverage of the arts. Share this article.
ALSO
Julius Caesar, young and gay: A groundbreaking 1971 opera gets revived for a new era
Donald Trump Jr. asked, the NEA answered: No funds went to Public Theater's 'Julius Caesar'
Tonys spread the love in a year of innovation and risk-taking on Broadway
---
The complete guide to home viewing
Get Screen Gab for weekly recommendations, analysis, interviews and irreverent discussion of the TV and streaming movies everyone's talking about.
You may occasionally receive promotional content from the Los Angeles Times.