Critic's analysis: Tonys spread the love in a year of innovation and risk-taking on Broadway
Theater Critic
Inequality is a brute fact of American life and Broadway, increasingly divided between blockbuster hits and struggling also-rans, is hardly immune. But the Tony Awards tried to impose some justice on Sunday night by widely distributing the statuettes as though they were loaves of bread in a socialist state.
In a ceremony that was defiantly clubbish, hosted by Kevin Spacey in a manner that seemed targeted to the demographic that hasn't missed a musical in the last 50 years, the Tonys accepted the reality of a post-"Hamilton" hangover and took pride in a Broadway year in which fine work was accomplished even if not many people watching across the country could tell you much about what was being feted.
Naturally, a few shows separated themselves from the pack. The evening's big winner, "Dear Evan Hansen," took home the prize for best musical along with five other awards, including lead actor in a musical for the 23-year-old Los Angeles native Ben Platt, who became an overnight Broadway star in the title role.
An article last week in Slate sparked debate over whether "Dear Evan Hansen," which tells the story of a vulnerable high school student who becomes a social-media sensation under false pretenses, lionizes a liar. But nothing could slow the musical's momentum. Fake news may be bedeviling our democracy, but fiction fabricates for a higher purpose, and audiences have embraced a flawed protagonist who helps us empathetically understand his brokenness.
Director Jerry Zaks' exuberant revival of "Hello, Dolly!," the pricey ticket that has baby boomers draining their retirement accounts, was also lavished with love. The production picked up four awards, including best musical revival. As expected, Bette Midler won for her delicious performance as Dolly Levi, one of the highlights not just of last season but of recent Broadway history.
The Divine Miss M's win was such a fait accompli that it hardly mattered that she refused to perform on the telecast. Not even the orchestra music trying to curtail her lengthy acceptance speech could tell her what to do, but who would be foolish enough to complain? After squeezing out every drop of modern vaudeville wisdom from her brilliant career for the role, she has earned the right to enjoy this victory lap on her own terms.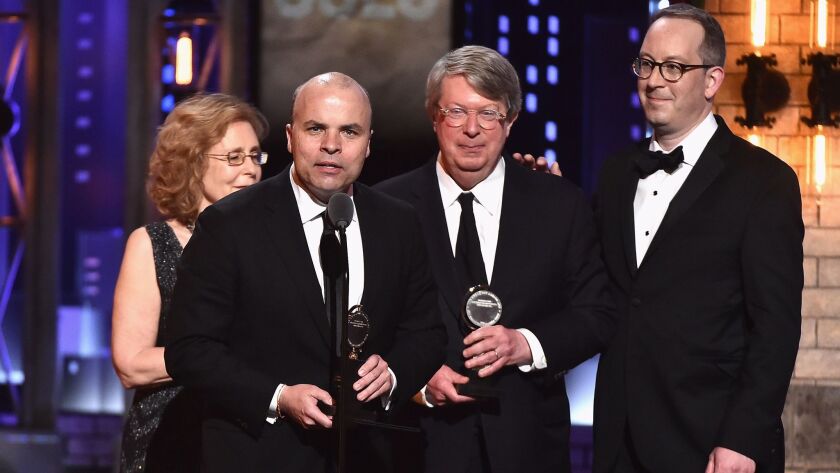 SIGN UP for the free Essential Arts & Culture newsletter »
J.T. Rogers' "Oslo,' a three-house historical drama about backchannel negotiations between Israel and the Palestine Liberation Organization that led to a rare (if fleeting) moment of diplomatic hope, won for best play. But the real winner was American playwriting. All the nominated plays (including Lucas Hnath's "A Doll's House, Part 2," Lynn Nottage's "Sweat" and Paula Vogel's "Indecent") were by American playwrights, veteran and rising stars alike, making their Broadway debuts.
"Oslo" was so splendidly produced by Lincoln Center Theater that audiences were able to cope with the longueurs that are an inescapable part of difficult peace talks. All credit to Bartlett Sher, who didn't win for his direction but whose adroit staging magisterially served a drama that might have seemed dry and dutiful in less expert hands. I didn't expect to be as moved as I was by the play, but the ending stirred powerful emotions that were no doubt intensified by the undiplomatic times we're living through.
Michael Aronov from "Oslo" deservedly won for featured actor, but the production's strength was its extraordinary ensemble. "Jitney," which won for best play revival, was also heralded for its superb company, raising the question again of whether the Tony Awards ought to introduce an ensemble category.
Two veteran performers whose technique is as fresh and supple as ever took home top acting prizes. Laurie Metcalf, winning her first Tony on her fourth nomination, was honored for her crackling work in "A Doll's House, Part 2." And Kevin Kline, in top farcical form in a revival of Noel Coward's "Present Laughter," picked up his third Tony for his suavely rakish portrayal of an actor whose London home is invaded by those who have a romantic or professional interest in him.
Any year in which a woman is added to the list of director winners has to be put down as a special year. Rebecca Taichman won for her stunningly fluid staging of "Indecent." In the other directing category, I had expected Rachel Chavkin to win for her audaciously inventive production of the musical "Natasha, Pierre & the Great Comet of 1812," but La Jolla Playhouse Artistic Director Christopher Ashley won for his finely tuned direction of the 9/11-themed musical "Come From Away."
My biggest disappointment of the evening was the short shrift given to 'The Great Comet' in the major categories.
The authors of "Dear Evan Hansen" were all rewarded, with Steven Levenson winning for his book and Benj Pasek and Justin Paul (who won an Oscar for their work on "La La Land" this year) winning for their original score. To my mind the show has been both over-touted and wrongheadedly criticized. (My reading of the musical's moral, without giving too much away, is that a lie, born out of vulnerability and perpetuated partly out of shame, can end up having some positive effect if compassion and forgiveness are part of the equation.)
My biggest disappointment of the evening was the short shrift given to "The Great Comet" in the major categories. In a perfect world, the awards would have been more equitably split between David Malloy's musical and "Dear Evan Hansen." (For the record, I thought "The Great Comet" was the superior production, though "Dear Evan Hansen" is the more enduring musical.)
The American musical needs more of this kind of risk-taking. The last two best musical winners, "Fun Home" and "Hamilton," opened new horizons not only of storytelling content but also of style. But diversity and innovation don't come naturally to backsliding Broadway.
Opening next season are "SpongeBob SquarePants," the Jimmy Buffett musical "Escape to Margaritaville" (now at La Jolla Playhouse), "Mean Girls" and "Frozen," among other commercially promising properties. The critically praised off-Broadway musical "The Band's Visit" is also in the mix, but art can easily get lost in the commercial shuffle.
Broadway's business model, in which rising ticket prices compensate for any drop-off in attendance, encourages the manufacturing of marketable hits. Plays in this environment are perhaps the most vulnerable, which is why it's heartening to see producers ponying up to make this a vibrant year for American plays on Broadway. The Brits, our theatrical confreres, will always be with us.
The theater community is too cosmopolitan, thankfully, to ever get behind an American First campaign. But "Oslo" and "Dear Evan Hansen" are part of a distinguished Broadway season that should fill us all with pride.
Follow me @charlesmcnulty
MORE TONY AWARDS:
Theater's biggest night, category by category
High-school teachers remember a young Ben Platt
---
Inside the business of entertainment
The Wide Shot brings you news, analysis and insights on everything from streaming wars to production — and what it all means for the future.
You may occasionally receive promotional content from the Los Angeles Times.